Is Energy Efficiency More Important Than Indoor Air Quality?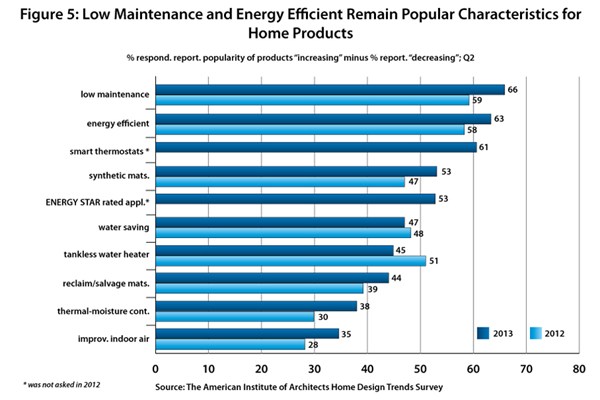 I was searching the Interwebs for data on what percentage of buildings are designed by architects this week when I came across the Home Design Trends Survey from the American Institute of Architects (AIA). (If you can point me toward some good sources for my original question, please do.) The survey included several types of questions and charts, but the one that really caught my eye was (nominally) about the popularity of products. The chart below shows the results. (Click to see all the charts in larger sizes.)
At first I was excited to see energy efficiency right up there near the top, not far from the leader, low maintenance. (Yeah, I don't know how they came to call either of those two items products either, so I guess we'll just have to let that go.) But then I noticed something that seemed out of whack.
At the bottom of this chart was 'improv. indoor air,' which I took as improved indoor air quality. So 63% of the respondents want greater energy efficiency, but only 35% want improved indoor air quality? That means 28% of the people who responded positively to energy efficiency didn't care at all about indoor air quality.
Even more interesting, 53% want synthetic materials. What does that even mean, exactly? Vinyl siding? Corian countertops? Spun bonded polyolefin? Polyisocyanurate sheathing?
"What we've got here is failure to communicate"
For those of us who understand a little building science, the discrepancy between the popularity of energy efficiency and indoor air quality represents a communication problem. Efficiency gets all the good press, and indoor air quality usually gets mentioned in the context of things that have gone wrong: mold, carbon monoxide, VOCs…
It's time for indoor air quality—and the broader field of which it's a part, indoor environmental quality—to be recognized as being at least as important as energy efficiency. Especially in heating and cooling a building, the two go together.
When you air-seal a home, you need to make sure the combustion appliances won't backdraft and put carbon monoxide into the indoor air. If the home gets airtight enough, you need to add mechanical ventilation. Using vapor barriers inappropriately can trap moisture and cause mold to grow.
Yeah, you can improve your energy efficiency without affecting indoor air quality by changing light bulbs or switching out an energy hog cable TV box with a better one or replacing an old fridge. But the biggest potential gains are in the building enclosure and heating and air conditioning systems.
When you go for energy efficiency, improving indoor air quality must be on your list.
Allison A. Bailes III, PhD is a speaker, writer, building science consultant, and the founder of Energy Vanguard in Decatur, Georgia. He has a doctorate in physics and writes the Energy Vanguard Blog. He also has a book on building science coming out in the summer of 2022. You can follow him on Twitter at @EnergyVanguard.
Related Articles
Asthma and Poor Indoor Air Quality — The Trouble with Homes
Don't Compromise — Get a Low-Level Carbon Monoxide Monitor
Comments are closed.