The Ventilation Debate Continues: Interview with Dr. Iain Walker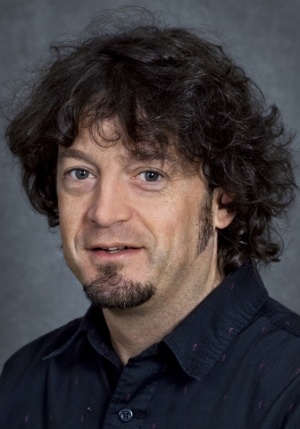 The debate over how much to ventilate a home has been going on a long time. Last year, Building Science Corporation introduced their own standard to compete against ASHRAE 62.2 because of problems they felt weren't adequately addressed in the ASHRAE standard. I've written about the standard and interviewed Dr. Joseph Lstiburek and ASHRAE 62.2 committee chair Paul Francisco (links at bottom).
Recently I interviewed building scientist and ASHRAE 62.2 committee member Iain Walker, PhD, about the issues. We had a great discussion, but make sure you read to the end. You don't want to miss what he says about the ERV flaw you've probably never heard about. Also, be sure to attend the ACI national conference, where Iain, Joe, and several others will be on a panel debating this issue.
Allison Bailes III What do you think of the great ventilation debate that's happened over the past year and Joe Lstiburek going rogue and creating his own residential ventilation standard?
Iain Walker I don't know that there's much debate happening really. You know, we have one national standard that is being used more and more, and I think that's the way it's going to continue. So I'm not sure there's very much debate going on.
ab3 Do you see any value at all in the issues that Joe's brought up?
Walker Well, it depends on what you mean by issues. Most of the issues have been discussed at length by the 62.2 committee on and off. Certainly some of them, the 62.2 committee is investigating in great detail.
I'll give you an example. One is this idea of maybe the standard should require filtration. Currently it has a very weak requirement for something like a MERV 6 filter. But MERV 6 filters don't really filter out the size of particles we're concerned about for health. So maybe we should have a requirement for that and we haven't figured out what that would look like and how to make it equitable across different systems and different climate zones and different homes, so it's complex to find something in that area that's suitable for a national standard, but certainly we're looking into it.
We're not dismissing Joe's concerns, and to be fair they're not just Joe's concerns. We all know what to do to improve indoor air quality. The question is always how to get it to work right in the standard.
ab3 OK, getting into what's probably the biggest difference between 62.2 and Joe's standard, what do you think of his idea to require different rates for different ventilation types, central-fan integrated supply vs. exhaust only vs. balanced?
Walker Well there's been a lot of work done in this area, and the difficulty is that different systems are better in different circumstances. This makes it very difficult to say can we always credit one system or another, and I would say, no, we can't. This is what the 62.2 committee decided also because you can create a scenario in which whatever ventilation system you like is better or worse, but overall the answer is there is no one better system from the point of view of achieving the indoor air quality that we're looking for here.
ab3 In Joe's standard, the system that has to ventilate at a greater rate, because he feels like it's not as effective, is exhaust-only. He has cited Armin Rudd's study of two homes in Texas as evidence to support that, but you've said there are other studies contradicting that. Can you go into that?
Walker Sure. Well, on the issue of what's better, there's a whole bunch of papers that were published several years ago—Max Sherman and I wrote several of them and a few other people were involved, too—looking at this exact issue: Should you mix? Shouldn't you mix?
We all agree that there's certainly an advantage to running a central system that filters the air. I think we all agree on that but the question is, now how do we compare that to the filtration provided to the building by an exhaust system and people have researched that and found out that the building envelope is something like MERV 9, but it depends a lot on how leaky the envelope is. The tighter the envelope, the more filtration you get. The looser the envelope, the less filtration you get. And indeed that's what the 62.2 committee has been saying that if you're going to give a credit for filtration, we have to figure out the effective filtration for all systems, and it is a little tricky to deal with.
There are other things like the difference between a balanced system and an unbalanced system. In a balanced system, you can simply add the infiltration rate to whatever ventilation rate you've got, but you can't do that with unbalanced systems. The 62.2 standard has been silent on that issue. It just says, you know, here's the flow rate. We don't care if you do balanced or unbalanced. Frankly, I think it's probably going to continue that way, mostly for simplicity. There's a big interest in keeping it simple from the users of the standard, builders and contractors.
As we've said many times, the standard is just a minimum performance. You can always do better. And the implication there is if you say you use an HRV or ERV that's balanced, and you provide quite a bit more ventilation, well you go ahead and that's great. You've complied, and you've got a better system. You're providing heat recovery.
That's great also because the standard doesn't say anything about requiring heat recovery either. And that's a better system and the standard says, go ahead and use it. No problem at all. We don't have to have anything in the standard that deals with that for that very reason. You can always do better if you want because the standard is focused on, what's the worst you can do and still have a reasonable indoor air quality. That's the basis of the standard. You can always do better than that. That's why it's silent on this balanced vs. unbalanced issue.
ab3 Well that gets me to my next question. A few weeks ago you said that it's "dangerous" if you ventilate less than the 62.2 rate. Why do you think it's dangerous? I think you were talking about less because you kind of confused better and more. You said you can always do better than ASHRAE 62.2, but does that mean more?
Walker Well, OK, let's answer that question first. If you're concerned about diluting indoor air pollutants, you do that by bringing in more outdoor air. But you can also remove pollutants by deliberately filtering for particles. There are also filters that will remove some of the chemicals, but they're a little obscure and we don't see them very much.
We certainly see filters all the time, and it's almost trivial these days to go into a store and buy yourself a better inline filter and stick into your forced air system. Or you can get units that just service a room. You can go out and buy these things now, and that will provide better indoor air quality because you're deliberately doing something extra to remove those pollutants. So there are all sorts of ways to get to better indoor air quality.
You can also—we do this in California—we say you can't use high VOC emitting materials in buildings. That's a great idea for improving indoor air quality, much better than trying to ventilate it away or to scrub it with a filtration system. If you don't bring polluting things into the home, that is obviously a great idea.
The final point on this is that sometimes the outdoor air quality isn't good. It's very difficult to dilute indoor air pollutants if the outdoor air quality isn't very good. But that's something that's very difficult for us to deal with in an IAQ standard because there's a lot of regulation for outdoor air that is really beyond the scope of what we're trying to do with the ASHRAE standard.
Frankly I think in the US, the actions of the EPA are keeping our outdoor air pretty good. It's not always great, but it's pretty good in most places. That's actually great, and I think that the EPA and lots of other people are doing outdoor air research and making that cleaner, and we'll let them continue to do that.
I don't think the ASHRAE 62.2 standard is going to try and deal with outdoor air pollutants in any significant way as a minimum standard. I mean you can always do better. You can envision some sort of control system that if you know there's high ozone outdoors, you might want to turn off your ventilation for an hour or two and control that way. You can certainly do that, but I don't think we would require that as a minimum performance specification.
Now that was the second part of your question. So there are many aspects to achieving good indoor air quality. It's not just ventilation. There are all these other possibilities, like source control and filtration and that sort of stuff.
Remind me again what was the first part of your question.
ab3 The first part was about your comment about it being dangerous to…
Walker Oh, yeah, yeah, yeah. Well, OK, dangerous might be a little bit of a strong word, but I think that the objectives are manifold for the standard. Indoor air quality is sort of a broad term, so I just want to break it down a little bit.
I think we're getting much more of an emphasis on health than we used to have. Traditionally, we used to ventilate mostly for things like odors and moisture control. They were the prime drivers historically. And by historically, I mean going back thousands of years up until twenty-odd years ago. Just because health is a very difficult thing to deal with because there's a lot of things that affect health and everybody responds differently. We're only just getting enough knowledge to make some reasonable health decisions.
The danger, if you will, of not ventilating to the 62.2 level, sort of combines all these things together. We know historically about odor control and we know about moisture control, and you could impact things like mold growth, which is a health problem or degradation of surfaces, which is a structural problem. But also, we're ventilating for chemicals we know are problems. I should speak more broadly – pollutants we know are problems, because it's not just chemicals.
The most significant pollutant from a health perspective is particles, in fact. There have been studies done that have measured concentrations of these things in homes. And we know enough about some of these components of indoor air quality and what their health effects might be and the levels we're setting in 62.2 are at about the point where we think we're reasonably dealing with most pollutants and most circumstances.
Now we're obviously going to be able to deal with extreme events or unusual things but all a standard can do is work most of the time for most homes for most people, and we're never going to capture every single possibility. That's just unreasonable.
The problem with going below that is that the levels of various pollutants could build up to the point where we could not say this protects most people most of the time anymore. This is the consensus of a whole bunch of people on the committee with all sorts of backgrounds representing all sorts of interests.
Our European friends, of course, are occasionally critical of our standard because they say our ventilation rates are actually much too low. They like much higher rates, and their ventilation standards are considerably higher than 62.2.
But, you know, there has to be some sort of judgment applied here and this is where we are now. This is what the knowledge of all the people who have worked in this area for a  long time is a reasonable number to go for to protect against indoor air quality issues that affect a substantial number of people a substantial amount of time.
I think that if you want to ventilate a home, that's a good target. If you go below that, you'd better have some pretty good evidence that it's OK. You better have some pretty good large scale studies or a reasonable consensus among a lot of people representing a lot of points of view that actually it's OK to go to say half that air flow rate. Currently we can't say that.
The danger in picking lower numbers without any backing is, is that even real? If you think of yourself as a contractor installing ventilation systems, and you install us a very low flow one that is below 62.2 and there is an indoor air quality problem and somebody sues you, the danger there for a contractor is you would be successfully sued because 62.2 basically represents the current recommendations of good practice in our industry. If you're going to go significantly below that level, you'd better [garbled recording]. If you get sued, you'd be in a lot of trouble because you're not taking the advice of your industry. It just creates a minefield, frankly, that I don't think anybody should want to walk into.
ab3 But the minefield is mainly because there's this standard that says you need to ventilate at this rate, and the standard isn't based on a lot of hard health data and epidemiological studies. Right?
Walker That's right, but it's based on a lot of knowledge about air flow in buildings and pollutant emission rates and pollutant concentrations and the health impacts of them. We can say a lot of good stuff without needing large-scale epidemiological studies that would answer things with a great deal of certainty.
And frankly, we'll never have those studies. You'd have to cover so many climates, so many different pollutant generation rates, such a wide group of people, and you'd have to do intervention studies where you ventilate and didn't ventilate. We're never going to have that large scale epidemiological information so we have to do the best with what we know.
And what we know is we have some pretty basic physics going on about dilution of pollutants if you know their emission rates. And even if you know their emission rates vary, like with formaldehyde, we have good models of how that works. We know the science of how that works. And we have some pretty good health data on, not all the pollutants, I would say, but certainly the significant ones that show up a lot in many houses that have health impacts like particles, oxides of nitrogen, and some things like formaldehyde that people are more familiar with.
Then there are some marginal things like water vapor, which isn't  necessarily directly a health impact, but the effect of water vapor can be a health impact as a second order thing. So I think we know enough to be making reasonable decisions and that is what the ASHRAE committee is all about. It's about knowing enough about the science of this to make a reasonable decision.
ab3 One more question about 62.2: What do you think would make the 62.2 standard better and where do you think the committee is going with it?
Walker The committee—I mentioned this a few minutes ago—is actively thinking about, should we have some kind of air filtration requirement, mostly to account for particles, because particles are so important from a health perspective. The committee is actively working on this right now. I can't predict when we'll have something concrete in the standard. That's always a very difficult and a dangerous thing to do, but I can tell you that this is a subject that the 62.2 committee is very interested in and is working on very hard at the moment.
We're bringing some new people onto the committee and getting people to come and give presentations. So I think the issue of filtering air is going to be an interesting topic in the future for the standard. I think that the major change we're likely to see going forward is that because I think there may be some other detailed things that the standard…
I personally don't think the standard isn't going to have to act on because of other things happening but it's important to talk about and that is issues about combustion safety and this idea of unvented combustion in a home. The reason why this is an issue for the standard is because combustion produces a lot of pollutants that we don't want to have in our home, a whole broad range of them.
In the home performance community there's a great interest in this because when we go into homes and tighten them, we do combustion safety testing, for example, or when homes are rated, there's combustion safety testing also. I think that this is, from an indoor air quality perspective, burning stuff in your home is crucial.
This leads me to the next point that I think we might see coming in 62.2, and that is a better way of dealing with kitchen exhaust. Here I'm talking primarily about range hoods because cooking, whether you're burning gas or cooking with electricity, produces all sorts of pollutants and it's probably the major source of pollutants in your home for most people, unless you're doing something really extreme.
Venting those pollutants correctly, as in you want to exhaust them directly to outside—that's the preferable way of dealing with it. Right now the standard says you've got to have a range hood with 100 cfm of exhaust or you can ventilate the kitchen at a higher air flow rate overall but we're learning more on how they work.
And range hoods don't capture all the cooking pollutants when you turn them on. So we're working with ASTM, not with the ASHRAE 62.2 committee. We have an ASTM committee looking into, could we develop a capture efficiency test method so range hoods could be rated for their capture efficiency.
Then what the 62.2 standard could do, or any other ventilation standard or even building codes for that matter, they could say, yes, you've got to install a kitchen range hood with a minimum capture efficiency of say 75%. But until we have the test method in place that actually rates the range hoods, standards like 62.2 or mechanical codes can't require a capture efficiency because there's no test method. I think we will see something along those lines happening in the next couple of years.
We have a really good group of people together developing the ASTM test method for capture efficiency. The industry as a whole—and by industry, I'm including the people who manufacture kitchen ventilation products as well—is very interested in seeing this go forward, and I think we'll see that change in ventilation standards within a couple of years that deals a lot better with how we deal with capture efficiency of exhaust and does a much better job of ventilating kitchens.
A little add-on to that is this issue of, well, do people even turn these fans on, whether it's in kitchens or even in bathrooms, too. The standard does require that you install exhaust fans in kitchens and bathrooms, but they're user-operated, so you're there cooking and you turn it on or you're having a shower and you turn it on.
Another area that's developed in 62.2 is maybe we should automate these things. I'm thinking more particularly about kitchen ventilation and how range hoods operate. If people don't turn on their high capture efficiency range hood, it doesn't help them at all. We have to know it operates.
There are a few manufacturers out there making automated range hoods. This is another possibility for a requirement. Not only will we have to have good capture efficiency but there will be some specification about how you automate a range hood so that whenever you turn on a burner to boil a pot of water or turn on the oven to bake some bread, the ventilation system in the kitchen turns on automatically.
We're currently at the beginning steps of that. We've done laboratory testing of the current control systems, and there's a big range of performance. Some are good and some are poor, so we may have to have a standard for that, too, given the range of performance. That's certainly something I think could have a really good impact on indoor air quality in homes, whether it's in the 62.2 standard or in the plumbing and mechanical codes.
I'll be honest with you, when people ask me what's the single biggest thing they can do to improve the indoor air quality in their homes, I always tell them to use their range hood. That's so easy to do. You flip a switch. You don't have to purchase anything. You're not buying a fancy filtration system. That's the first thing to do, and I think that the ASHRAE standard and these codes are very interested in these sort of things that are relatively simple but could have a substantial effect on indoor air quality without having to increase ventilation rates. We could really have some big effects there.
Those areas are where I see the whole business of indoor air quality advancing in the near future: active filtration and doing better with kitchen exhaust on several levels. That's where there's a lot of activity right now. That's where I see us improving our indoor air quality efforts in the near future.
ab3 At the Dry Climate Forum, I think you talked about ERVs recycling formaldehyde and sending it back into the house rather than outdoors because it behaves like water. Can you talk about that?
Walker Yeah, this is an interesting perspective. I just want to be clear — we're talking here about ERVs, which exchange moisture as well as heat, not HRVs. This is an issue for ERVs. The issue for ERVs is that as you're exchanging moisture between the two air streams, maybe other things get transferred, too. The particular pollutant that we're concerned about is formaldehyde because formaldehyde, from a chemical point of view, looks a lot like water. It's quite a similar molecule.
We've done some testing to look at this in our laboratory to see how much formaldehyde might get transferred between the incoming and outgoing air streams. In other words, if you operate this ERV, maybe you're not getting rid of the formaldehyde like you think you are. That was our question.
Indeed we found that there can be substantial transfer, but it depends a lot on the specific materials that are used in the ERV to do that transferring of the moisture. It's very specific to the particular way of doing it. Also, there are differences between ERVs.
There are basically two ways of exchanging the moisture. Some do it through a membrane, and the second one is with a wheel that spins between the two air flows. The wheel ones we've always had some concern because there's always some bypass about where the wheel goes from one air stream to the other. There's always a little bit of air leakage there. In fact to be fair to ERV ratings, that bypass is included in the ratings so the ratings are good. This is all included in that.
The concern from an indoor air quality point of view is what is that bleed air and the fact that you've got a wheel rotating from one air stream to another is actually transferring pollutants. The answer is, yes, it is, but unfortunately, I can't just tell you, well, it's 10%. There isn't a number.
It depends a lot on the materials used and how the ERV is designed and how well it's sealed to prevent that sort of transfer. We're shortly going to have a paper on that. There was some work done by other people at LBNL. I was only peripherally involved and I did not write the paper.
The ERV manufacturers are taking this very seriously. I can't make any promises, but we've had some very good discussions with them about this issue. Where I think we're going to end up is, because we can identify the various materials that are used to transfer the moisture and unfortunately some formaldehyde, we can also pick materials that are much better at transferring the moisture and not formaldehyde, and the manufacturers are going to switch the materials they use. This is where I believe we will be shortly because the manufacturers are very aware of this. They're concerned and they want to do the right thing, so I think that's what's going to happen.
Currently it's a bit of a caveat emptor for ERVs. If you want some advice, I would say try and avoid the ones with the disk wheel if you're looking at an ERV for now. We believe this issue is going to go away because we think changing the materials will be able to solve this problem. But right now it is a concern. There are some ERVs that are better than others and no way for a purchaser to know because they're not rated for this.
Make sure you register for the ACI national conference in Detroit because Iain, Joe Lstiburek, Paul Francisco, and several others will be on a panel debating the issue of residential ventilation. Duncan Prahl of Ibacos and I will act as moderators. Register now! The Early Bird deadline is 31 March 2014.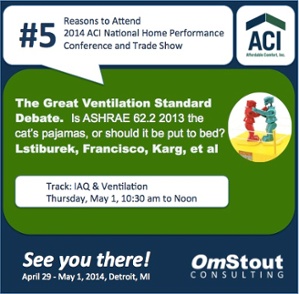 Related Articles
ASHRAE 62.2 Committee Chair Predicts Confusion & Frustration from BSC-01
Interview with Dr. Joe Lstiburek — The Ventilation Debate Continues
Lstiburek Has New Ventilation Standard—Resistance May Not Be Futile
ACI reason #5 image courtesy of OmStout Consulting.
NOTE: Comments are moderated. Your comment will not appear below until approved.