Vented Crawl Spaces: Some Common Problems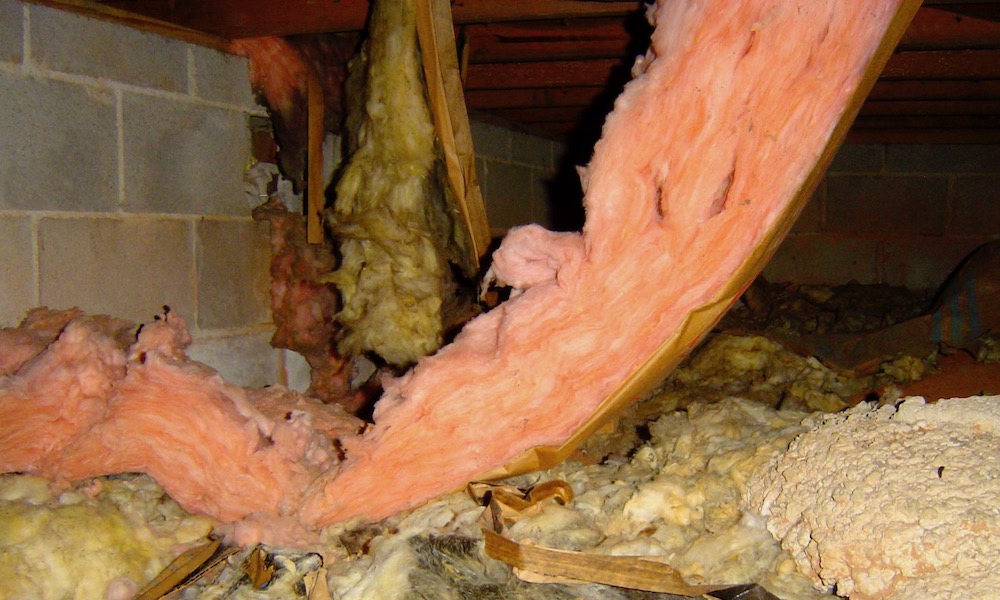 I'm one of those rare people who actually likes to go into crawl spaces. I strap on my knee pads, put on my head lamp, grab my camera, and go have fun. Well, perhaps I'm exaggerating a bit, but I really do like seeing what kind of horror stories I can find to add to my collection. The problem is I've been in enough of them now that I rarely see anything new.
Since I'm on the board of the condo owner's association where I live, I get asked to check things out sometimes, and last week I visited one of our crawl spaces. Again, nothing new, but the photos are so good, I thought I'd share a few here and point out some of the common problems.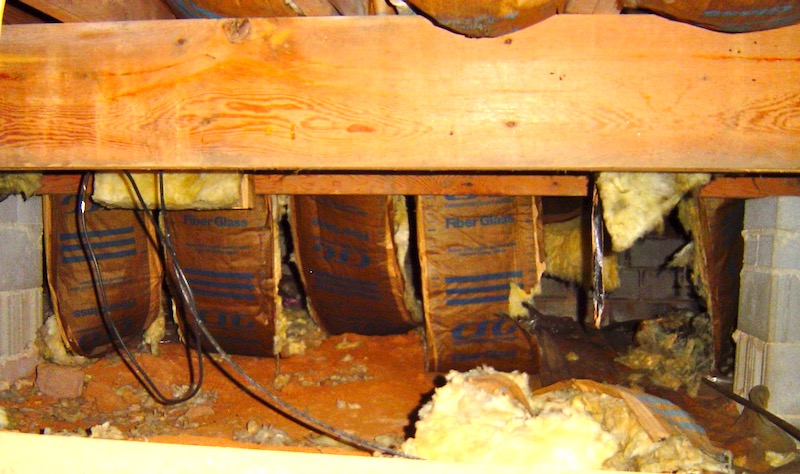 In the two photos above, you can see common problem #1: fiberglass batt insulation falling down. If you've ever been in a crawl space with a floor insulated this way, I'm sure you've seen this problem. In this particular crawl space, they were falling down everywhere. The photo above is not unusual at all. The second photo above reminds me of synchronized swimmers.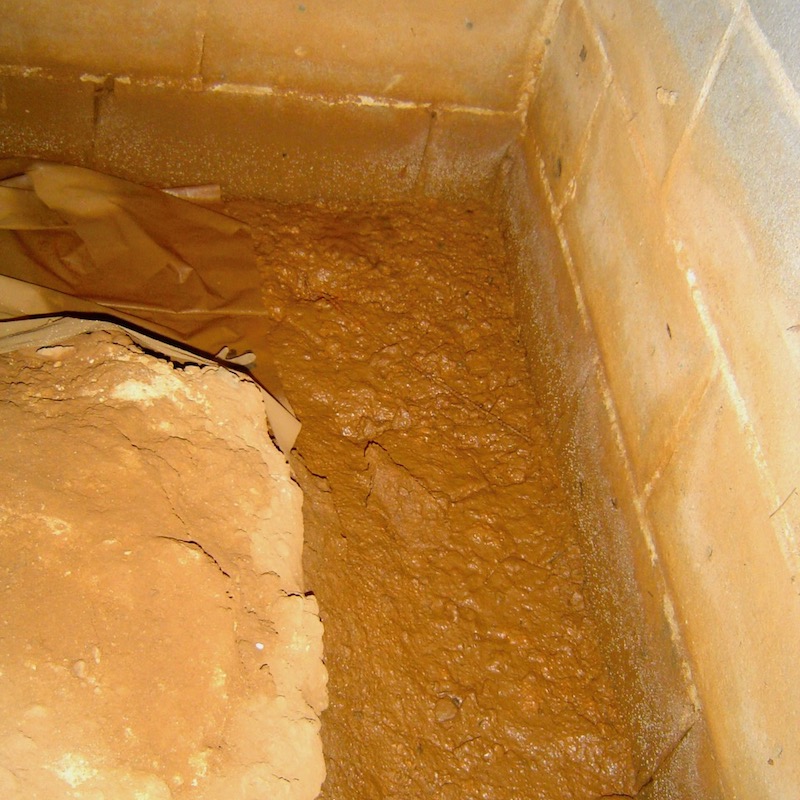 Common crawl space problem #2 is moisture. Soil is wet from below already, but when you have places for outside water to get in, it only makes it worse. This crawl space wasn't terrible, but on the low side of the building, there was a dug out area around the perimeter that was pretty bad. As you can see from the photo at right, the soil didn't have standing water at the time, but it certainly must have right after the last rain. You can tell also from the red stains on the block wall that the standing water has been quite high at times.
Common problem #3 (and these are not in order of importance) is a floor above the crawl space that lets all that lovely air into the house. Mold. Animal poop. Dead animals. It's bad enough that those things are there in nearly every crawl space, but why do we have to cut such big holes in the floor to let that nasty air right into the house. Here you see the large holes cut for back-to-back bathtub drains and the smaller but still significant hole for the sewer pipe.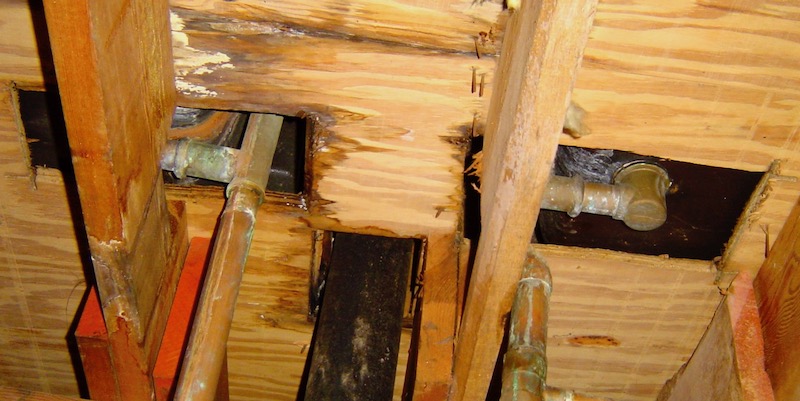 Finally, no crawl space would be complete without ducts, so common crawl space problem #4 is uninsulated supply boots. (A boot is the sheet metal piece that connects the duct to the vent.)
As you can see above, this crawl space has moisture problems. In the summer, the relative humidity problem runs 70 to 90% a lot of the time. (Mold growth, by the way, takes off at 70% relative humidity.) When cold air is going through the duct, that piece of metal the boot is made of gets very cold, probably 55 to 60 degrees cold. That's below the dew point most of the time, so condensation will form on the boot and then drip down into the fiberglass duct insulation.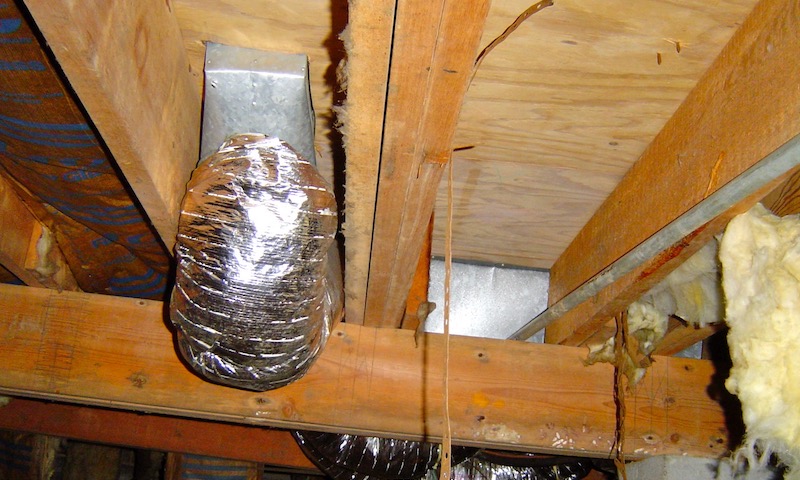 I've been in crawl spaces where so much water dripped down into the duct that the duct was hanging there with a couple of gallons of water in the insulation jacket (the shiny silver stuff around the actual duct).
If you want to avoid these problems, the good news is that there is a way. Building science research has shown that venting crawl spaces to the outside is not a good idea. See the Energy Vanguard page on crawl space encapsulation to find out more about the solution to this nightmare.
Allison A. Bailes III, PhD is a speaker, writer, building science consultant, and the founder of Energy Vanguard in Decatur, Georgia. He has a doctorate in physics and writes the Energy Vanguard Blog. He is also writing a book on building science. You can follow him on Twitter at @EnergyVanguard.
Related Articles
4 Ways Moisture Enters a Vented Crawl Space
Vented Crawl Spaces and the Psychrometric Chart Are Not Friends
What Is the Best Way to Deal with Crawl Space Air?
Comments are closed.