Why Is Guardian Building Products Threatening Energy Vanguard?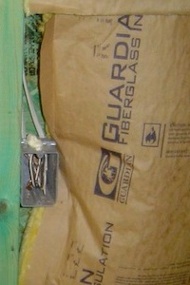 [UPDATE: 11/8/11 I received an apology today from the president and CEO of Guardian. More about that in the follow-up post.] See that photo? It's one of the reasons that I received a nasty letter from Guardian Building Products, a manufacturer of fiberglass batt insulation. They were upset that that I'd written an article about poor fiberglass batt installation and used photos showing their product with the name Guardian plainly visible.
Clearly, no reasonable person would look at that photo and say, Wow, I'm never going to buy Guardian insulation because the installer did a really bad job there. No, the fiberglass batt is fine for what it is, but the installer didn't fit it to fill the wall cavity completely. In fact, most people wouldn't even notice the name on the batt.
Two days after I wrote the article, I got a call from Guardian's attorney, Michael Metz. He told me that they didn't like my use of photos of fiberglass batts with the Guardian name showing. I don't recall him trying to negotiate with me about changes. I think he may have asked me to remove the article from our blog, but he mainly wanted to make sure he had the correct address to send his letter.
One business day later, I received their letter. The first page is shown below, in reduced size.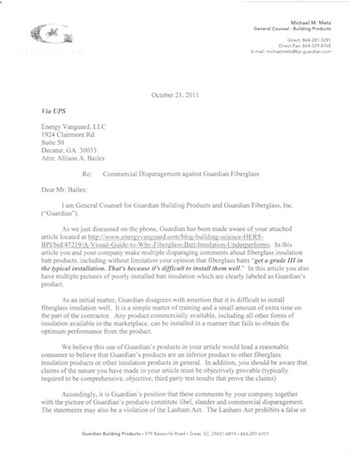 Now, I'm a reasonable person, and you would never have heard a word about any of this had they taken a friendlier tack. Instead, they wrote:
"It is Guardian's position that these comments by your company together with the picture of Guardian's products constitute libel, slander, and commercial disparagement. The statements may also be a violation of the Lanham Act."
and:
"Guardian will aggressively pursue its remedies to the fullest extent permitted by law, and any further conduct by Energy Vanguard of a similar nature will be dealt with accordingly."
They clearly have no legal grounds for their claims because:
I made no mention of their name in the text.
Although the photos did show their name, the article was about installation, and Guardian did not install or even supervise installation.
Nowhere in the article did I say that batts from different manufacturers had any effect on poor installation quality.
There is plenty of evidence that poor installation of fiberglass batts is rampant and that it affects thermal performance.
I recently amended the original article with some evidence for my statements by adding this paragraph:
The installation problem is also well documented by others in the field. In 2009, Martin Holladay wrote an article on fiberglass batt installation in his Musings of an Energy Nerd blog. He cited research done by the California Energy Commission in which not a single home of the 30 in the study had the fiberglass batts installed correctly. Rob Yagid, an editor at Fine Homebuilding magazine, wrote an article detailing the same kinds of fiberglass batt installation problems that I showed above and cited Oak Ridge National Lab's research on the diminished R-value of poorly installed fiberglass batts. This is not an isolated or rare problem.
So, I'm left wondering why they chose such a heavy-handed approach. Apprently they thought they would get their way with me and scare me into never saying anything bad about them or their industry again. I think the most ominous line was:
"…any further conduct by Energy Vanguard of a similar nature will be dealt with accordingly."
It seems they wanted to let me know that they'd be watching, so if I didn't toe their line, they might haul me off to court. But you know, I'm just not a big fan of threats like that. I believe in free speech and speaking the truth and not feeling like I have to self-censor my writing to stay out of trouble. I'm certainly not going to be stupid about it and make ridiculous claims that could deservedly get me hauled off to court. I believe I was far from crossing that line here.
It's unfortunate for Guardian that they chose this route because they're going to lose business as a result. The story broke on the Green Building Advisor website on Friday when Martin Holladay wrote an article about it called Guardian Fiberglass Threatens Blogger With Legal Action. It's gotten dozens of comments already and is spreading around the Internet. In fact, the story has spread as far as Australia, as blogger Marcus Taylor wrote an article about it called Send lawyers guns and money.  [Editor's note, 11/3/21: Article no longer available.] Since this began, I've received nothing but support, including promises of financial assistance should Guardian choose to ignore reason and pursue their claims.
It's also unfortunate that Guardian didn't just talk to me about what they wanted rather than pulling out the big guns immediately. I had no problem making the changes to the article that they asked for because they didn't affect my point at all. Not only could they have achieved their main objective, they might've even made a friend in the industry. In fact, they still can, but first they'll have to get out of this hole they've dug for themselves.
Guardian: it seems to me that you've got two choices:
Keep digging your hole deeper.
Admit your mistake and see what you can do to make amends.
This story isn't big yet. If some of the bigger news outlets pick it up—say Grist or Treehugger or maybe even the big news networks—it could easily spiral out of control. With building materials sales already way down, can you really risk this?
Readers: If you support the right of anyone to tell the truth without intimidation, please leave a comment below and hit the share buttons at the top of the article. Let's send the message to Guardian that bullying won't work.
Allison Bailes of Atlanta, Georgia, is a speaker, writer, building science consultant, and the founder of Energy Vanguard. He has a PhD in physics and writes the Energy Vanguard Blog. He is also writing a book on building science. You can follow him on Twitter at @EnergyVanguard.
Comments are closed.