A Birthday, a Report, and a Prize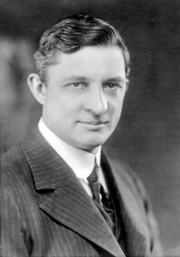 Happy birthday to Willis Carrier! He invented modern air conditioning and changed the world. In his quest for a device to control humidity in the Sackett-Wilhelms Lithographing & Publishing Company in Brooklyn, New York, he invented a device that changed migration patterns in the United States and elsewhere. The Southeastern US wouldn't have nearly as many people as it does were it not for the air conditioner. And then he gave us the psychrometric chart!
Another thing Mr. Carrier's invention did is to help fuel global warming — in two ways. Air conditioners run on electricity. The compressors in AC units take quite a bit of energy. That has meant a lot more burning of coal, the backbone fuel of the US for over a century, and a lot more carbon dioxide in the atmosphere.
And then there are the refrigerants. These materials have amazing properties that allow us to move great quanitities of heat through precisely engineered phase changes. But they have a dark side, too. The early ones (CFCs) were banned because of their destructive effect on the ozone layer. The replacements (HCFCs and HFCs) are being phased out because of their high global warming potential (GWP). They can be a thousand or more times more effective at trapping heat in the atmosphere than carbon dioxide.
The report
The result is a warmer climate. The image below is from the Fourth National Climate Assessment, which just came out on Friday. The map at the top shows where we are now, a couple of centuries into the Industrial Revolution. The lower maps show projections for the mid and late 21st century.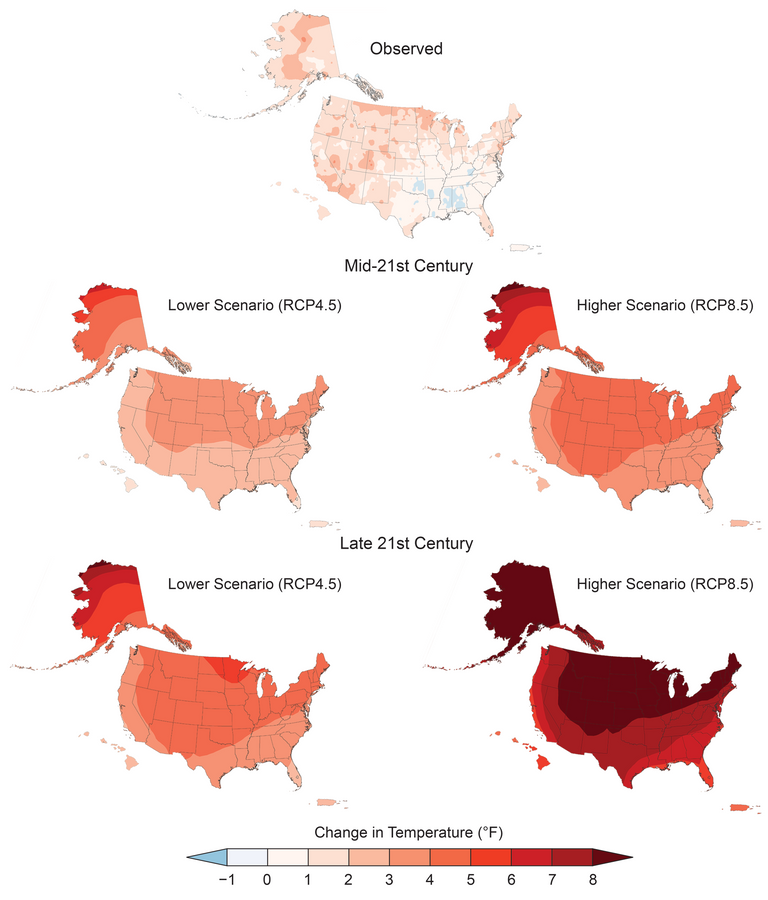 And if you're wondering how much the temperature has risen, climate scientist Gavin Schmidt recently posted this graph online: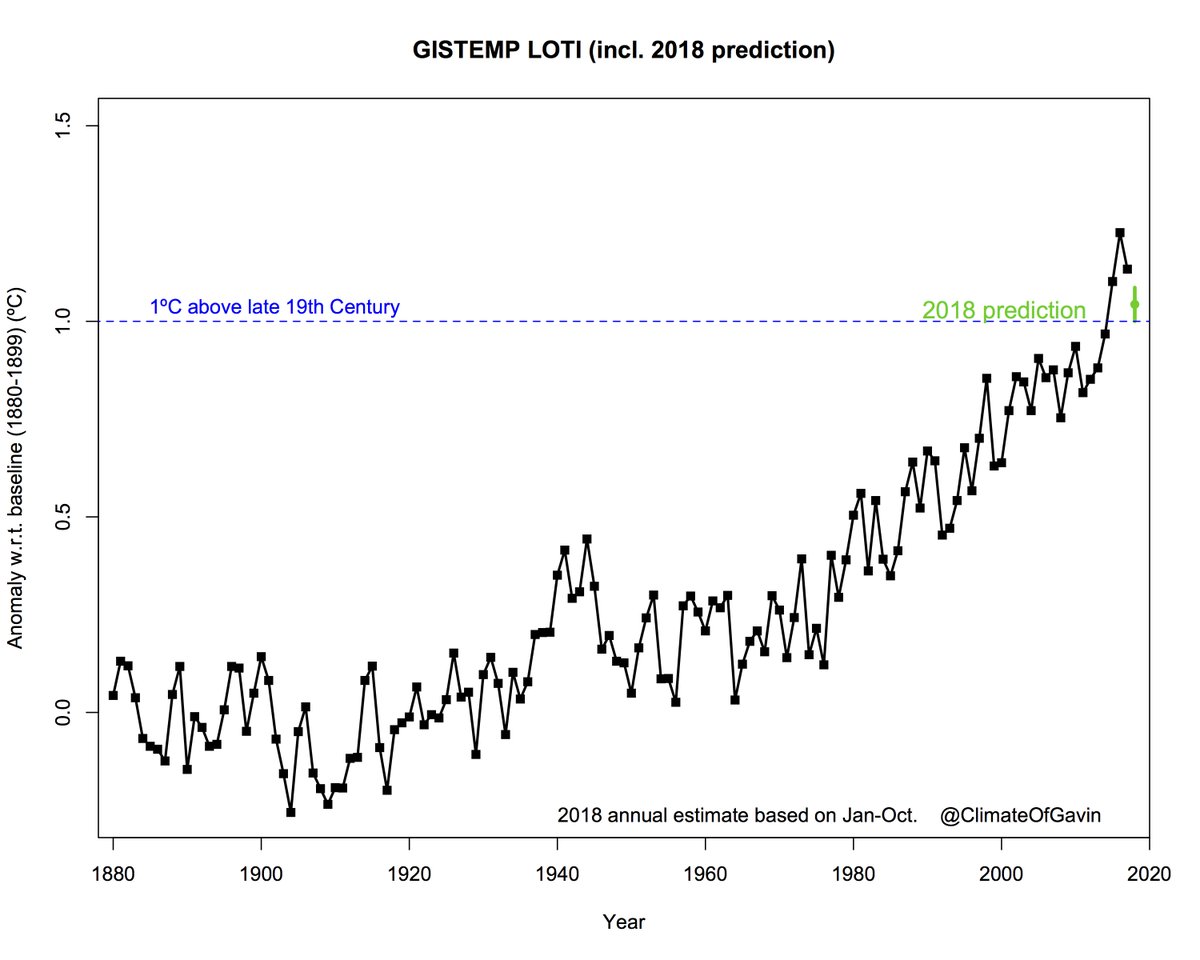 It looks like we're in for a rough ride with the climate this century. And I know some of you have trouble with the whole concept of climate change because it's been so heavily politicized, but this is happening now. We're not talking about some far-off time in the future. Flooding, droughts, fires… How much more evidence do we need?
You can read the report online. If nothing else, take a look at the overview. It includes discussion of the change that's happening now, what's coming in the future, how it affects the US economy, and what we can do to minimize future negative climate impacts.
And to my conservative friends who just can't bring themselves to take this seriously, the US military certainly sees the risks that come with a changing climate.
The prize
The billionaire Richard Branson understands the significance of climate change and the role of air conditioning in it. With countries like India adopting air conditioning on a massive scale, this is a huge issue. So he's putting his money where his mouth is and offering a 3 million dollar prize for a new air conditioner that:
Has 5 times less climate impact (including refrigerant) than their baseline unit
Is no more than twice the cost
Runs on less than 700 watts at full load
He has a few other criteria as well, which you can see on their website.
Air conditioning in November?
I don't normally write about air conditioning once we get into heating season here in most of the US, but this is an important exception. Besides, if I still lived in Florida or Louisiana or Texas, air conditioning season wouldn't be over. It's year-round on the Gulf coast. And my friends down under are just now at the beginning of their air conditioning season.
And what better day to discuss this than on Willis Carrier's birthday!
Related Articles
A Plastic Film That Might Replace Your Air Conditioner
The Science of Global Warming Is Older Than Quantum Mechanics
Climate Change Is Just a Theory
NOTE: Comments are moderated. Your comment will not appear below until approved.