Busting a Myth About Low-Static Ducted Mini-Splits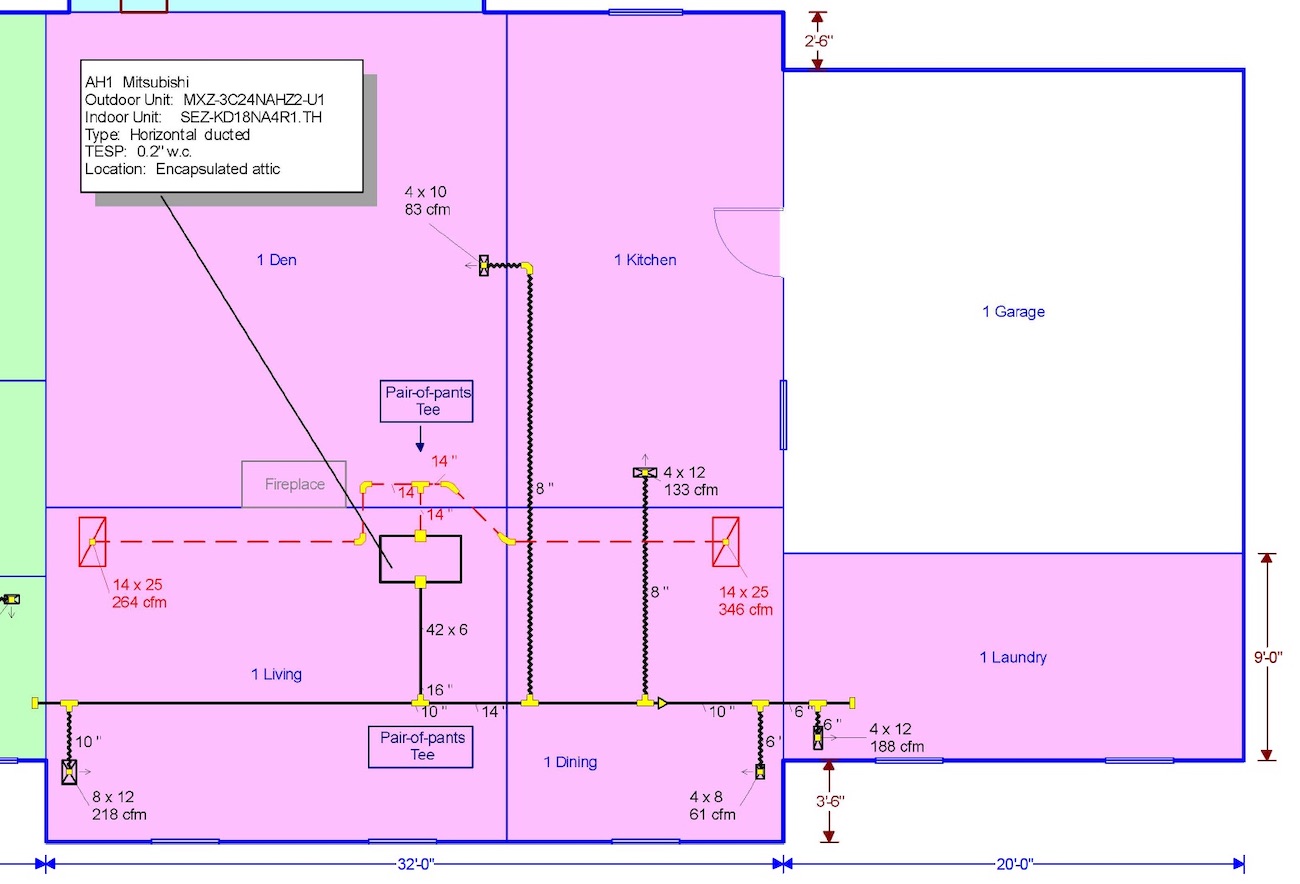 I like mini-split heat pumps, especially of the ducted variety.  And because I don't like to pay for a lot of excess power, I prefer to use ducted mini-splits with smaller blower motors operating at a low total external static pressure.  The Mitsubishi* units we have in our office and that I have in my home now are rated by the manufacturer to operate at a static pressure of 0.2 inches of water column (i.w.c.) or less.
Now, that's a pretty low static pressure to work with.  A typical conventional heat pump or air conditioner is rated by the manufacturer to work at a static pressure of about 0.25 i.w.c. and 0.5 i.w.c. when paired with a furnace.  Actual duct systems usually exceed that number, and the manufacturers have built in extra blower capacity to handle higher static pressure because they know that's what happens in the field.
Using an air handler with a smaller motor, however, means you have to be careful with your duct design and not squander that pressure.  But there's a little myth that's taken root among people who have some familiarity with ducted mini-splits but haven't worked through the technical details.
The myth is this:  You have to keep the ducts short when you use a low-static ducted mini-split because it doesn't have enough oomph to move the air.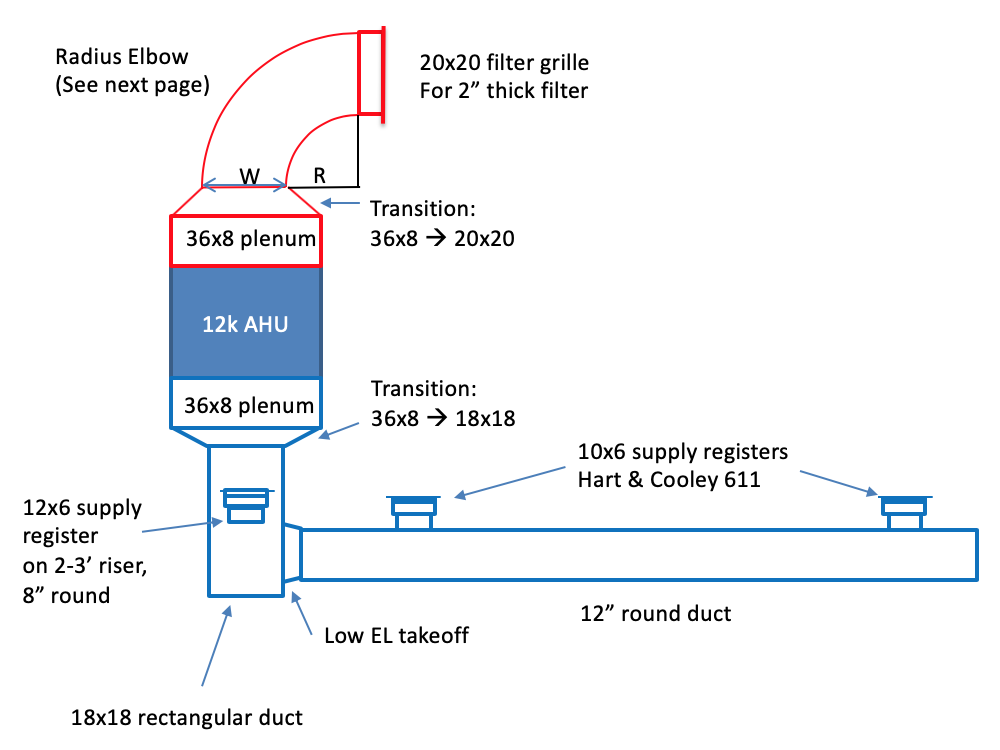 The diagram just above shows one that most people would look at and say, "Yeah, that's a pretty short duct system.  That'll probably work just fine with a low-static unit."  And as a matter of fact, this duct system does work.  It works really well.  I know because it's in our office here at Energy Vanguard.  We designed it and PV Heating & Air, a local company that does great HVAC work, installed it.
The air handler we used was the Mitsubishi* SEZ-KD12, rated for a maximum of 0.2 i.w.c.  When I measured the pressure, I found that we're running at about half of the maximum when the air flow is at its maximum (photo below).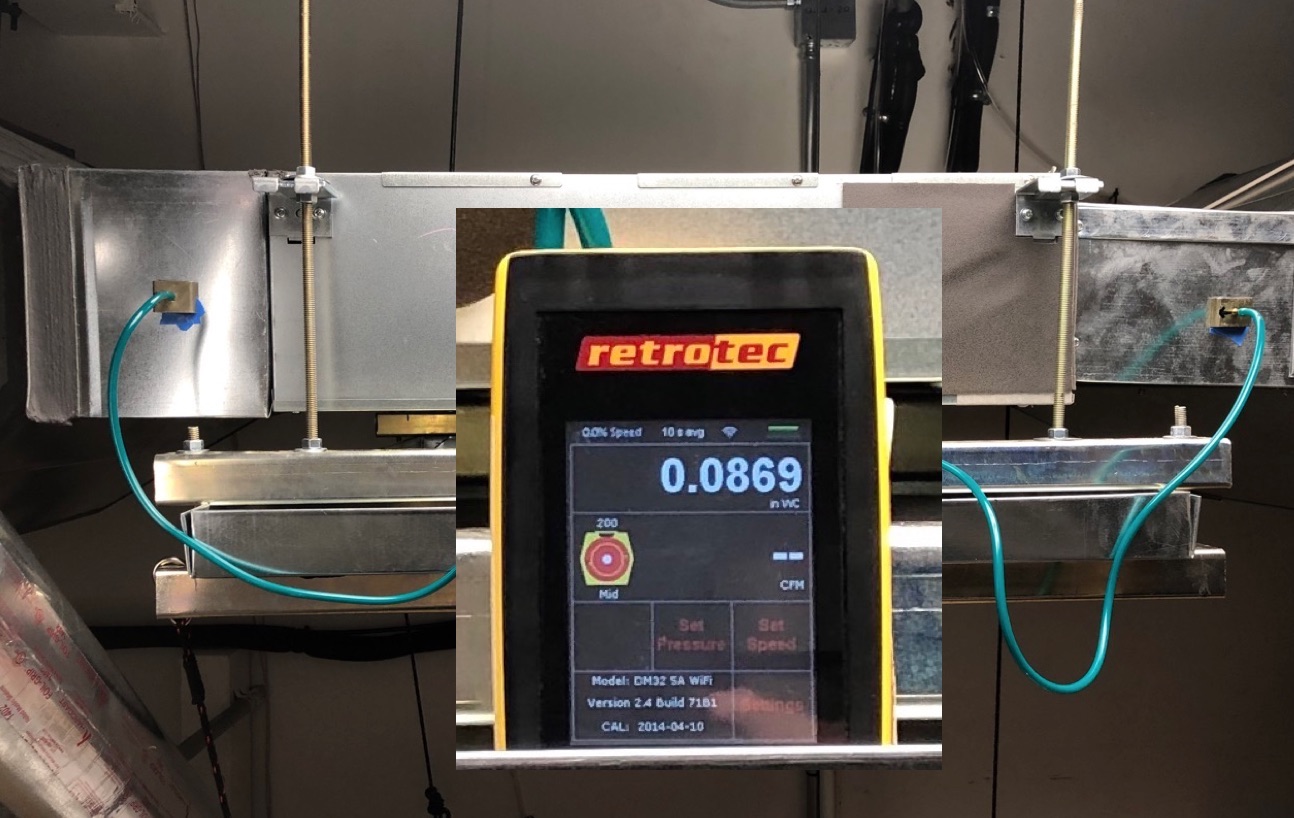 If you look at the duct diagram of our office, you'll notice a focus on the transitions and the big radius elbow.  Getting those things right helps tremendously.  Below is a photo of that big elbow on the return side.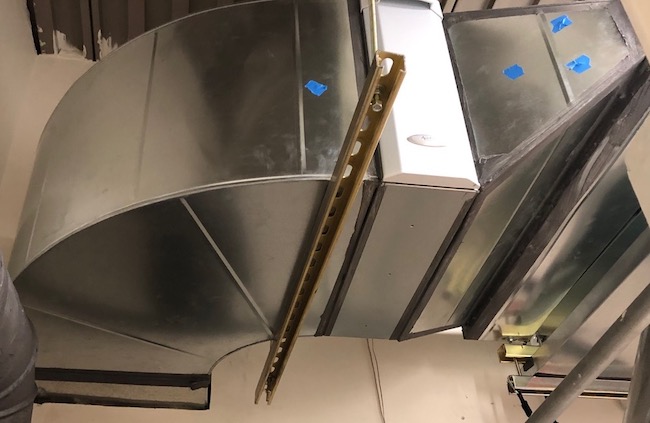 The key here wasn't the total length of the duct system.  The two things we did to make this system work so well were:
Make the ducts larger in cross-sectional area
Use fittings that are better for air flow (lower pressure drop)
Let me emphasize this point:
The actual length of the ductwork doesn't matter as long as we keep the static pressure low.
Yes, the actual length does come into play because the total pressure drop increases with longer ducts.  But you may recall from my duct design series that the fittings (elbows, takeoffs, boots…) have a much bigger effect on the pressure drop (as measured by total effective length) than the straight runs of duct.
Also, the pressure drop in both the straight sections and the fittings decreases when you keep the velocity of the air in the ducts low.  And that's what embiggening the ducts does for you.  (What do you mean "embiggen" isn't a word!?  It's a perfectly cromulent word.  Get outta here!)
Anyway, bigger ducts and better fittings reduce velocity and pressure drops, allowing more overall ductwork than you might imagine for a low-static ducted mini-split.
Here's a shot of one of the returns for one of the low-static ducted units in my house.  Again, we have a big radius turn there to reduce turbulence and keep the air flow rate high and the velocity low.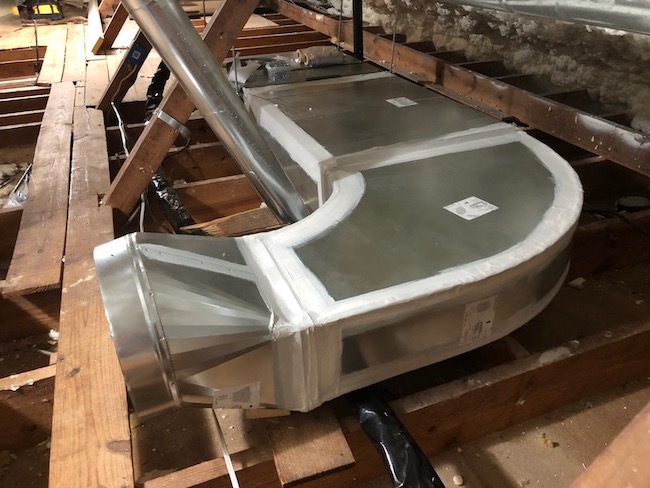 If you look back at the lead photo at the top of this article, you'll see quite a lot of ductwork in that design.  That's the other low-static unit in my attic.  If you believe the myth of short ducts, you might look at it and think, "That'll never work."
But you'd be wrong.  It works really well.  In fact, it's a perfectly cromulent duct design!
Addendum (12/1/21):  My focus in this article is on air flow only.  There is one reason to limit the size of ducts, though, and it applies to both the length and the diameter.  If ducts are in unconditioned space, the conductive losses increase with duct surface area.  The ducts in our office and in my house as well as 95% of the systems we design for our clients, though, are in conditioned space.  Where they belong.
Allison A. Bailes III, PhD is a speaker, writer, building science consultant, and the founder of Energy Vanguard in Decatur, Georgia. He has a doctorate in physics and writes the Energy Vanguard Blog. He is also writing a book on building science. You can follow him on Twitter at @EnergyVanguard.
Related Articles
The Best Velocity for Moving Air Through Ducts
The Basic Principles of Duct Design, Part 1
Not All Mini-Split Heat Pumps Are Ductless!
* Disclosure:  Mitsubishi is an advertiser in the Energy Vanguard Blog and gave us a really good deal on the equipment in the Energy Vanguard office and my home.
** Disclosure:  PV Heating & Air gave us a discount on the installation.
NOTE: Comments are moderated. Your comment will not appear below until approved.