Clarifying the Confusing Calculations for Zero Energy Buildings
A zero energy building is one that produces on-site at least as much energy as it uses. As I've written here before, the US Department of Energy has been mulling over the various ways to define and calculate zero energy use and recently they made their choice. They're going with a zero energy balance based on source energy. As it turns out, doing the calculations is a bit confusing.
Site energy vs. source energy
First, let's define these two terms.
Site energy - This is the energy used on-site, as measured at the meter. For electricity, just look at the kilowatt-hours you get billed for.
Source energy - This is the energy used on-site plus the energy that went into getting that energy onto the site. For electricity, it's the kilowatt-hours you get billed for plus the kilowatt-hours of energy that are "consumed in the extraction, processing and transport of primary fuels such as coal, oil and natural gas; energy losses in thermal combustion in power generation plants; and energy losses in transmission and distribution to the building site." That quote is from the DOE report, A Common Definition for Zero Energy Buildings, released this month.
Of course, you have to define the site boundary, which could be the perimeter of the building or the property line. Any energy that crosses the boundary is counted as delivered or exported site energy.
Calculating the zero energy balance
I wrote about these calculations a little bit in my article on the four definitions of zero energy use, but it wasn't as clear as it could have been. This time I think you'll get it.
The DOE is going with source energy as the basis for zero energy buildings, so let's see how that works. The first thing you need to know is how to go from site energy to source energy. For that, all you do is multiply by the appropriate conversion factor. The table below is given in that latest DOE document on zero energy buildings and come originally from ASHRAE standard 105.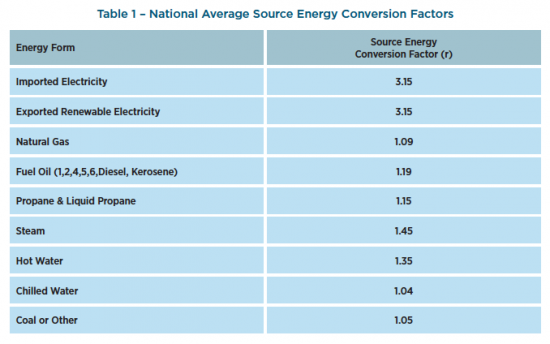 What confuses a lot of people is that second line. For example, if a home uses 10,000 kWh per year of electricity delivered to the home, it takes 31,500 kWh of source energy to make that happen. So you might think that if you put photovoltaic modules on your roof, you'd need to export 31,500 kWh of electricity to the grid to offset the source energy of the electricity delivered.
Not true! Every kWh that you send to the grid really offsets 3.15 kWh of source energy because that kWh can be delivered to another home instead of the electricity from the power plant, with its 3.15 kWh of source energy. Hence the second line in the table above. Imported and exported electricity both get multiplied by the same conversion factor.
Using a fuel like natural gas on-site can be confusing, too, but if you just use the table above, it's pretty easy. Let's put some numbers in an example:
Imported energy
Type
Site Energy
Factor
Source Energy
Electricity
6,000 kWh
3.15
18,900 kWh
Natural Gas
40 therms (1172 kWh)
1.09
1277 kWh
 
 
Total
20,177 kWh
To qualify as a zero energy building, this home would have to offset 20,177 kWh of source energy. Because exported electricity gets multiplied by the 3.15 conversion factor for electricity, that gives us:
E x 3.15 = 20,177 kWh
E = 20,177 kWh ÷ 3.15 = 6,406 kWh
What that means is that you've got to produce 6,000 kWh of electricity on-site (renewable only - diesel generators don't count) to offset the imported electricity and another 406 kWh to offset the natural gas use.
Make sense?
If you've got other energy types or fuels in the mix, you do the same thing. Just pick the appropriate source energy conversion factors from the table and calculate the imported and exported energy numbers.
Related Articles
The Department of Energy Makes a Choice in the Net Zero Debate
4 Ways to Define Net Zero Energy Use in Buildings
It's Time to Settle the Net Zero Energy Controversy!
Photo of power plant by Walter from flickr.com, used under a Creative Commons license. Table of conversion factors from the DOE report, A Common Definition for Zero Energy Buildings.

NOTE: Comments are moderated. Your comment will not appear below until approved.
Subscribe to the Energy Vanguard Blog
The Latest from the Energy Vanguard Blog