Design Flaws That Can Rot Your House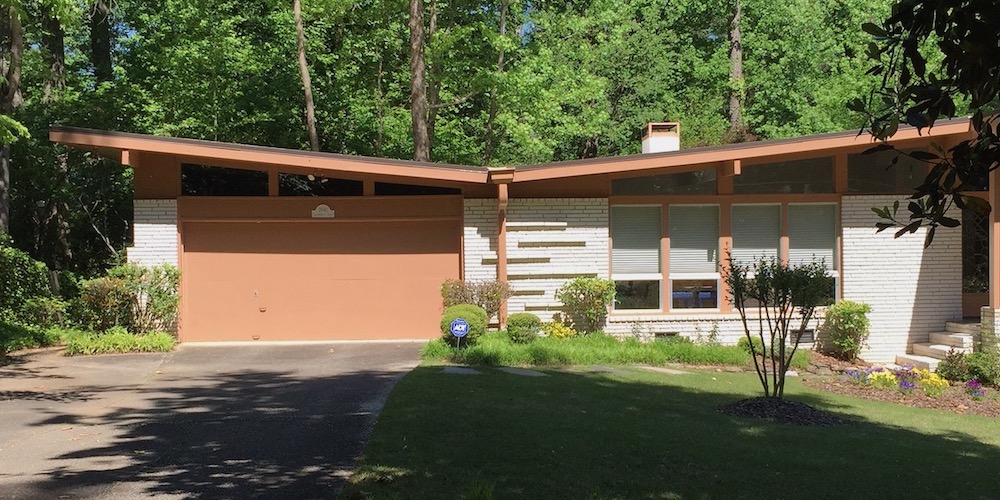 Most of the moisture management problems I've written about here are ones that occur because of poor installation. When builders don't integrate window flashing with the drainage plane, for example, water can find its way in and rot out the window framing. Sometimes, however, architects make it harder on builders. When they design building features that make it hard to drain the rain, failure is more likely. Let's look at a few design flaws of this type.
The lead photo shows a mid-century modern house not far from where I live. The butterfly roof certainly looks interesting, but think of what happens when it rains. I'm sure they built up a little bit of slope in that dead valley, but still, there' not a lot of room for error here. Delay just a bit on maintaining that roof, and you've got a living room and garage full of water.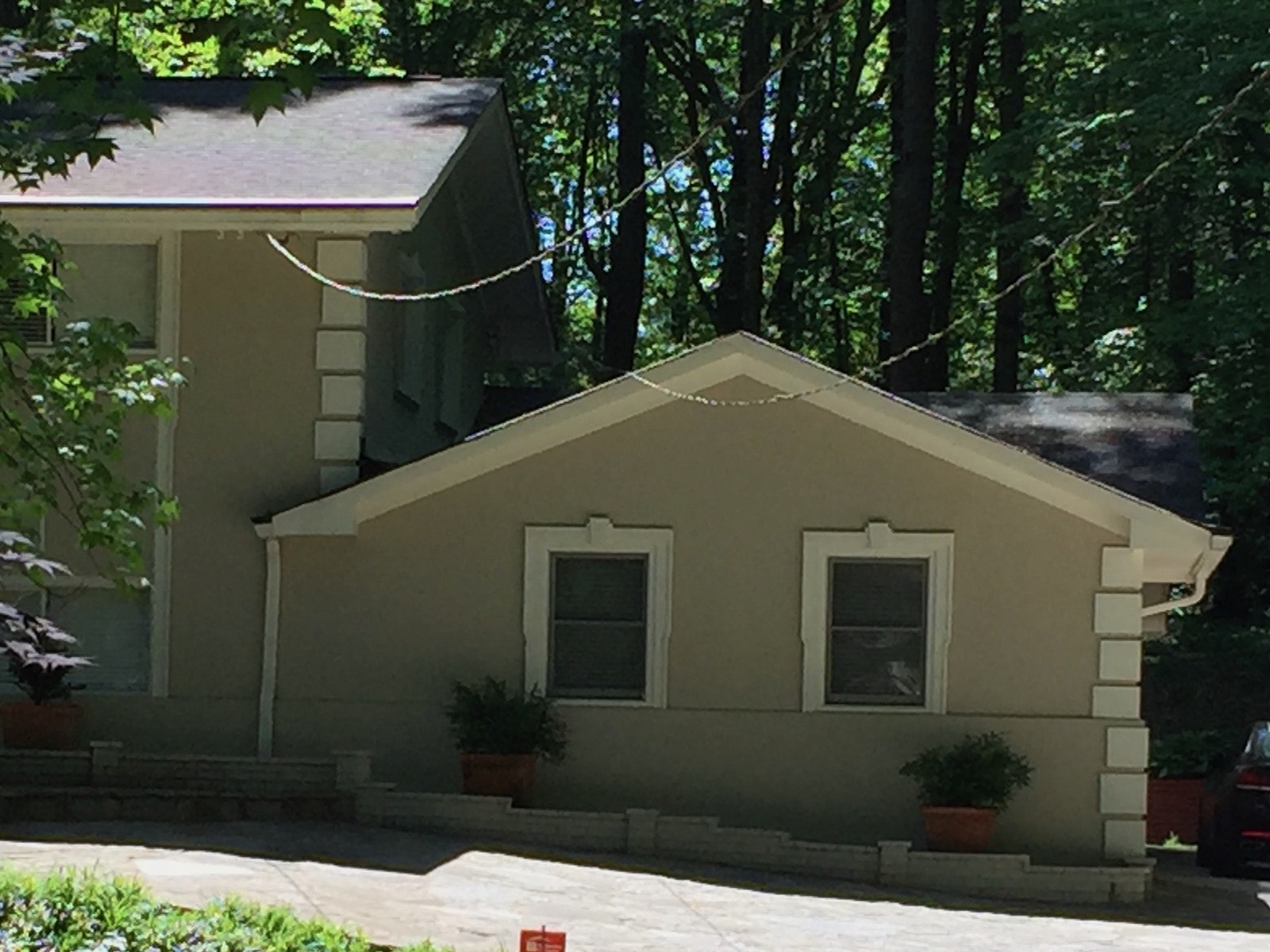 The one above is similar. It's a dead valley created by the intersection of a gable roof over the garage and the wall of the house. And to make it even more interesting, these homeowners have a lot of trees over the house.
And speaking of trees…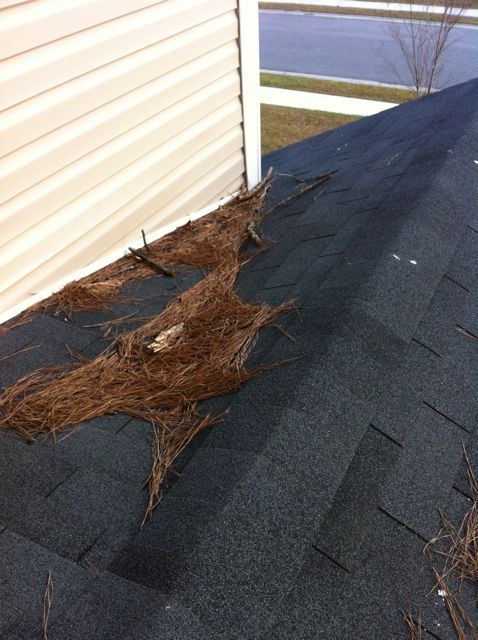 Here's a roof of a similar house. It's got a roof-wall intersection, and you can see the cricket (covered with pine straw) they built to give it some slope. But that narrowing passageway for water is a great trap for debris. I took the photo above five years ago when the house was brand new and unoccupied. I wonder if they've seen water damage inside yet.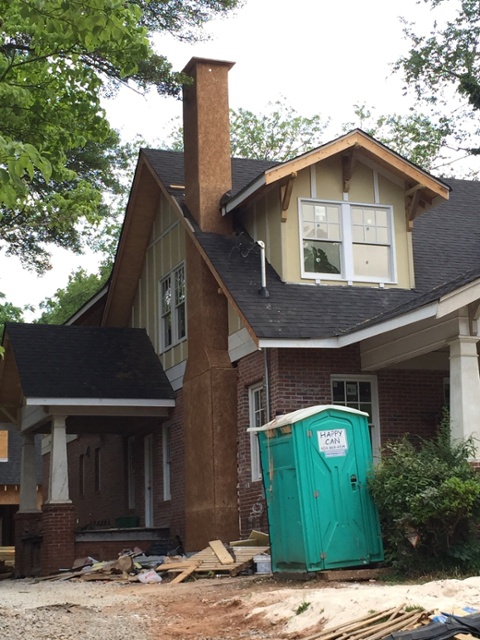 Here we have a chimney. By itself, that chimney wouldn't cause much of a problem. It's not at the eave, so there's not so much water hitting the upper side of it. But then they put a dormer right there to slow down the water. Maybe a well designed cricket will keep this house dry. Maybe it won't. They didn't have to rely on the cricket though. They could have eliminated to problem with good design. They could have eliminated the chimney, eliminated the dormer, made the dormer smaller, moved the dormer a bit to the right (although that valley becomes a problem then)…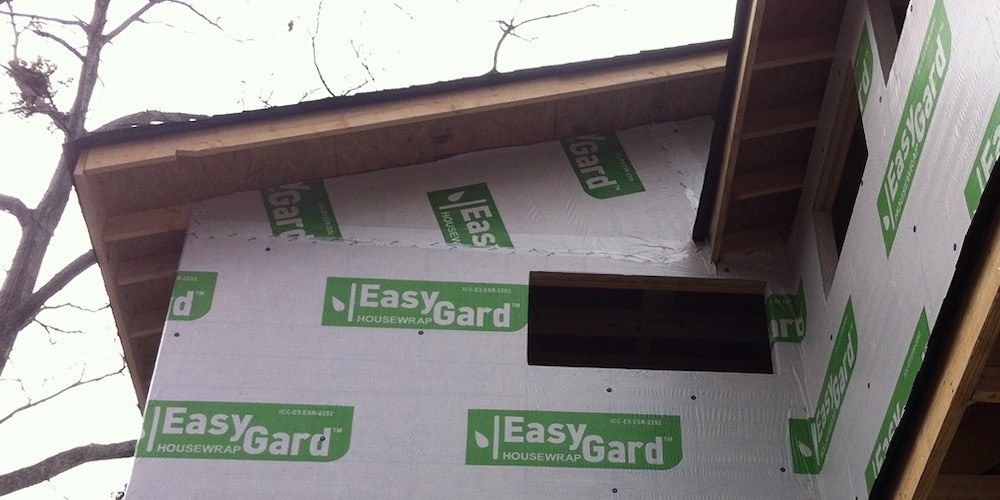 And finally, we have the window right beneath the roof overhang. Well-installed kick-out, step, and window flashing might keep this window dry for a long time. But why take that chance? Just move the window or make it smaller. There's got to be a design solution.
You don't have to be a building scientist to figure this stuff out. We all have experience with water and gravity. We know their tendencies. Those of us in the world of building science also know that when materials on the outside get wet, they stay wet longer now because buildings are better insulated. When water gets into that exterior sheathing or the framing behind it, things rot.
The battle against moisture problems starts in the design phase.
Allison A. Bailes III, PhD is a speaker, writer, building science consultant, and the founder of Energy Vanguard in Decatur, Georgia. He has a doctorate in physics and writes the Energy Vanguard Blog. He is also writing a book on building science. You can follow him on Twitter at @EnergyVanguard.
Related Articles
Down and Out Is the Rule for Draining the Rain
Why Did Painters Refuse to Paint Insulated Houses in the 1930s?
The Gap Between Stupid and Hurt Is Narrowing
Comments are closed.