Do UV Lamps Really Improve Indoor Air Quality?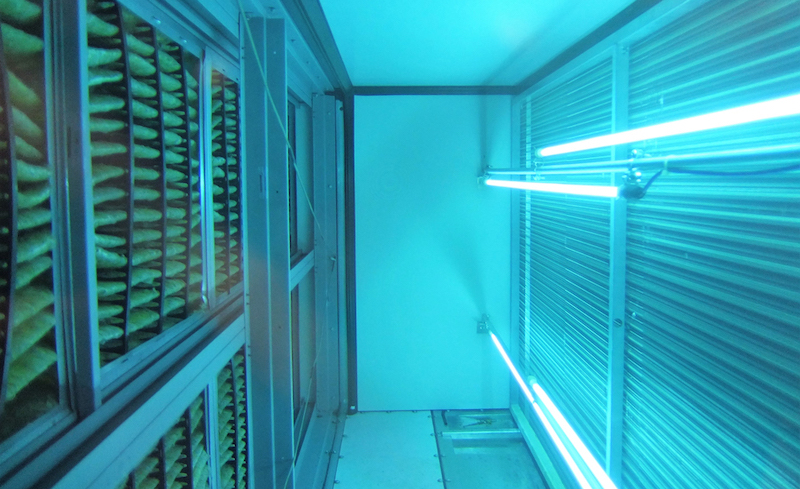 I used to be a smart-ass who would say things I thought were clever but really were just annoying. When I learned the basics of quantum physics, for example, I had a clever/annoying answer for anyone who asked me, What's new? E over h, I'd respond. Hahaha! Then we'd both laugh our heads off. Just kidding. They'd look at me like I just stepped out of a flying saucer, and I'd explain the "joke."
Some of you know where my answer came from, but let me explain. It really does bear on the subject of this article. E/h = ν, where E is energy, h is Planck's constant, and ν, the Greek letter nu, is frequency. That's the energy of photons for electromagnetic radiation with frequency, ν. So the higher the frequency, the higher the energy of the photons.
This is important in understanding ultraviolet (UV) radiation and its use in buildings. UV lamps are sold as an aid to improving indoor air quality (IAQ), and lately that includes killing the coronavirus that may be in the air in your home. Let's begin by understanding the first part first, UV radiation. Then we'll answer the question about whether UV lamps might help your IAQ.
Ultraviolet radiation
Electromagnetic radiation can be described by its wavelength or its frequency. You can convert between the two using its speed, which, for electromagnetic radiation, is the speed of light. Wavelength and frequency are inversely proportional. When one increases, the other decreases. Longer wavelengths mean lower frequency. Higher frequency means shorter wavelength. Here's a nice illustration of the electromagnetic spectrum from NASA showing that relationship and more.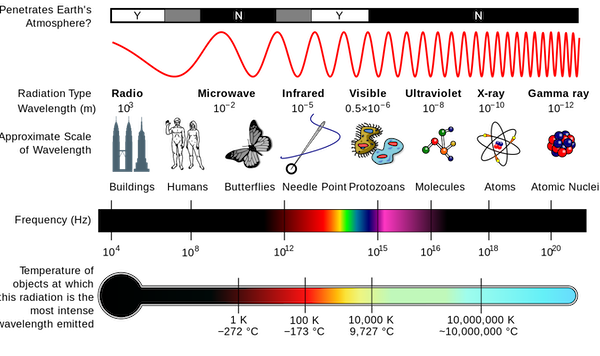 Using the equation behind my smart-ass answer, we can see that higher frequency also means higher energy. You can do more damage with ultraviolet rays than with visible light, for example. And since UV is the focus of this article, let's zoom in on just that part of the spectrum. It's divided into three general regions, called UVA, UVB, and UVC. UVA is the range that includes black lights. UVB is what gives you sunburns and skin cancer. UVC, with its shorter wavelengths and greater energy, is the part of the spectrum used in UV lamps to kill germs.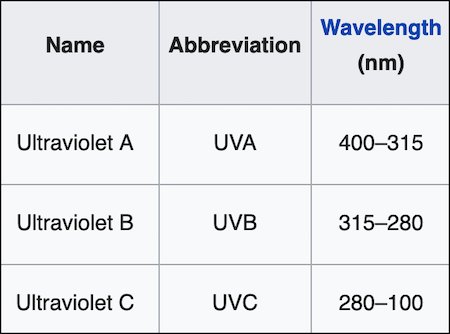 Using UVC to kill microorganisms
The thing about UVC, though, is that even though a lot of it is generated by the Sun, none of it makes it to the Earth's surface. It's all absorbed by the ozone layer in the stratosphere. (Ozone is an important part of this discussion in another way, too. We'll come to that in a bit.) As a result, life here on Earth has evolved without exposure to UVC and that makes all kinds of life forms vulnerable to it if exposed.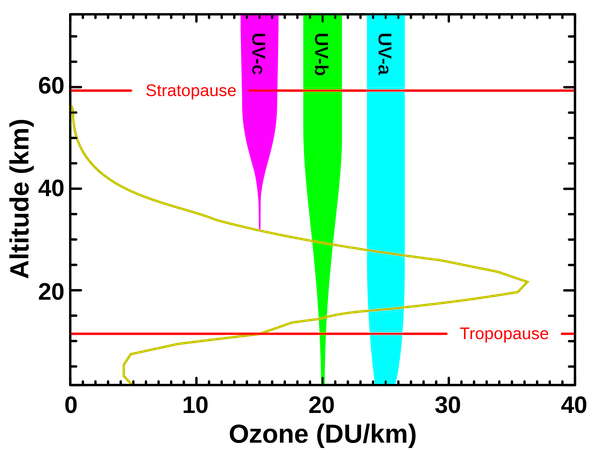 And therein lies its usefulness. Bacteria, fungi, and viruses can be killed by exposure to UVC. The UVC photons are energetic enough to damage the DNA and RNA of microorganisms, destroying their ability to replicate. Different microorganisms respond differently to UVC. Viruses are very susceptible to it, bacteria are less susceptible, and fungal spores are the least susceptible. What that means is you have to apply the right dose of UVC to kill the stuff you want to kill.
And yes, this does work. This week I watched a webinar with Professor Bill Bahnfleth on the topic of what's called ultraviolet germicidal irradiation (UVGI), and he showed some of the studies that have proven the effectiveness of using UVC to stop the spread of infectious disease. He also gave a really good overview of using UV lamps to kill germs. Here's a link to the recording of the webinar, and here's the pdf of the slides.
What UV lamps do
There are two ways that UVC irradiation kills or incapacitates the bad stuff. It kills them in the air and it kills them on surfaces. Also, UV lamps are generally used either out in a room, buried inside an HVAC system, or in a standalone air cleaner. I'm going to focus mainly on in-duct UV treatment here because putting exposed UV lamps in a living room or kitchen is not something that people do with their homes. (I hope not anyway.) That technique is for hospitals and healthcare facilities.
Most UV lamps are like fluorescent lights. It's the same technology but the primary output is UVC. In fact, it's a specific wavelength of UVC: 254 nanometers (nm). The mercury vapor in the lamps emits light at that frequency, and it turns out to be pretty darn good for killing germs. The graph below shows that the peak of germicidal effectiveness occurs at 265 nm, so our mercury vapor UV lamp gives us UV light that's about 80 to 90 percent effective relative to the peak.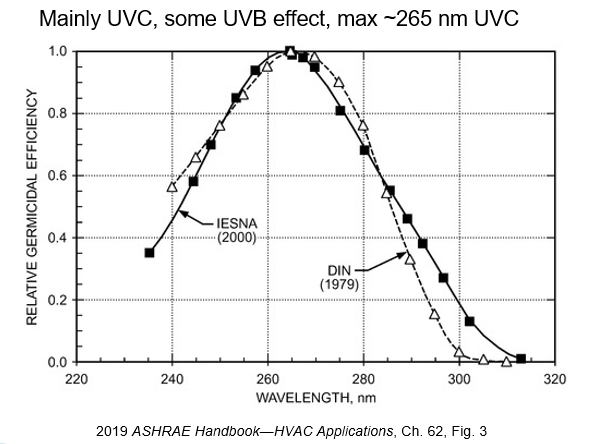 UV lamps in residential HVAC systems
The first thing to say here is that it's not common to find UV lamps in residential HVAC systems. Some homes do have them, but it's a small percentage so chances are you don't have one. Second, let's go back to the two ways that UV lamps kill microorganisms: in the air or on surfaces.
In the lead photo of this article, you see UV lamps installed inside an air handler, between the cooling coil and the filter rack. The primary benefit of using UV lamps like this is to kill stuff growing on the coil or in the drain pan below it. Air conditioning coils get wet by condensing water vapor. When they stay wet, they tend to start biology experiments as dirt and microbes collect there. In a system with poor filtration and leaky return ducts, it can get really bad, as you can see below (and read about here).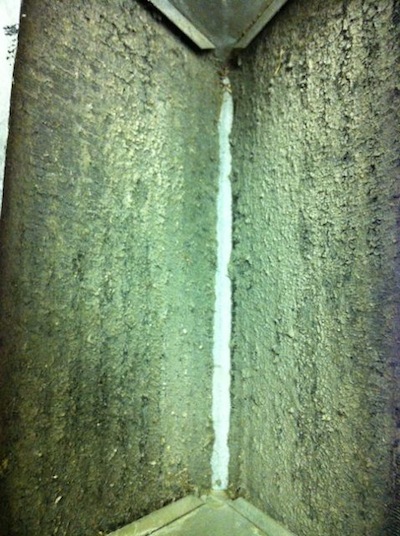 Keeping the coil and drain pan clean is something UV lamps are good at. Zapping germs out of the air inside a residential HVAC system, however, is generally not as effective. The main reason for that is that the UV lamp won't have the intensity needed to provide a high enough dose to kill the various germs. The air moves through most air handlers and duct systems at 500 to 900 feet per minute. The faster it moves, the more power you need in your UV lamps to zap the speedy little germs.
So for UV lamps integrated into the HVAC system, the main benefit is to keep stuff from growing on the surfaces, especially the coil and drain pan. It's not going to kill much coronavirus or other baddies that get pulled into the ducts.
In addition, you have to make sure the materials that will be exposed to the UV irradiation can take the heat. As we all know, some materials break down from UV exposure, a process called photodegradation.
The huge downside of some UV lamps
One thing that's missing in the discussion of UV lamps a lot of times is the other wavelength that mercury vapor lamps generate. In addition to the 254 nm output, they also produce UV at a wavelength of 185 nm. That's well off the peak of germicidal effectiveness (see graph above), but it's worse than just ineffective. That shorter wavelength, higher frequency, higher energy UVC radiation causes regular oxygen molecules (O2) to break up and then form ozone (O3).
And ozone, which is great in the stratosphere, is a pollutant here at ground level. Here's what the US Environmental Protection Agency (EPA) has to say about it:
When inhaled, ozone can damage the lungs. Relatively low amounts can cause chest pain, coughing, shortness of breath and throat irritation. Ozone may also worsen chronic respiratory diseases such as asthma and compromise the ability of the body to fight respiratory infections.
You don't want ozone in the air in your home. Yes, some companies do sell ozone generators and make claims about how the ozone will react with the indoor air pollutants and neutralize or destroy them. Those claims are not supported by scientific data. The EPA page on ozone generators shows what really happens.
Not all UV lamps result in ozone generation, however. The key is the glass used in the lamp. Soft glass or regular quartz glass allow the 185 nm UVC to pass through and generate ozone. But when quartz glass doped with titanium is used, all of the 185 nm UVC is absorbed. For in-duct UV lamps, UL has a standard that some companies use to get their products tested and labeled. Here's the label from the APCO-X UV lamps made by Fresh Aire UV. (They're the same company whose UV lamps are shown in the lead photo at the top of this article.)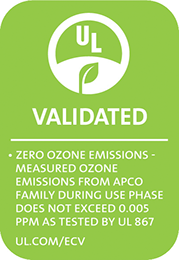 Ozone in the stratosphere is good. Ozone in the air you breathe is bad.
What's a homeowner to do?
What it all comes down to is that UV lamps can help with some things, they're not so good at others, and you need to watch out for the bad things they do. Here's a recap:
In a residential setting, their best use is to keep the air conditioner coil and drain pan clean.
Although they can kill viruses, bacteria, and fungi in the air, they have to be engineered properly to get the right amount of power for the air flow rate.
Your best bet is still source control, filtration, and ventilation for good indoor air quality, and that's where you should start.
Some materials degrade when exposed to UV so you need to make sure your system won't break down.
Some UV lamps generate ozone so you need to get one that's shown to be ozone-free.
There you have it. Ultraviolet irradiation can help with your indoor air quality at home, but probably not as much as you were told by the person selling you the UV lamps. And if you show this article to them, they'll tell you I'm just a smart-ass who doesn't know anything about the real world. I think maybe they saw me step out of that flying saucer.
Allison Bailes of Atlanta, Georgia, is a speaker, writer, building science consultant, and founder of Energy Vanguard. He is also the author of the Energy Vanguard Blog. You can follow him on Twitter at @EnergyVanguard.
Related Articles
Can Your HVAC System Filter Out Coronavirus?
Which Indoor Air Pollutants Matter Most?
How Often Should You Change the HVAC Filter?
NOTE: Comments are moderated. Your comment will not appear below until approved.