Going Beyond 2×4 Walls in a Warm Climate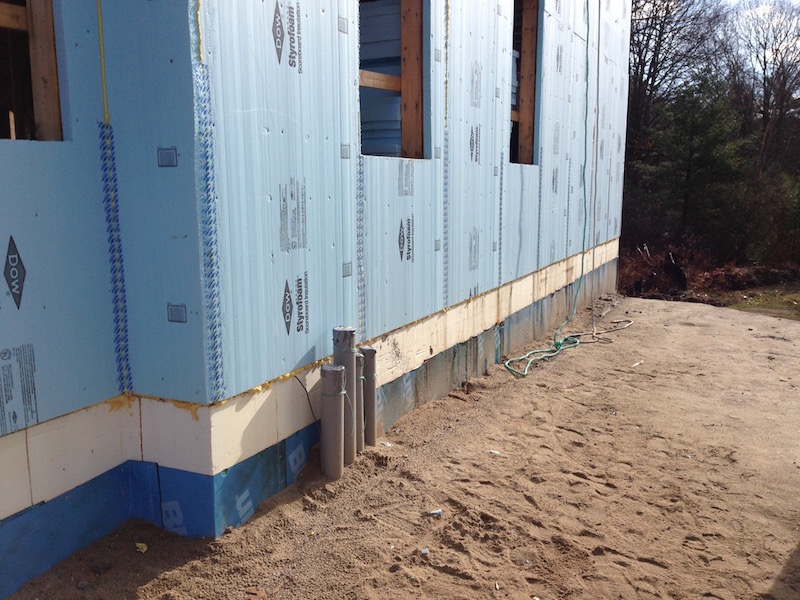 If you live in the world of 2×4 walls, as I do, you may have wondered about the savings you'd get by going to a more robust wall assembly. The typical house in southern climes has 2×4 walls with R-13 insulation in the cavities. Two ways to beef that up would be to add continuous exterior insulation or to go to a thicker wall. But which saves more energy? And how do they compare to the plain old 2×4 wall?
This question comes up fairly often in our HVAC design work. Clients want to know not only about how much energy they'll save but also if they'll be able to downsize the HVAC system. The former saves on operating cost, the latter on first cost. Let's take a look.
Total R-value
A wall assembly is a combination of materials that allows heat to flow in both series and parallel. For this article, I'm going to show you the results I got for four different wall assemblies. First, I've set up a spreadsheet that calculates the total R-value of an assembly and then used that tool to calculate the R-values for these four walls. Here's a summary of them (assuming grade 1 installation):

The first one is your standard 2×4 wall with plywood or OSB sheathing. It's also based on wood studs, not steel. The second one is the base wall plus half-inch, R-3 continuous exterior insulation. The third one is the base wall plus two-inch, R-10 continuous exterior insulation. The last one is a 2×6 wall with R-19 cavity insulation and no continuous exterior insulation.
The best R-value is the one with two inches of exterior insulation. The 2×6 wall is roughly equivalent to a 2×4 wall with a half-inch of exterior insulation.
HVAC design loads
To see what effect these different R-values have on the size of the heating and cooling systems in a home, we have to put in actual numbers for a house. I chose one that we worked on recently. It's a typical house: two stories, 2,800 square feet of conditioned floor area, and about 2,400 square feet of wall area. I've got the file set up in RightSuite so I looked at the heating and cooling loads for the different walls shown in the table above.
But I also looked at the results for three different locations in 2×4 world: Decatur, Georgia (in the Atlanta area and where the house really is located), Dallas, Texas (a hotter climate), and Phoenix, Arizona (a climate so hot I don't know why people live there but hey, that's their choice). Here's what I got: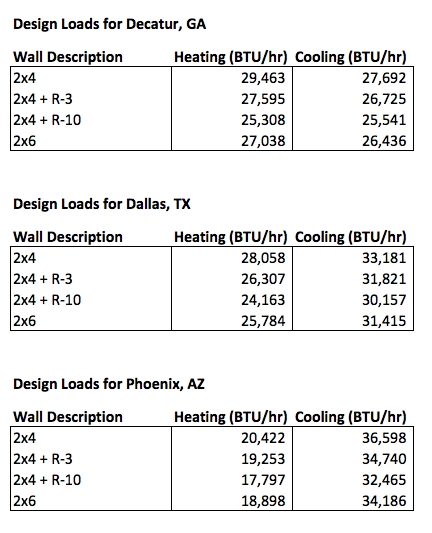 The design temperatures for the three locations were:
Decatur: 25° F & 91° F
Dallas:   28° F & 99° F
Phoenix: 42° F & 108° F
The results here show that the most reduction we can get in the design loads is about 4,000 BTU/hr. That's about a third of a ton of cooling capacity. In other words, you're not going to find much reduction in your equipment costs by adding exterior insulation or going from 2×4 to 2×6 walls. Dropping three to four thousand BTU/hr may allow you to move down one size in your equipment. Maybe.
Energy savings
Well, if you're not going to save much on the first cost of your heating and air conditioning equipment, what about the energy you'll save each year by reducing the heat transfer across your walls? It's not hard to calculate how much heat flows across a wall over the course of a year. The formula for annual heating load is:

The HDD is heating degree days. It's the same form for annual cooling load but you use CDD. (Check out my primer on degree days for more info.) But that equation as written results in mixed units because U has the unit of hour within and HDD is, of course, in days. So to get the answer in BTUs, we have to multiply by a factor of 24 to convert between hours and days. (The first version of the table below was incorrect because I had forgotten that little factor of 24, which made all my numbers too low.)
For the three locations I'm looking at, the number of degree days are:
Decatur: 2,671 HDD & 688 CDD
Dallas:   2,192 HDD & 1,346 CDD
Phoenix: 923 HDD & 2,932 CDD
Using those numbers with the U-values calculated from the R-values in the first table above (U = 1/R) and 2,442 square feet of wall area, here's what I found: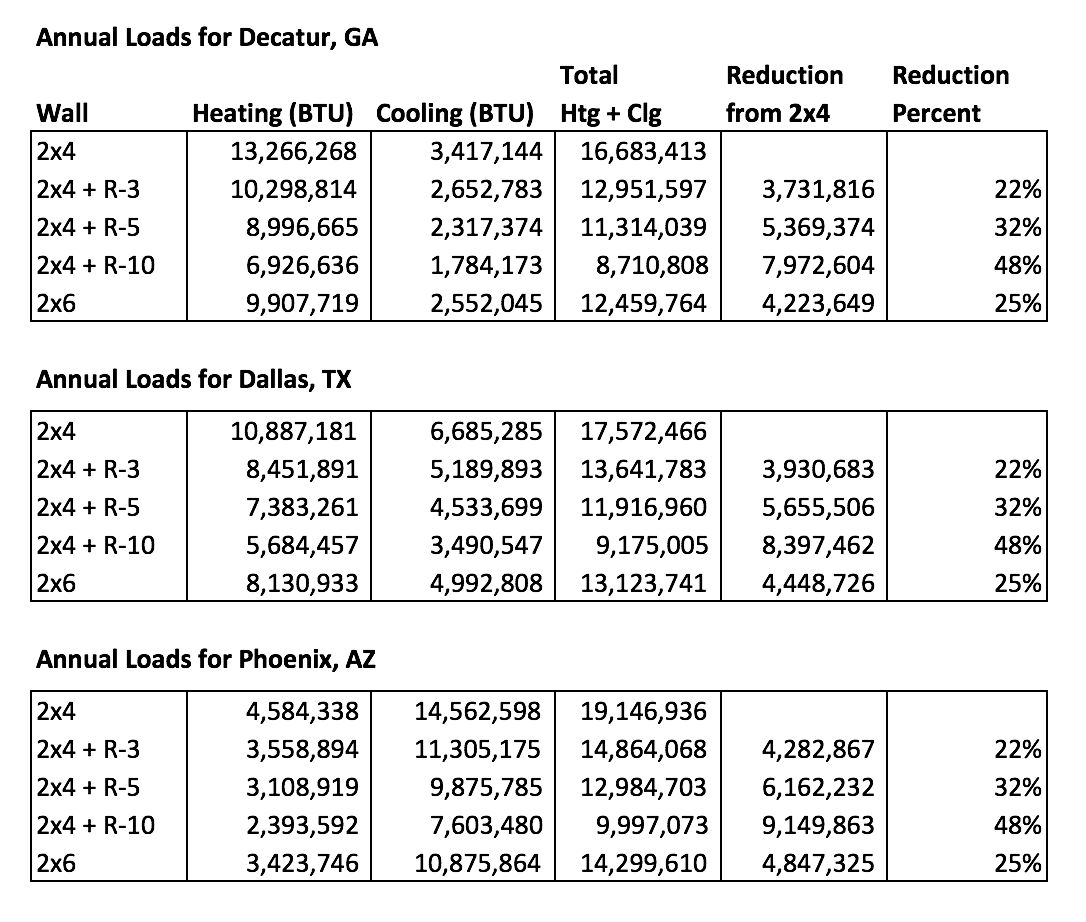 Note that I added another assembly here. In addition to the four above, I included the 2×4 wall with one inch of continuous exterior insulation with an R-value of 5. I figured someone was going to ask about it in the comments.
The good news in these results is that adding more insulation to the walls saves millions of BTUs. The bad news is that the BTU is a pretty small unit of heat. If I had shown how many kilowatt-hours those BTU savings add up to, the highest number would be only about 2,700. That means you're not going to save a lot of money on your energy bills by going beyond the standard R-13 wall in warmer climates.
But if we look at the percent reduction in heat transfer through the walls, it's significant. The 2×4 wall with R-3 exterior insulation and the 2×6 wall both reduce the heat flow through walls by about a quarter (22% and 25% respectively). Going to the 2×4 wall with R-5 exterior insulation reduces your wall heat transfer by about a third. Going to two inches of exterior insulation on a 2×4 wall cuts your annual heat transfer through the walls in half.
Is it worth it?
The 2×4 wall with two inches of exterior insulation gets you the best results among the five assemblies I included here. You could, of course, add even more exterior insulation and reduce the heat transfer even more. Or you could go to a fatter wall without exterior insulation, such as a Joe Lstiburek's ideal double-stud wall. Keep in mind, though, that each inch of thickness you add to the standard 2×4 wall increases your cost, and each successive inch buys you less and less reduction in your wall heat transfer.
With energy costs what they are now, none of the improved walls shown above in the three locations I chose will save you much money and may not even be cost-effective. But energy costs now in much the US are really low. Will they stay this low as long as you're in the house? Who knows!
If you're in a warm climate and want to go beyond a standard 2×4 wall, you can do this analysis for your area and with your local energy costs to see if it's cost-effective for you. Of the four improved walls above, the one that's going to be the lowest cost is probably the 2×6 wall. It's also the safest to build if you've got a framing crew that hasn't done exterior insulation before. I don't mean that your house could fall down if you build it with exterior insulation. I'm saying crews that have never done window bucks or attached siding over exterior insulation may have trouble with the details. But they can frame 2×6 walls.
There's a learning curve with exterior insulation. If you have a crew that can deal with 2″ continuous exterior insulation, though, you can cut the heat transfer through your walls in half and still end up with walls the same thickness as 2×6 walls.
Other reasons to go beyond the 2×4 wall
For some people, the cost-effectiveness based on current energy costs determines whether an improved wall makes the cut. Or maybe it's just how many dollars it adds to the bottom line. But let me suggest some other reasons to consider an improved wall over a standard 2×4 wall.
First, there's comfort. Whether you go with a 2×6 wall or a 2×4 wall with exterior insulation, that extra insulation means that the inside surfaces of your exterior walls won't be as cold in winter or as warm in summer. Now, you may think that doesn't matter a whole lot as long as your heating system or air conditioner is up to the task, but you'd be wrong.
As it turns out, air temperature is only one factor that affects our comfort. Another really important one is called mean radiant temperature. Anyone who's ever walked around naked in poorly insulated house on a cold day has a visceral understanding of mean radiant temperature. Even if the air temperature is warm, cold walls (or windows) can suck the heat right out of you and leave you chilled. (My friend Robert Bean is the most persistent advocate for comfort I know. If you want to do a deep-dive into this topic, check out the pages on mean radiant temperature on his website, Healthy Heating.)
Second, there's carbon. Every BTU of carbon-intensive energy we save helps keep our atmospheric carbon dioxide from increasing further. Most places are using at least some dirty electricity because of the way electricity is shipped around the country among utilities. Reducing the amount of heating and cooling we need in buildings is one of the best ways to help reduce carbon emissions.
This article is targeted toward warm climates, so moisture accumulation in cold sheathing isn't that big a deal. The colder your winters are, though, the more important it is to keep your exterior sheathing dry. Exterior insulation over the sheathing is great for that. One of the weaknesses of double-stud walls is that the sheathing stays colder and thus wetter, possibly even wet enough in cold climates to cause damage. (See my article on Building Science Corporation's research on a house with double-stud walls.)
Where you may find more savings
If I were building a house for myself here in the mild climate of Georgia and were choosing from the wall assemblies above, I'd go with the 2×4 wall with 2″ of continuous exterior insulation. I like the idea of cutting my wall heat transfer in half. But I'd also make sure I wasn't do stupid things to negate the savings from the walls.
Here are the top three areas where the most stupid things happen:
Windows – A good window is still a poor wall. A window that meets code here in Georgia has an R-value of about 3. That's a heck of a lot less than the R-23 wall I just said I'd build, so I'd do two things. I'd install windows a good bit better than R-3. And more important, I'd make sure I didn't have silly solar gain problems. Windows can kill you on your cooling loads, so you've got to pay attention to placement, overhangs, and sizes.
Ducts – First of all, I'd have no ducts in the attic. Then I'd have no ducts in any other unconditioned spaces. Then I might even have no ducts at all, at least for heating and cooling. And whatever ducts I do have would be designed properly, installed well, and commissioned completely.
Foundation – A lot of comfort and moisture problems originate with the foundation, whether it's slab-on-grade, crawl space, or basement. The details matter. Even in a hot climate like central Texas, slab-edge insulation can save you a lot on heating. We've got a client there building a Mediterranean style house with a lot of exposed slab perimeter. Slab-edge insulation would reduce their heating load by 25%. (And believe it or not, their heating load is higher than their cooling load.)
Whether or not you go for an improved wall assembly in a warm climate depends on your particular priorities. It's not the slam dunk it is in a cold climate, but there are benefits.
Allison A. Bailes III, PhD is a speaker, writer, building science consultant, and the founder of Energy Vanguard in Decatur, Georgia. He has a doctorate in physics and writes the Energy Vanguard Blog. He also has a book on building science coming out in the summer of 2022. You can follow him on Twitter at @EnergyVanguard.
Related Articles
The Diminishing Returns of Adding More Insulation
The Layers and Pathways of Heat Flow in Buildings
The Fundamentals of Heating and Cooling Degree Days, Part 1
NOTE: Comments are closed.