My 24 Hour Mistake in 2×4 Wall Calculations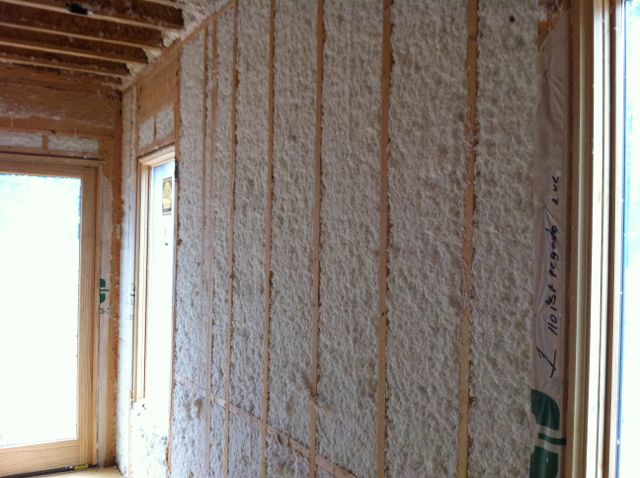 Remember that article I wrote last week? You know, the one about how much you might save if you go beyond a standard 2×4 wall in a warm climate? I showed three tables in the article. The first was a list of the whole-wall R-values for the standard 2×4 wall and three better walls. The second showed the design loads for HVAC sizing for those four walls in three different locations. And then there was the third. In that one I showed the annual heating and cooling loads for the four walls plus one more.
One of those tables, however, had a mistake in it. When I first did the calculations in a spreadsheet, I thought there must be a mistake because the numbers seemed too low. But I checked and rechecked my work and just couldn't find it. So I convinced myself it was correct and published the article anyway. A commenter on the article at Green Building Advisor, though, pointed out that my results were too low, so I went back and found the mistake.
Here's the corrected table: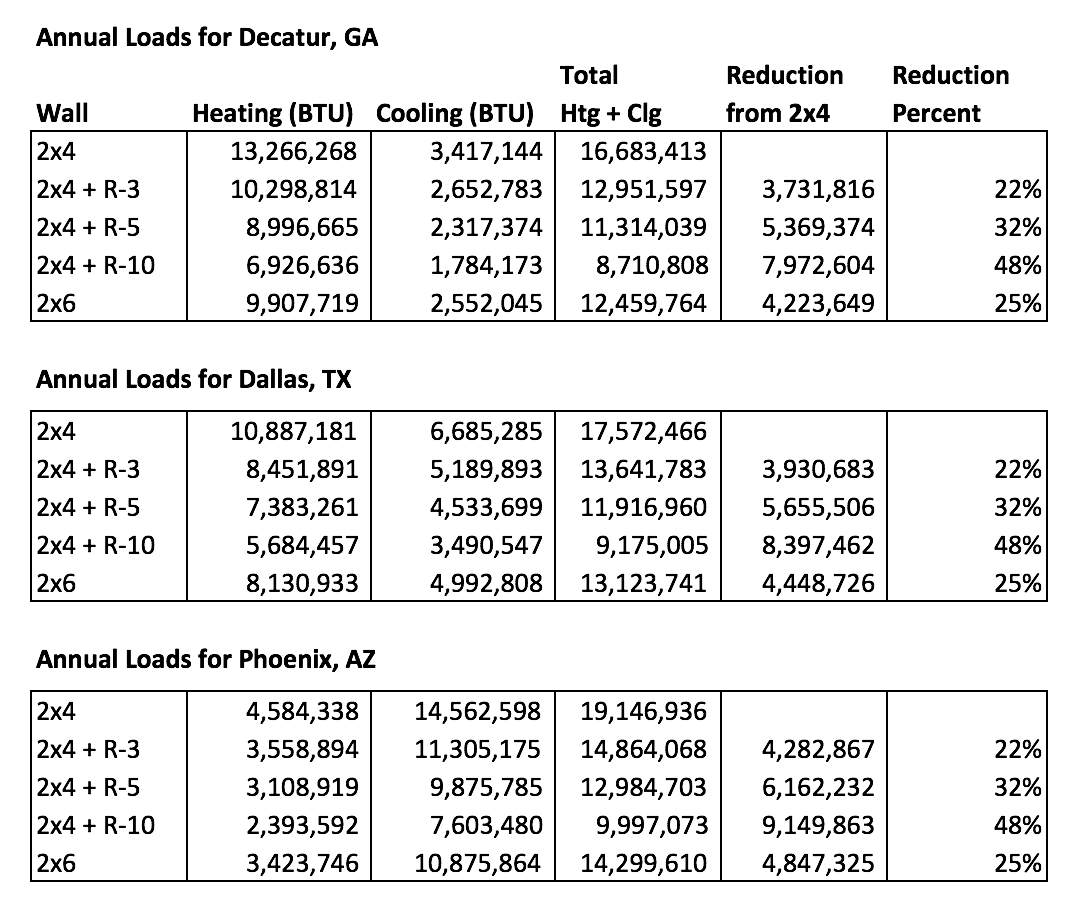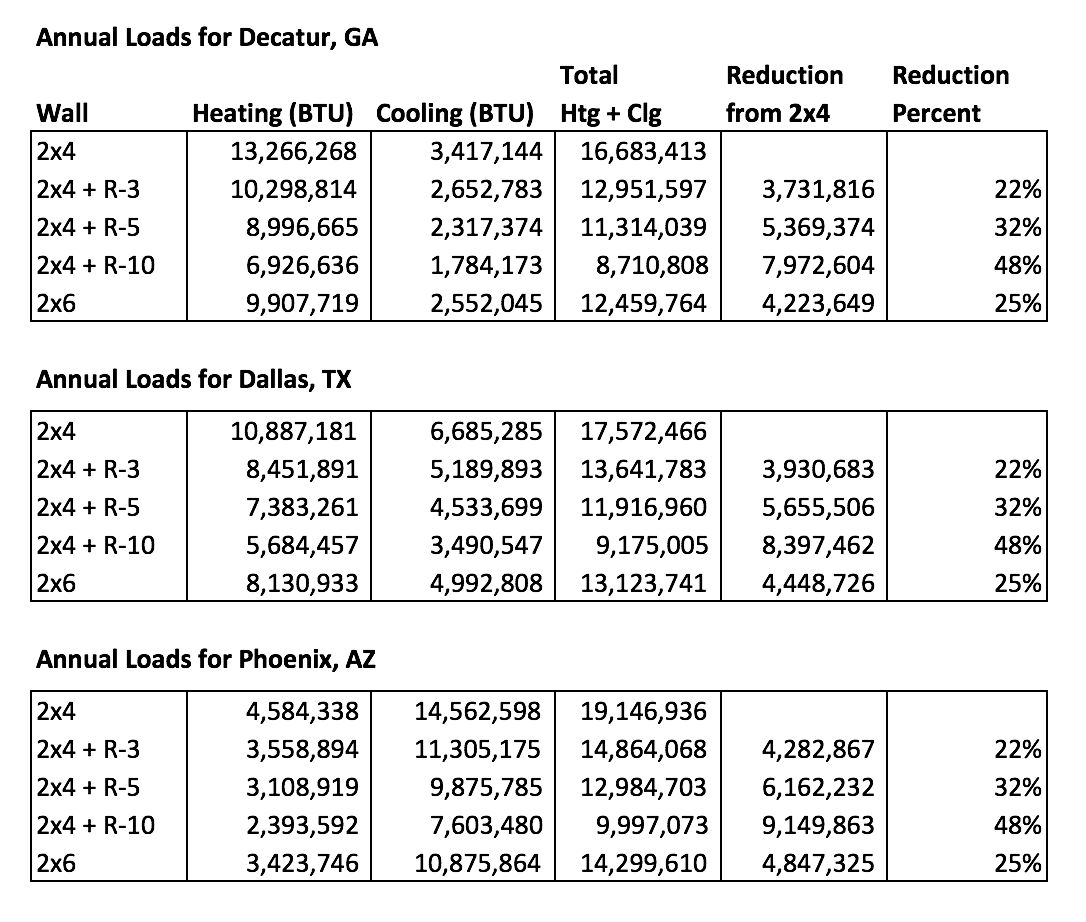 This was the third table in the previous article. The mistake was that I had forgotten to multiply by 24 to convert between hours and days in the calculation. Here's the equation I should have used:

The version of this equation I used in the previous article left the x24 off the end because that's really just a unit conversion. But I should have known better. Fortunately, I didn't make that mistake in my article on diminishing returns, which relies on the same calculation.
Anyway, the new table above makes things look a whole lot better for going beyond standard 2×4 walls. Twenty-four times better as a matter of fact. Using the incorrect results, I had stated in the last article that the annual reduction of heat transfer through the walls in the best case would have been about 100 kilowatt-hours. The best case now is about a 2,700 kWh reduction. (The conversion here is 1 kWh = 3,412 BTU.)
But I've got some bad news for you. If you do all your heating and cooling with a heat pump, you can move all those kilowatt-hours using even fewer kilowatt-hours. Generally, you can move about 3 kWh at a cost of 1 kWh. (The coefficient of performance, or COP, for a typical heat pump is about 3.) So in that best case of a 2,700 kWh reduction, you'd have to pay for only about 900 kWh. At $0.15 per kWh, your savings would be about $135 per year. That's not too bad, though. Right?
Better news, though, is that if you heat with an inefficient furnace, you'll have to buy more BTUs of natural gas than you lose through the walls. In the case with the most reduction in heating load (Decatur, GA), you cut the heat loss by about 3 million BTUs. If your furnace is 80%, you've got to buy 3,000,000 ÷ 0.8 = 3,750,000 BTUs. That translates to 37.5 therms.
The bad news about that is the price of gas is really low. In Decatur, we pay less than $0.60 per therm. So you're looking at about $20 per year in savings there.
But the good news is: that's just the heating side. You'll save another $20 or so on the cooling side.
And the bad news there is that you're still saving only about $40 per year total.
But the other good news is that we've just scratched the surface here. I've compared different walls that all have the same framing factor. What if we throw in some advanced framing at the same time? Could we cut our heating & cooling loads by half for very little cost? In that last article, David Butler wrote in the comments, "a 2×6 wall 24-oc is not much more expensive than 2×4 16-oc including insulation. When you do optimal-value engineering, it's clear that 2×6 24-oc should be the baseline for all other assemblies."
More to come on this topic. Watch this space.
Related Articles
Flat or Lumpy – How Would You Like Your Insulation?
Attic Stairs – A Mind-Blowing Hole in Your Building Envelope
How to Grade the Installation Quality of Insulation
NOTE: Comments are moderated. Your comment will not appear below until approved.