The 'Not So Big House' and Energy Efficient Design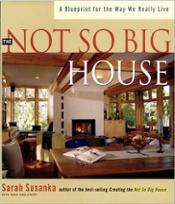 "Making something beautiful is one of the most sustainable things you can do." – Sarah Susanka, Author of The Not So Big House.
"Making something beautiful is one of the most sustainable things you can do." – Sarah Susanka, Author of The Not So Big House.
On Tuesday eventing, Ms. Susanka talked about efficiency and sustainability in design and energy. In a word, it was Inspiring. And, what was so brilliant was that nothing was complicated, which even she admits. "It's all very simple," she said.
For anyone who doesn't already know about her 'Not So Big' series of books and presentations, I would highly recommend visiting the Not So Big House website to learn more. And, even if you do know about it, go and explore…there's lots to see!
The home I'm designing for my uncle and his fiancée continues to develop as one of the many great projects with a small impact on the Earth, in both the short and long term views. Everything we're doi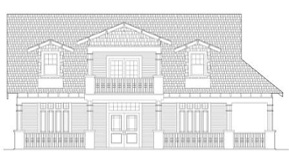 ng to make it that way is "very simple."
Last week, at the first of several design meetings, John and Ann saw how their new home might look and function. They started to imagine what it would be like to live in it from day to day, and for the rest of their lives.
The home is a modest 2,500 s.f. with 3 bedrooms and a large porch. Like any other homeowner, one of their biggest concerns is not sacrificing quality with a budget that's not unlimited. So, we talked about modular construction as a very effective way to dramatically increase the construction quality without doing the same to the budget. In fact, modular homes are competitive in cost with traditional site-built homes. Plus, given the dimensions and configuration of the home, it makes sense to build this way.
We're still going to incorporate all of the required energy efficient design practices that meet the Designed to Earn the ENERGY STAR program. This won't necessarily reduce the construction costs, but it will make them eligible for an Energy Efficient Mortgage, that would make more money available to pay for better craftsmanship throughout the house. That, in turn, will bring more beauty, personality, and self-expression to the home.
Ms. Susanka also says that "Beauty matters…it's the source of timeless design." I would like to add, and I think she would agree, that comfort also matters. It is when we are the most comfortable that we can feel 'at home'. The more we feel at home, the longer we'll stay. The longer we stay the less we build or re-build, and the more sustainable our existence is.
This is why we put so much effort in to making the most energy efficient and sustainable homes; to provide a comfortable and beautiful place to live that will stand the test of time. The benefits are a healthier environment, a sense of home, and let's not forget saving money!