Under Construction: ENERGY STAR Version 3 Home in Atlanta, Georgia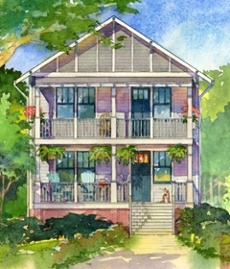 Here's a house we designed for a builder in the historic Grant Park neighborhood in Atlanta, which should be completed by January 1, 2012. The home is 2-stories, has 4-bedrooms and 3-and-a-half baths, and is just under 2,200 square feet. The builder decided to stick-build the home, but it was orginally designed to be built using modular construction techniquies.
Probably one of the more exciting things about the house was that it has been Designed to Earn the ENERGY STAR, which means that it meets strict guidelines for energy efficiency and water management set by the EPA. That was in addition to the heavy design guidelines of the neigborhood! Both of which we passed with flying colors.
The design has a projected HERS Index of around 50, which means that it is at approximately 50% more energy efficient than the same home built to the 2004 International Energy Conservation Code (IECC). The house will operate solely on electricity (no gas or alternative fuel), and has a projected average monthly energy bill of $125.
If we're able to meet the deadline of January 1st, the house will be among the first in the country to be certified to Version 3.0 of the ENERGY STAR New Homes program, if not THE first.
When the builder contacted us in the middle of May, he was looking for a set of plans to build a spec home. Little did he know that he would also be getting a lesson or two in building science. He has not only taken it all in stride, but has embraced what he sees as "the way things are going."
The full set of architectural and structural drawings that we provided meet all of the requirements of the groundbreaking new georgia state energy code. They also include a complete HVAC System Design and Specifications, and construction details to exceed will make the home exceed energy code requirements for air infiltration, thermal resistance and water management.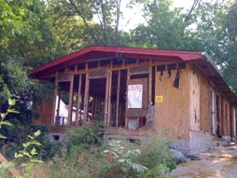 We'll be breaking ground in the next week or so on what will be a very exciting project for Energy Vanguard, the builder, and the future homeowner! That could be you! It's certainly going to be a worthy replacement of what was on the site before.
Stay tuned for progress photos and videos during construction.