The Wonderful, Blunderful World of Construction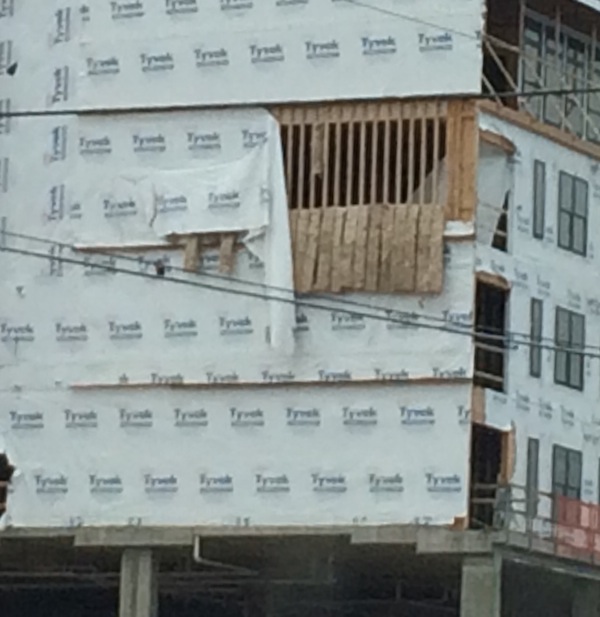 Jeffrey was driving through Atlanta the other day and saw a new building under construction that forced him to slam on the brakes. He got his camera out and took the photo below. Can you see why he was so excited?
Yep! They flashed the windows correctly.
Ha! Just kidding. I can't even tell from the photo if they did that or not, but they did some things here that just make me wonder:
I wonder why those fiberglass batts were installed before the sheathing.
I wonder why the house wrap was installed before the sheathing.
I wonder if they're planning to install sheathing.
I wonder why those studs are so close together. It looks like less than 12″ on center, and there's only one floor above that one.
The answers (except for the stud spacing) probably related to scheduling. Perhaps the framers hadn't finished their work when the house wrap and insulation crews arrived. Rather than have to come back another time, they just did their jobs hoping the framers would catch up.
It's easy for stuff like this to happen when you're putting up a building. There's a lot of juggling to do, and sometimes things happen in the wrong order. I know from firsthand experience, as I had to undo work that I'd done more than once when I built a house.
Whatever happened to the building in the photo above, we can enjoy the image of this building sticking its tongue(s) out at us.
Allison A. Bailes III, PhD is a speaker, writer, building science consultant, and the founder of Energy Vanguard in Decatur, Georgia. He has a doctorate in physics and writes the Energy Vanguard Blog. He also has a book on building science coming out in the fall of 2022. You can follow him on Twitter at @EnergyVanguard.
Related Articles
How I Learned to Count by Building a Green Home
2 Bad Ways to Install Windows the Hard Way
Who's on Your Insulation Crew?
NOTE: Comments are closed.