Once you've learned about the benefits of encapsulation and have a quote from Energy Vanguard (or another company), it may be immediately apparent to you that the best move is to have the work done. If, however, you're hesitating to spend thousands of dollars on a part of the house you rarely visit, let's look at some of the reasons to encapsulate:
Breathe easier. Vented crawl spaces have a huge negative impact on indoor air quality.
Reduce the chances of costly floor repairs. Moisture rots wood and causes hardwood floors to buckle.
Enhance comfort. Floors won't be cold in winter. House won't be muggy in summer.
Lower energy bills. Crawl space encapsulation can reduce energy bills by up to 20%, according to Advanced Energy's research.
Make your heating & cooling equipment and ducts last longer. An air handler and ducts in a vented crawl space will not last as long as equipment in a conditioned crawl space.
Qualify for rebates and tax incentives. Some utilities offer rebates. The federal government has tax incentives for home performance improvements. Some state and local governments offer incentives as well.
An encapsulated crawl space is an attractive selling feature. Potential buyers comparing two similar houses will find the one with an encapsulated crawl space more appealing.
THE LATEST FROM THE ENERGY VANGUARD BLOG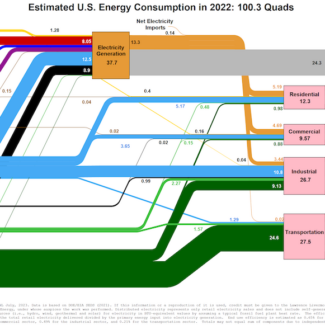 2023-11-30
The latest US energy consumption chart from the Lawrence Livermore National Lab (LLNL) is out.  That's it above.  (Click here…
Allison took time to explain everything in detail so that everyone could understand the total concept. He was very patient and answered all questions fully. He was an excellent teacher and brought humor and understanding to a tough subject.