2 Decades of Danny's Home Energy Data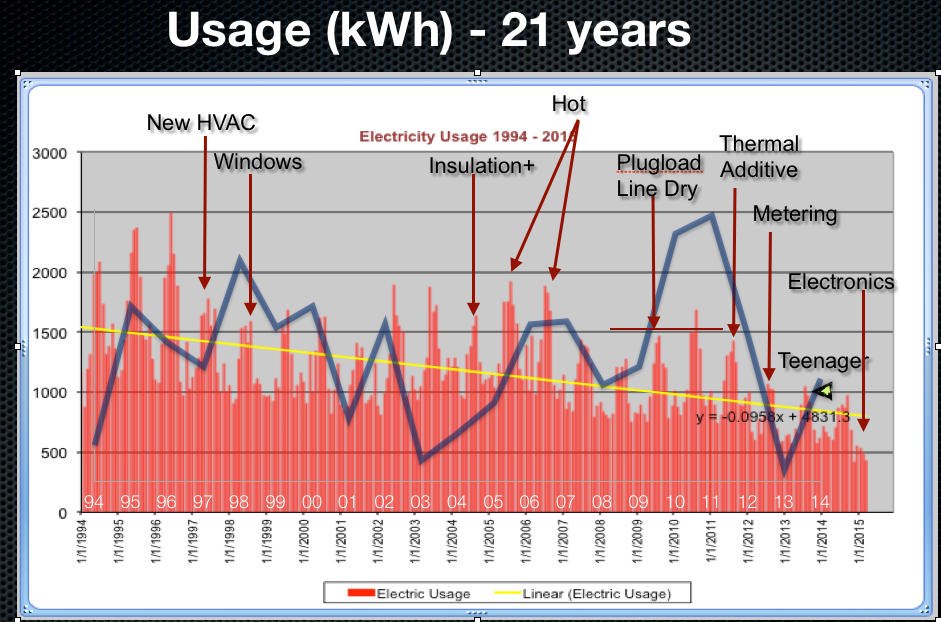 Danny Orlando, a manager in the ENERGY STAR program at the US EPA, walks the talk. He's been steadily improving the energy efficiency of his home over the past couple of decades and also monitoring his energy use data. The graph above tells the story.
The heart of the chart are the data showing his electricity consumption, the red columns. From 1994 to 2015, he recorded the kilowatt-hours (kWh) he got billed for each month and created the graph. Then he showed when energy-saving (or using, in the case of the teenager) events occurred — new HVAC, windows, insulation… He also had the spreadsheet fit the data to a line (the yellow one), which makes it easier to see the reduction in his electricity consumption over the 21 years shown here.
Nice! He used almost 1700 kWh per month in 1995. His average for 2015 so far is about 570 kWh per month. So even with the teenager showing up, he has cut his bills to a third of what it had been!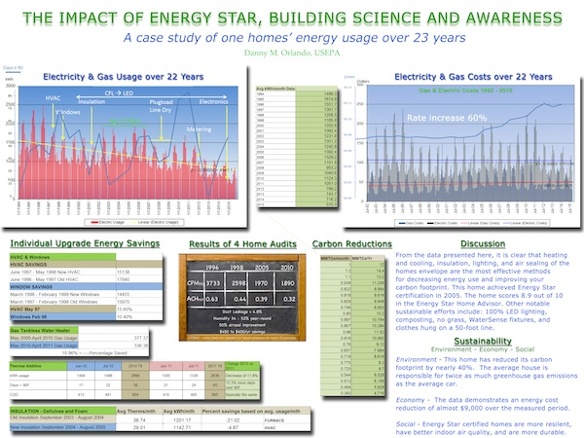 The image above is a poster with a lot more information and data about his home. If you can't read it, you can download the full-size image (4.7 MB).
How did he do it?
He began with the HVAC system. Orlando was an early adopter of sealed combustion furnaces and put in a 96.6 AFUE unit. The air conditioner is 13 SEER, which was really good for 1997.
The he started with the building enclosure. What he did here was to attack the attic the right way. You don't just insulate the attic and think you've done a great job. You've got to do the air sealing first. Look at that beautiful photo below! I always tell people, don't insulate your attic…until you've done the air sealing. After he did the air sealing you see below, he had R-45 cellulose blown in there. (R-30 is the code requirement in Atlanta, where he lives.)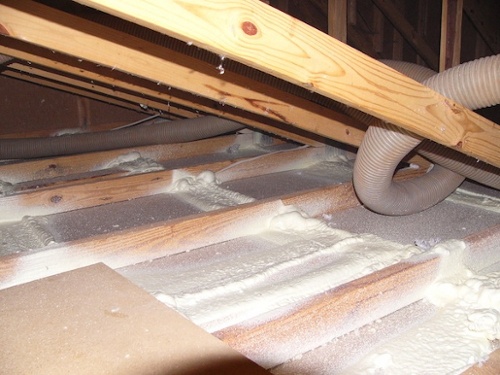 He also replaced the windows (U-value = 0.40 and SHGC about 0.57), installed a tankless gas water heater, and has gone to 100% LED lighting. And of course, he addressed the duct system and got the leakage down to 4 cfm25 per 100 square feet of conditioned floor area. For those of you not familiar with that metric, his leakage is half what is allowed by the Georgia energy code for new homes.
Saving energy over time
As you can see, when you live in a house long enough, you whip it into shape over time. Orlando has reduced his electricity consumption by 67% by steadily making improvements to his home and tracking the results.
That doesn't mean you have to do it that way. If you can swing it, getting all the improvements done at once makes a lot of sense. In fact, I tell people you usually want to do the improvements to the enclosure before you deal with the HVAC equipment. You can't always do that in an existing home, but if you can, you'll be able to choose equipment more suited to the heating and cooling loads after you've air-sealed and insulated and possibly changed the windows.
Finally, let me tie this into my article on the duck curve. From a homeowner's perspective, saving kilowatt-hours is a great thing. It reduces what you pay for energy. It makes your home more comfortable and healthful. But from a utility company's perspective, the savings matter more if they occur at the right time. I interviewed Matt Golden this week and will say more about that soon.
Still, Danny Orlando's home energy efficiency story is an impressive one. Cutting his electricity consumption by 67% is a great feat.
Allison A. Bailes III, PhD is a speaker, writer, building science consultant, and the founder of Energy Vanguard in Decatur, Georgia. He has a doctorate in physics and writes the Energy Vanguard Blog. He is also writing a book on building science. You can follow him on Twitter at @EnergyVanguard.
Related Articles
A 20 Year Old Energy Efficient House Goes to Net Zero in Florida
Energy and Power and Confusion and Consternation
Don't Miss This Opportunity if You're Replacing Windows
NOTE:  Comments are closed.