3 Types of Heat Pumps and Air Conditioners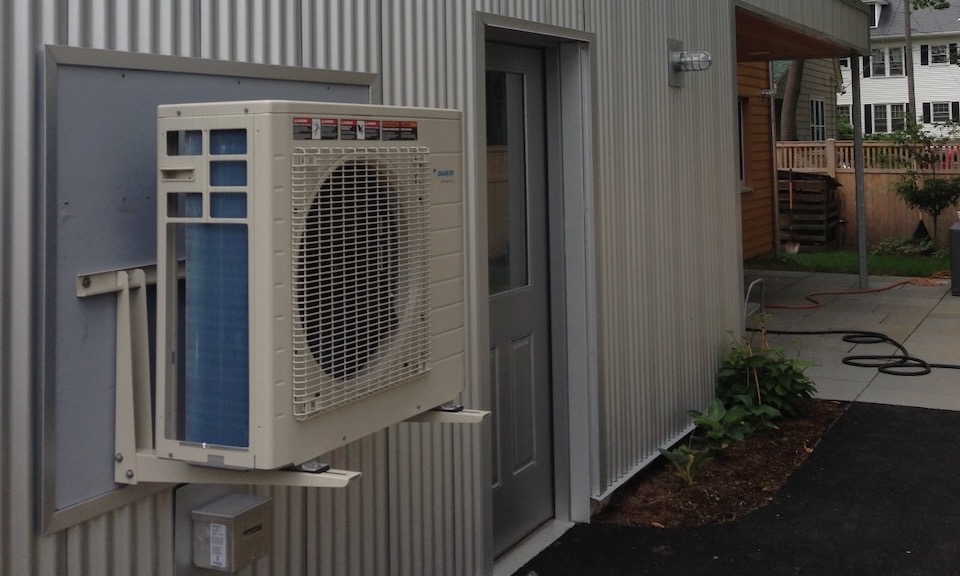 One way of categorizing heat pumps and air conditioners is by how much heating and cooling they can provide.  By how much, I'm not referring to, say, a 2-ton versus a 3-ton air conditioner.  What I'm talking about is whether it provides a fixed capacity when it's running (single-stage) or has the ability to change the amount of heating or cooling it puts out (multi-stage or variable capacity).  Most homes have fixed capacity systems, but mini-split heat pumps are starting to gain traction here in the United States, as are multi-stage systems.  So, let's find out about the 3 types of heat pumps and air conditioners.
Fixed-Capacity Heat Pumps
A fixed-capacity (single-stage) heat pump has only two modes:  on or off.  When the thermostat says it's time for more heating or cooling, it kicks on and ramps up to its full speed almost instantly.  When the thermostat is satisfied, the power shuts off, and the system sits idly, waiting to roar up to full capacity again upon the next signal from the thermostat.
You can think of a single-stage heat pump as a car without gears or accelerator.  When you turn it on, you're going full speed.  The only way to stop is to turn off the engine.  That would be a terrible way to design a car, but it's sort of okay for heating and cooling equipment.
The advantage of fixed-capacity equipment is simplicity.  It's either on or off, so the controls needed are straightforward.  Because this type of system is so common in homes, finding people to work on it and getting parts for it are relatively easy, too.  It's also usually the least expensive of the three types we're discussing here.
The biggest disadvantage of a fixed-capacity heat pump is that it's terrible at matching the capacity to the actual load on the house.  Remember the three types of heating and cooling loads:  part-load, design load, and extreme load.  A single-stage system is oversized for most of the year, sometimes by a huge amount, because the load is at part-load conditions close to 99 percent of the time.
That oversizing is the source of another downside of fixed-capacity systems.  When the system is putting out a lot more heating or cooling than a house needs, people inside the home gets blasted every time the system comes on.  That's not a recipe for thermal comfort.
And that's where the other two types come in.
Multi-Stage Heat Pump
Because the heating and cooling loads on a house go up and down throughout the course of a day as well as through the seasons, it makes sense to have heating and cooling equipment that can change their capacity.  The simplest way to do that is with the second of the 3 types of heat pumps:  a two-stage system.  Such a piece of equipment has two modes of operation:  a low capacity (or speed) and a high capacity.
Imagine the car from our previous example that has no gears or accelerator.  The engine is either on or off, and when it's on, it's going full speed.  A two-stage heating or cooling system is like that except it now has two engines.  You can turn one engine on to go one speed, or you can turn them both on when you need to go faster.
Because the preponderance of heating hours and cooling hours occur with a house under part-load conditions, a properly sized two-stage system will operate at its lowest capacity most of the time.  On the really cold or hot days, the system will shift to the high-capacity mode because the demand is higher.
A two-stage system, therefore, offers a huge improvement in efficiency and comfort over a fixed-capacity system, but it doesn't end there.  Multi-stage equipment also comes with three, four, or even five stages.  Manufacturers do this by using clever compressor tricks.  Because heat is moved by the refrigerant, multi-stage equipment simply needs the ability to run the refrigerant through the system at two or more different rates.
When you start looking at multi-stage equipment, an important concept to understand is turndown ratio.  It's the ratio of the highest to the lowest capacity, and it's a good number to know when picking equipment.  For example, one 4-ton, 5-stage air conditioner runs at 1 ton of capacity on its lowest stage.  The turndown ratio is 4 ÷ 1, or 4-to-1.  That's a good turndown ratio.  The same manufacturer also offers a 2-stage system with a low end that's 83 percent of maximum.  With such a small difference between low and high stages, that 2-stage system doesn't provide much advantage over a single-stage system and may not be worth the extra cost.
Variable Capacity Heat Pumps
As you go from two stages to several stages, the capacity difference between any two stages gets smaller and smaller.  If your mind goes to calculus when you hear about gaps getting smaller, you may be thinking about that gap becoming infinitesimally small.  And yes, it's been done.  That's the variable capacity system we discuss now, the third of the 3 types of heat pumps and air conditioners.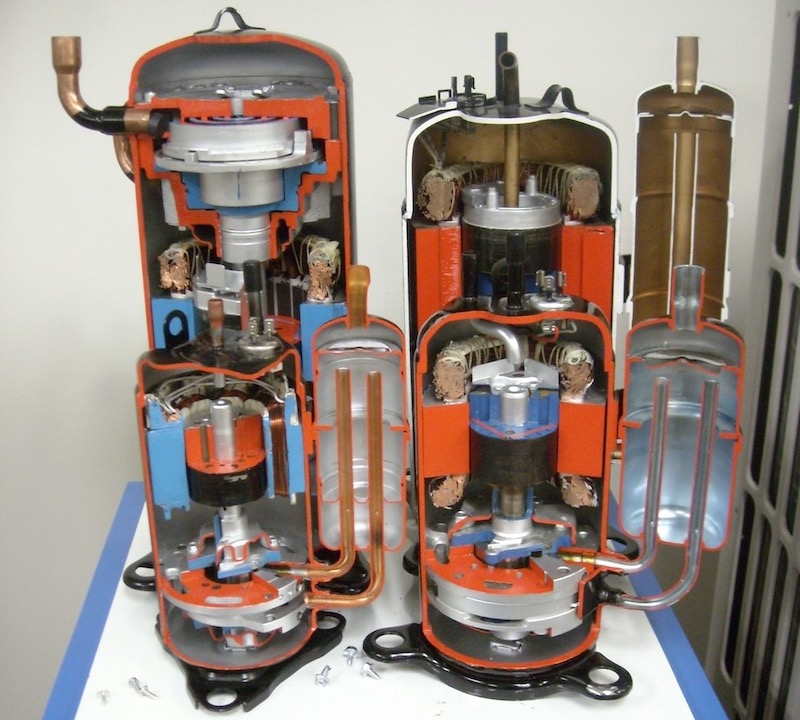 In a variable capacity system, instead of having a discrete set of stages, this type of system can vary its capacity continuously between its low end and its high end.  They usually modulate with special electronic controls on the compressor, and the term "inverter-driven compressor" applies to most variable capacity systems.  Theoretically, these systems can have turndown ratios as low as 10-to-1.  In the real world, getting down to 4-to-1 is good.
Perhaps the most common type of variable capacity heat pumps are mini-split heat pumps.  In addition to being able to vary the capacity continuously, mini-splits also come in smaller total capacity than do conventional fixed-capacity systems.  Conventional systems generally don't come in sizes smaller than 1.5 tons (18,000 BTU/hr), but you can get mini-splits as small as 0.5 ton (6,000 BTU/hr), and smaller ones are coming soon.  And that's good because it allows for better zoning in a house.  You can use one system to heat and cool the bedrooms, one to do the common areas, and a third for a sunroom with lots of windows—and thus lots of cooling load.
Aside from the advantage of smaller capacities, mini-splits have surprisingly quiet outdoor units.  You have to get right next to them to hear anything, and even then it's barely audible.  Another advantage is efficiency.  The ductless units have SEER ratings and HSPF that beat most conventional fixed capacity or multi-stage system.
The biggest disadvantage of variable capacity heat pumps is cost because these systems can be significantly more expensive than fixed-capacity systems.  Also, even with the low-capacity units available, ductless mini-splits are often still too large to put one in every room because they'll be running at the bottom end of their capacity range.  One final potential drawback is that some of the ducted mini-split air handlers have blowers that can't produce much pressure.  They can work fine, though, with proper duct design and installation.
One other issue to mention regarding both multi-stage and variable capacity systems is air flow.  When the compressor modulates the refrigerant flow, both the indoor and outdoor blowers need to be able to modulate as well.  Ideally, when the system is operating at 50 percent of its full capacity, the blower also would be at 50 percent.  That doesn't always happen, though.
So now you know.  Next time you need a new piece of heating and cooling equipment, remember the 3 types of heat pumps and air conditioners.
Allison A. Bailes III, PhD is a speaker, writer, building science consultant, and the founder of Energy Vanguard in Decatur, Georgia.  He has a doctorate in physics and is the author of a popular book on building science.  He also writes the Energy Vanguard Blog.  For more updates, you can subscribe to our newsletter and follow him on LinkedIn.

Related Articles
Can You Oversize a Mini-Split Heat Pump?
What Is a Mini-Split Heat Pump?
The 3 Types of Heating and Cooling Loads
Comments are welcome and moderated. Your comment will not appear below until approved.