Down the Drain! — Heat Recovery for Your Hot Water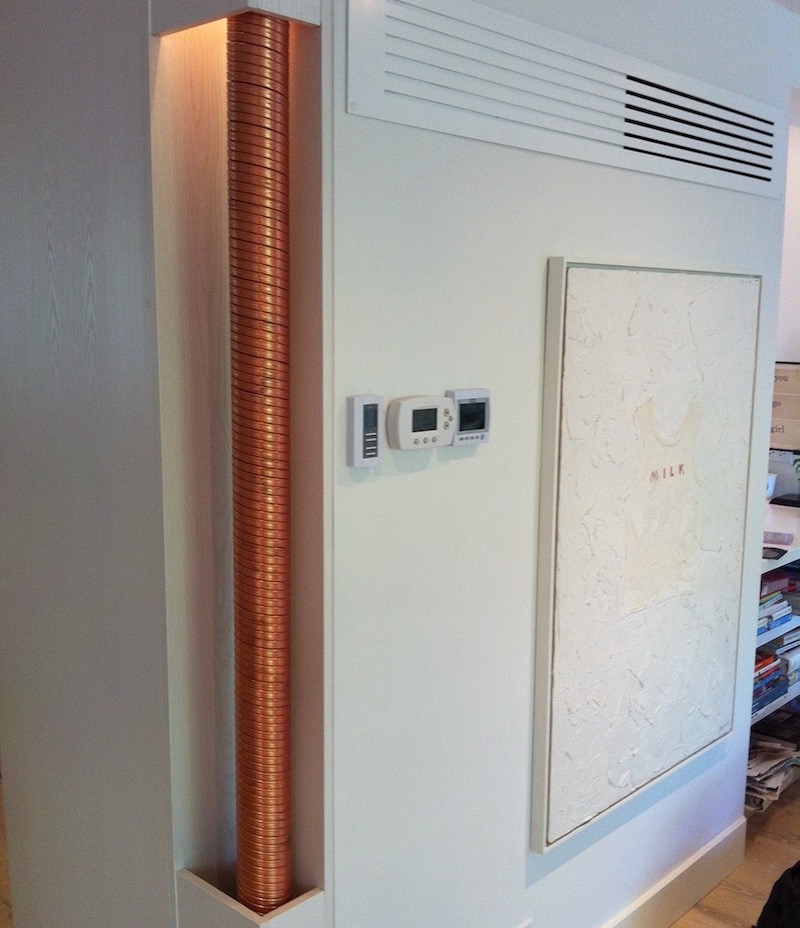 Do you use hot water in your home? I thought so. You have a water heater then, right? You know, one of those things that you pump money into all the time, perhaps to the tune of $300 or $400 per year, so you don't freeze when you take a shower.
And of course, you use every BTU of heat you put into that water, don't you? What?! No? You mean, you're sending hot water—and money—down the drain?
Well, you're not alone. Most people do the same thing, including me. You pay your hard-earned money to run that water heater, use that hot water oh so briefly, and then send all those BTUs that you paid to put into the water right down the drain. Where they keep the sewer lines or septic tanks warm and fertile.
There's an alternative, though, and it's starting to get some traction. The photo above shows a drain-water heat recovery system that I saw at a home in Ontario. It's basically a copper pipe wrapped around the drain pipe, where it can absorb a lot of the heat that's in the drain water. That heat goes into the water that enters your water heater, as shown in the diagram below.
When you're using hot water in a system without drain-water heat recovery, cold water from your municipal water supply or well is continuously running into your water heater.
(Brief rant: Because of this, it really should be called a 'cold water heater,' not a 'hot water heater.' I just call it a water heater myself. Rant over.)
With a drain-water heat recovery system, the cold water heading to the water heater first picks up some of that waste heat from the drain pipe. Thus, it enters the water heater pre-warmed and will take less heat energy—and money—to get it up to temperature. The efficiency of your water heating system goes up, and your water heating bill goes down!
For you energy modelers and HERS raters out there, REM/Rate doesn't have a way that I know of to include drain-water heat recovery directly, but the Hot2000/EnerGuide raters I taught in Toronto last week are adding 0.12 to the energy factor (EF) of whatever water heating EF they're starting with. I don't have a source for where the 0.12 EF comes from, though. Anyone have more info on this?
Allison Bailes of Atlanta, Georgia, is a speaker, writer, building science consultant, and founder of Energy Vanguard. He is also the author of the Energy Vanguard Blog and is writing a book. You can follow him on Twitter at @EnergyVanguard.
Related Articles
A Dangerous Gas Water Heater Hidden in Plain View
The 3 Types of Energy Efficiency Losses in Water Heating
How to Install a Branched-Drain Greywater System in a Green Home
Drain-water heat recovery diagram from the Energy Savers website at the US Department of Energy.
NOTE: Comments are closed.