A New Way to Cool Your Attic – Powered Attic Mini-Split Heat Pumps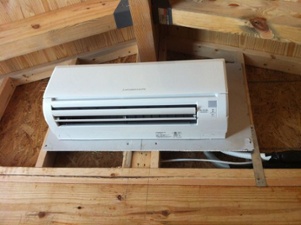 Move over powered attic ventilator. There's a new boss in town. For decades, concerned homeowners have looked for ways to keep their attics cool: gable vents, ridge vents, turtlebacks and whirlybirds. Then they moved from passive to active and latched onto the powered attic ventilator. Now we don't have to settle for a technology that pulls conditioned air up from the house.
That's right, folks. Keeping your attic cool is a perfect application for the mini-split heat pump. The Ginzu Corporation, which makes the sharpest air conditioners in the world, has just introduced a new line of powered attic mini-split heat pumps, affectionately referred to as PAMS.
The biggest advantages of using ductless PAMS are:
Unlike powered attic ventilators (PAVs), PAMS won't pull conditioned air from your house. And they don't need to because they make conditioned air right in your attic, where it's needed!
Ductless PAMS have no ducts…and thus no duct losses. Ducts in attics are a really bad idea because they waste so much energy.
In winter, they can make ice-dam-preventing strip heaters unnecessary. Automatically set to heat in winter as well as cool in summer, PAMS will keep the roof so warm that snow will melt immediately and never get a chance to form ice dams.
PAMS work great with Celluloaf insulation, too!
To give you a feel for how sharp they are, Ginzu is offering you a 7 piece set of ductless PAMS at a special introductory price. Call now, though, and you can get a 10 piece set for the price of 7 and have your attic pre-chilled before summer even starts.
But don't wait! This special offer is good today only.
Note: Happy April Fool's Day! Please don't actually try using mini-splits to cool your attic in summer or to prevent ice dams.

Allison A. Bailes III, PhD is a speaker, writer, building science consultant, and the founder of Energy Vanguard in Decatur, Georgia. He has a doctorate in physics and writes the Energy Vanguard Blog. He also has a book on building science coming out in the fall of 2022. You can follow him on Twitter at @EnergyVanguard.
Related Articles
US Green Building Council to Require All-Glass LEED Homes
RESNET Enters into Strategic Alliance with Int'l Jugglers Association
The #1 Reason Power Attic Ventilators Don't Help
NOTE: Comments are closed.