Another Down Year for Heating Degree Days
We've had some beautiful, cool weather here in Atlanta the past couple of days. It's about 50° F outdoors as I write this. The high yesterday was only about 70° F. We're getting a few more heating degree days (HDD) in the middle of May. (Heating degree days are really just another way at looking at temperature, which I explained in more detail in a look at the fundamentals of degree days.) We occasionally pick up some even in July and August. But it's the winter HDD that matter for heating — and that give us a clue about the climate.
Here are the heating degree days for Atlanta over the past ten years.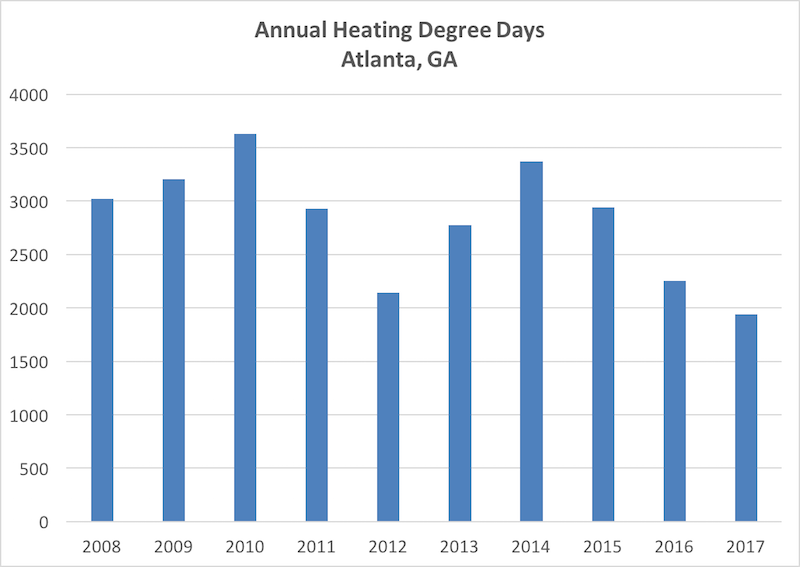 Our average number of heating degree days is about 3,000. This year, at less than 2,000, we're at about two-thirds our average. Since the polar vortex of 2014 (remember that?), we've been down every year.
It's not just us either. This was a banner year for snow out West. I got an email recently about a couple of ski resorts that will keep the lifts running into the summer. But the temperatures were higher, the heating degree days lower. Here's a look at 21 years of heating degree days for Aspen.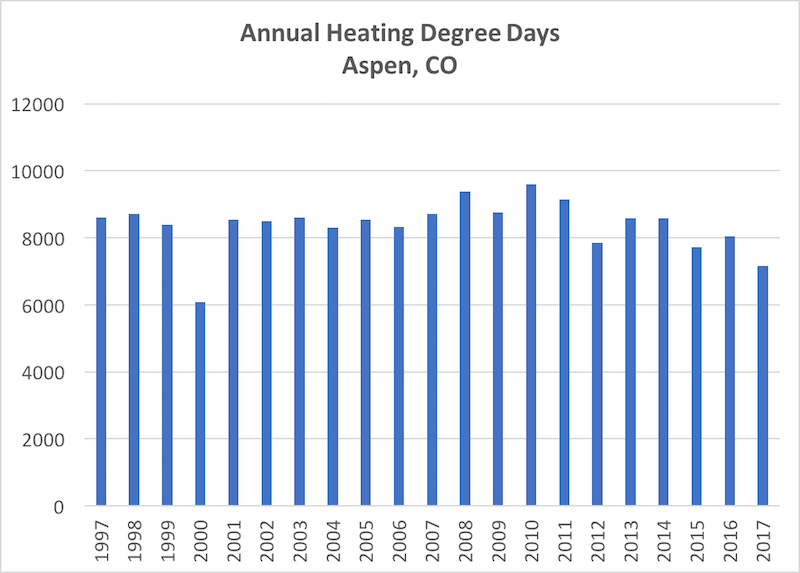 Aspen's long-term average is about 9,000 HDD. This year they got 7,165 through April. Now, weather ain't climate, so you can't look at one year or even two or three and draw long-term conclusions about climate. Since 2010, however, we sure are having a lot of mild winters. That's great for heating bills, not so great for skiing.
Of course, this has nothing to do with our atmosphere hitting the 400 parts per million level of carbon dioxide. Right? That climate change stuff is just a theory.
Related Articles
The Science of Global Warming Is Older Than Quantum Mechanics
This Winter Is 37% Warmer than 2010-11 (by Heating Degree Days)
The Fundamentals of Heating and Cooling Degree Days, Part 1
NOTE: Comments are moderated. Your comment will not appear below until approved.