A Little Home Energy Quiz from the DOE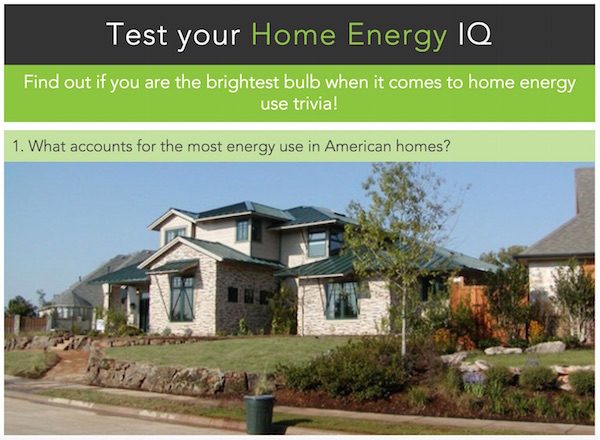 I found this little quiz on Twitter the other day. I got 9 correct out of 12, but I'd like to dispute one of my wrong answers. One of the answers surprised me. And I was glad to see one of them support an article I wrote in 2014. If you want to take the quiz before reading my quick take on it, go take the quiz now.
While you do that, I'll sit here and wait.
And maybe hum a little bit. Bamh Bamh Bamh. Bamh Bamh ba Bamh. (Know that tune?)
Think I'll check my email now.
Done? Good. I'll make this quick.
First, the question that surprised me was about which state uses the most electricity per household. The choices are Florida, California, New York, and Louisiana. I thought it would be a state with a lot of air conditioning and chose Florida. But the winner is… Louisiana. Huh! My old home state is the worst at over 15 thousand kWh per year. On the other end, Hawaii was the best at about 6 thousand kWh per year.
The question I dispute was related to thermostat setbacks. They asked what percent savings you can see if you set the thermostat back 10° F for 8 hours per day. Their answer is 10%. I chose 5%.
When I wrote about energy savings from thermostats a few years ago, I cited some numbers from the king of home energy data, Michael Blasnik. He found in his earlier work with utilities that setbacks save 5 to 8%. So I chose 5%. Of course, it depends on what house your thermostat is in. The better insulated and more airtight the house, the less your savings will be. The more of an energy hog your home is, the more you can save.
Finally, the question that supported what I wrote in 2014. Here. I'll just throw it at you.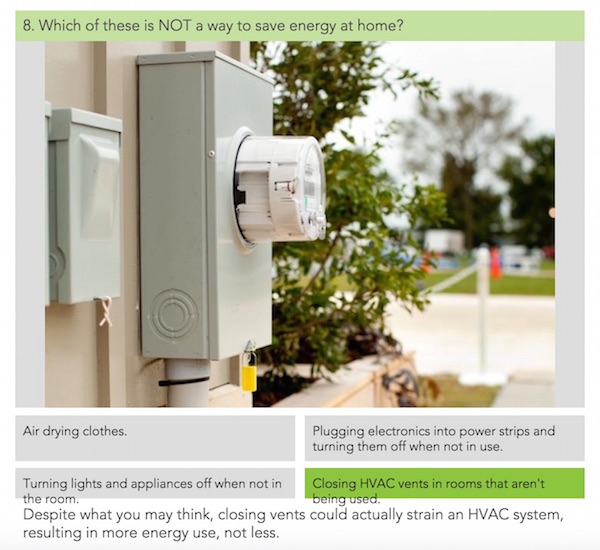 It's pretty obvious that the other three answers DO save energy so even if you don't know anything about the issue of closing HVAC vents. Right? So this is a great way to surprise people and teach them while also letting them get the right answer. If you want to understand the reasoning behind the correct answer, go read my article on closing vents in unused rooms. It's an important topic and may save you some money if you've been thinking of buying those cool "smart vents" you saw on the Web.
The other questions in the quiz are good questions and you might learn a thing or two from them. Check it out. I ought to put together a building science quiz and post it here. If you have specific questions you think I should ask, post them in the comments below or send them to me in an email at evinfo@energyvanguard.com.
Related Articles
If You Think Thermostat Setbacks Don't Save Energy, You're Wrong!
Can You Save Money by Closing HVAC Vents in Unused Rooms?
Total Energy Use Down in US, Wind & Solar Up
NOTE: Comments are moderated. Your comment will not appear below until approved.