Another Duct System No-No: The Unsupported Butt Joint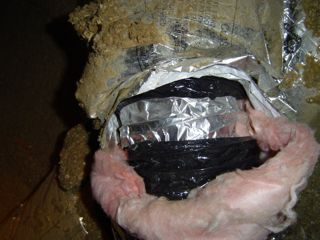 HVAC installers and I have a little game of hide-and-seek that we play. Of course, there are the obvious problems I find in duct systems, like the ductopus, ducts installed right up against the roof deck, and duct leakage galore. But there's one duct problem that I have to hunt for.
When I go into an attic for a big, spread out house that's served by one system, I look for long runs of flex duct. Flex duct, you see, comes in bags that contain sections 25 feet long or less. Houses can be 100 feet wide sometimes, so this can lead to the object of my search.
When I'm checking out the long runs of ducts, I look for places where the foil insulation wrap has foil tape all the way around. If the house has a radial duct system (the ductopus), it's not uncommon to find two pieces of flex duct that have been spliced together – the dreaded butt joint.
When I find one, I walk up to it and give it a squeeze. What I'm hoping to find is that the butt joint is difficult to deform because the installer inserted a sheet metal connector into the two separate duct sections and then fasteners and lots of mastic to hold it all together. What I too often find instead is that the butt joint has as much give in it as the the rest of the flex duct.
The photo at the top is one such butt joint. When I squeezed it, I could tell there was no connector, so pulled back the insulation. What you see is that the installer simply taped the two pieces of flex duct together and then covered it with insulation.
This type of connection may pass a duct leakage test initially, but, especially in a hot attic, that tape will eventually fail. When it does, the duct leakage will be sky high.
Here are my recommendations:
Don't install single runs of flex duct that two or more pieces are so long that they need to be patched together.
Use a trunk-and-branch duct system to help keep runs of flex duct short.
Always use a metal butt joint connector if you don't follow the advice above.
Allison A. Bailes III, PhD is a speaker, writer, building science consultant, and the founder of Energy Vanguard in Decatur, Georgia. He has a doctorate in physics and writes the Energy Vanguard Blog. He also has a book on building science coming out in the fall of 2022. You can follow him on Twitter at @EnergyVanguard.