Be a Controlling Building Enclosure Control Freak with Control Layers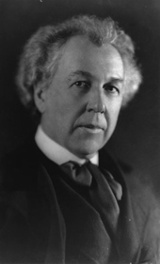 Frank Lloyd Wright was a control freak. This was a guy who not only designed houses but also all of the trim details and even the furniture. No, you're right. That's not really enough evidence to convict him. The really damning part is that he also placed the furniture exactly where he wanted it in the homes he designed…and expected you to keep it there! If you owned one of his homes, you better hope he never visited and found the furniture out of place. If so, you'd get a good scolding. Then he'd put the furniture back where it was supposed to go. Control freak!
Sadly, his personal life was a mess, and his control didn't extend to some areas where it would have helped more than in the placement of furniture, but let's focus simply on the idea of control for now. If you design, build, inspect, rate, or verify buildings, I want you to be a control freak, too. Not about furniture—about control layers.
One of the biggest knowledge gaps I see in the world of building is the understanding of the properties and uses of the various materials used in building homes. For example, I ask this question a lot in our classes and when I speak:
What is the purpose of house wrap?
I usually get told that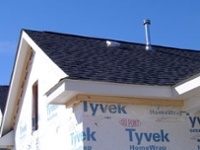 it's an air barrier or a vapor barrier. I rarely get told what it's really for. It's one material you can use as a really important control layer in the building enclosure. But what's it supposed to control?
Become a control freak.
Here's what you want to control in a building:
Heat
Air
Liquid water
Water vapor
Understand also that controlling doesn't necessarily mean stopping. Let's take a look at these and see what materials we can use as control layers for them.
Controlling heat
This one's easy and obvious, right? You use insulation to control the flow of heat across the building enclosure. Yeah, that part's easy, but there are a lot of choices for insulation materials. Some of them also qualify as air barriers or vapor retarders or both. It's not a problem doubling up to control heat and air, but you've gotta be careful with vapor retarders.
The PassivHaus folks are the total control freaks in this area.
Controlling air
This one's easy in theory, too. Seal up the house as tight as you can. The old myth that a house needs to breathe has been thoroughly debunked. Unfortunatley, not everyone has gotten the message. I've talked with home builders, even here in Georgia where they have to pass a Blower Door test, who still believe that you shouldn't air-seal a house too much or you'll make it 'too tight.' Sorry! Not true.
Be a total control freak here and get the air leakage as low as you can, as they did in this net-zero home in Tennessee.
Controlling liquid water
This is probably the most important control layer of all. Wait, no, it IS the most important control layer because if you screw this one up, your house fails, sometimes quicker than you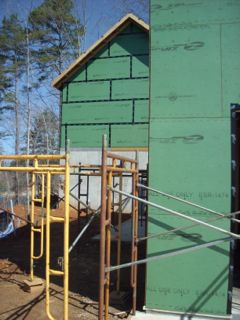 might imagine. If you're not absolutely maniacal about being a control freak here, it could well come back to bite you.
And this is what house wrap does. It's a drainage plane behind your cladding (siding, brick, stucco…) that keeps water away from the more permeable materials behind it. It needs to have proper flashing at all openings for windows and doors, be layered in a shingling fashion so water doesn't get funneled to the back side, and sealed at the seams.
Of course, house wrap is only one of many types of drainage plane. You can also use a product like Huber's Zip Wall (shown at left), rigid foam board, or any number of other materials.
This is where Frank Lloyd Wright could've used some help in being a better control freak. Some of his spectacularly gorgeous buildings had some spectacular liquid water failures. It may be nice to work in a striking-looking building, but if I had to listen to that water dripping into the bucket by my desk all day, it'd drive me crazy. To be fair, though, he didn't have the kinds of materials to work with that we have today.
Whatever you do here, be a total control freak with liquid water.
Controlling water vapor
This is probably the most confusing one. A lot of people think house wrap is a vapor barrier. Guess what? It's not even close! It's got a permeance well outside the range of even a Class III vapor retarder.
And speaking of permeance, be sure you understand the difference between permeance and permeability as well as the three classes of vapor retarders. Go now and read my article about water vapor if this is a mystery to you. Once you thoroughly understand this, it may be clear to you that you don't even need a vapor barrier.
The thing about controlling water vapor is that you sometimes need to stop, and sometimes you need to let it flow. In a really cold climate, we stop it on the inside of a wall but not on the outside. In a mixed-humid climate, like Atlanta, you don't want a vapor barrier on either the inside or outside.
The Perfect Wall
Joe Lstiburek likes to talk about what he calls the Perfect Wall. It's got all the proper control layers and puts them in places where the assembly can work in any climate. Check it out. I combobulated the Perfect Wall a while back. (In case you're wondering, I just got tired of seeing so much discombobulation in the world.)
Control the flows!
There you have it — a quick overview of your path to becoming a control freak.
Related Articles
You Don't Need a Vapor Barrier (Probably)
Vapor Retarder? Vapor Barrier? Perms? What the Heck?!
Combobulating the Perfect Wall – The Basics of Control Layers
Myth: A House Needs to Breathe
5 Reasons House Wrap Is Not an Air Barrier
Photo of Frank Lloyd Wright from Wikimedia Commons, a freely licensed media file repository.