Carbon Dioxide and the Air You Rebreathe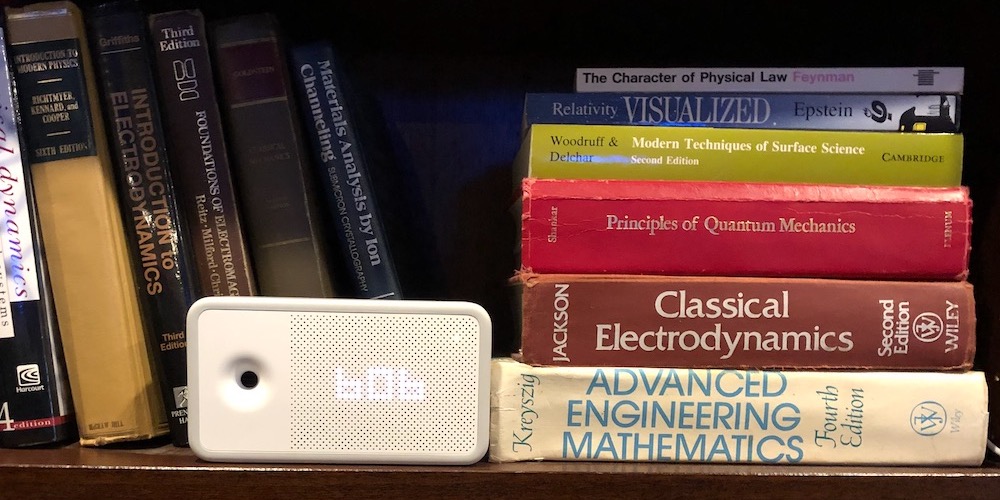 You may not want to think about this but every time you inhale, you're breathing in air that came out of someone else's lungs.  One of my favorite ventilation quotes drives this point home.  In a book titled Ventilation and Heating* from 1893, John Shaw Billings wrote:
Most civilized men and women are unwilling to put on underclothing that has just been taken off by another person or to put into their mouths articles of food or drink that have recently been in other people's mouths but they take without hesitation into their lungs air that has just come from other people's mouths and lungs or from close contact with their soiled clothing or bodies.
Carbon dioxide to the rescue
How much of each breath you take in is "rebreathed" air?  This is where carbon dioxide (CO2) can help.  The amount of CO2 in indoor air can be a good indicator of how much air you're rebreathing. The outdoor CO2 level is about 400 parts per million (ppm).  The indoor level is the outdoor level plus whatever accumulates indoors from any carbon dioxide sources there.  The two primary CO2 sources indoors are combustion and breathing.
If no one smokes indoors at your house and your combustion appliances, if any, are vented to the outdoors, then your main source of indoor CO2 is people.  Our lungs are finely tuned gas exchange organs, taking in oxygen and releasing carbon dioxide.  And they do so at a regular rate because CO2 isn't just a waste product from our metabolism.  It's also used to keep our blood slightly on the alkaline side of the pH scale (7.40 ± 0.05) and that requires not releasing too much or too little.  That regularity makes it possible to correlate CO2 level with rebreathed air, which we'll come to in the last section below.  But first, let's talk about indoor CO2 levels.
Monitoring CO2
Indoor air quality is a much bigger issue than monitoring a single component of the indoor air.  Carbon dioxide, however, can play an outsize role in helping to achieve good indoor air quality, especially in regards to COVID-19.  Moreover, measuring the CO2 level in indoor environments that you spend time in outside your home can give you an idea of the degree of risk of aerosol transmission of COVID-19 in that space.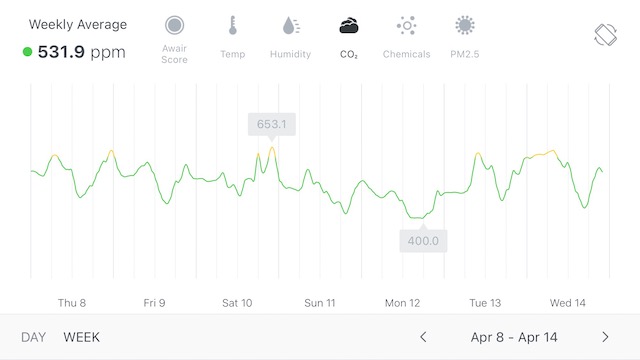 I've been monitoring the carbon dioxide levels in my home with two Awair Element indoor air quality (IAQ) monitors,* one in the den and another in the master bedroom.  The chart above shows the CO2 levels in my den for last week.  At the lowest point, our indoor CO2 level was the same as outdoors.  This monitor doesn't read lower than 400 ppm, and the outdoor level doesn't go much below that these days.  The highest CO2 level we experienced that week was 653 ppm.  (The resolution of the Awair Element is ± 75 ppm or 10%, so don't get too hung up on the exact number.  And completely ignore the meaningless decimal.)
What's a bad level of CO2 in the indoor air?  ASHRAE, the US EPA, and other IAQ sources say 1,000 ppm is the number you don't want to exceed.  Mainly, the CO2 level is used as a proxy for indoor air quality because it indicates how much air exchange you have between indoors and outdoors.  Of course, particulate matter 2.5 microns or smaller (PM2.5) is an important indoor air pollutant that may get worse with more ventilation, so you can't look at a low CO2 level and assume your IAQ is good.  Likewise, you may have really low PM2.5 because of good filtration but high CO2 from poor ventilation.
Let's focus just on CO2 and ventilation here.  Most of your indoor CO2 above 400 ppm is from the people who occupy the space.  The chart above shows when my wife and enter the den and spend time there because that's when the CO2 level rises.  When we leave the room, the CO2 level there drops.  We never hit 1,000 ppm, which is great, but this is spring and we have some windows open.  In winter and summer with the house closed up and no whole-house ventilation system running, CO2 levels go higher.  Once I get my new Zehnder ERV installed, I expect to see the CO2 levels stay low even when the house is all closed up.
The rebreathed fraction of your indoor air
David Elfstrom, an engineer in Canada, has been posting a lot on LinkedIn and Twitter about rebreathed air.  He even posted a screenshot from a spreadsheet (below) he put together that correlates the indoor CO2 level with the fraction of rebreathed air.  Elfstrom used the equations in a paper from 2003 to make the connection.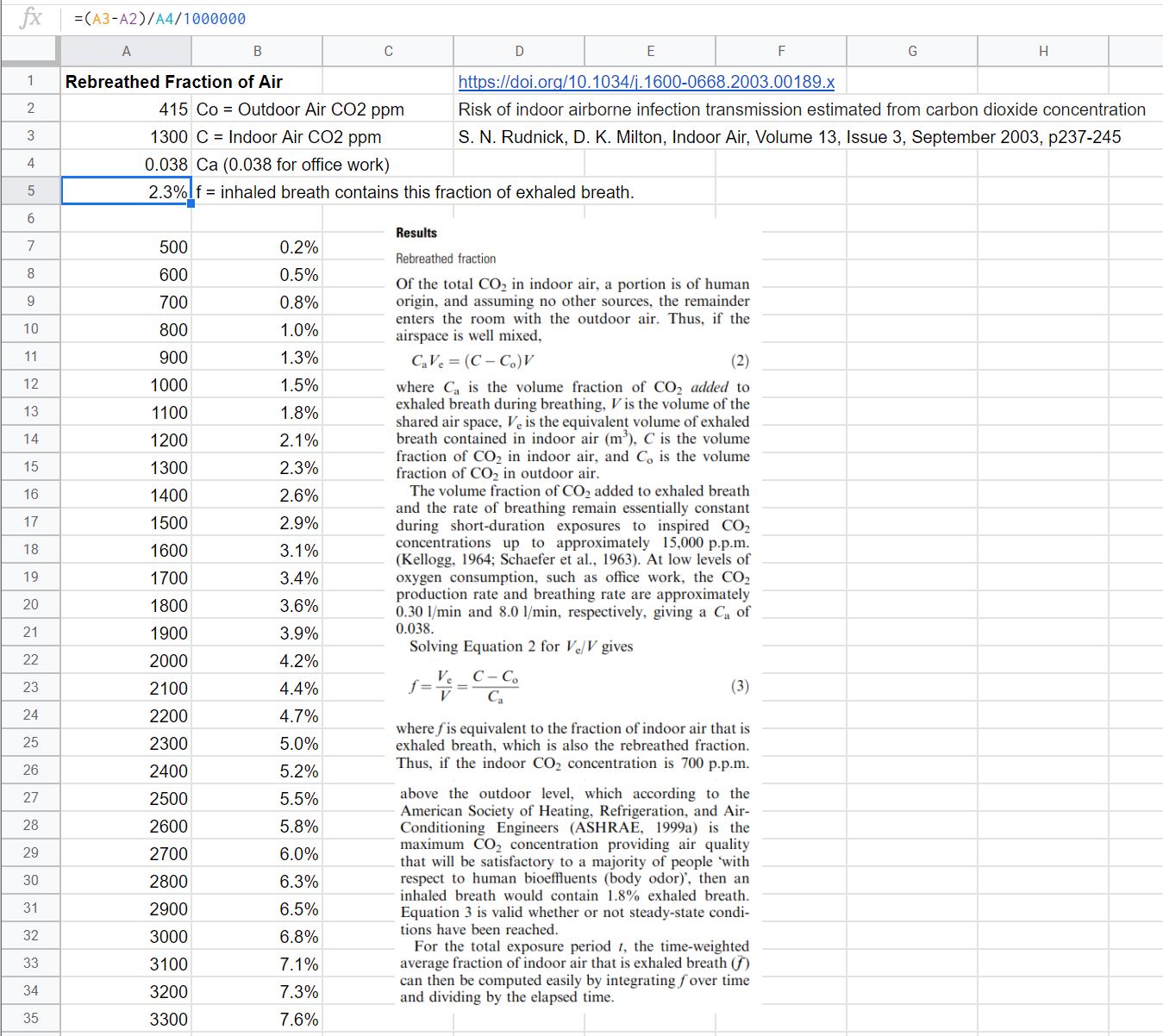 For low CO2 levels, the amount of rebreathed air you inhale is low.  It's only 0.2% at 500 ppm.  By 800 ppm, the highest we've seen in our den, the percentage of rebreathed air is up to 1%.  By the time you get to 1,500 ppm, 3% of every breath you take is air that was recently exhaled from someone's lungs.
Note that I didn't say "someone else's" lungs because some of that rebreathed air was yours.  If you're one of only two people in the room, about half of the rebreathed fraction would be from you.  With four people in the room, now 75% of the rebreathed fraction is from other people.  The general conclusion is that the more people are in a room and the higher the CO2 level, the more of other people's air you're rebreathing.
Since we know that COVID-19 is spread mainly through aerosols that can float around in the air for hours, the amount of rebreathed air can be a determining factor of your risk for contracting this ailment.  If CO2 levels are high, make sure to wear a good mask—or double mask—if you're around people from outside your household.  Otherwise, you might as well exchange underclothing.
Allison Bailes of Atlanta, Georgia, is a speaker, writer, building science consultant, and founder of Energy Vanguard. He is also the author of the Energy Vanguard Blog and is writing a book. You can follow him on Twitter at @EnergyVanguard.
Related Articles
COVID Is Airborne — Are You Feeling Lucky?
Which Indoor Air Pollutants Matter Most?
Can Your HVAC System Filter Out Coronavirus?
* This is an Amazon Associate link. You pay the same price you would pay normally, but Energy Vanguard makes a small commission if you buy after using the link.
NOTE: Comments are moderated. Your comment will not appear below until approved.