Does Spray Foam in the Attic Make It a High-Performance Home?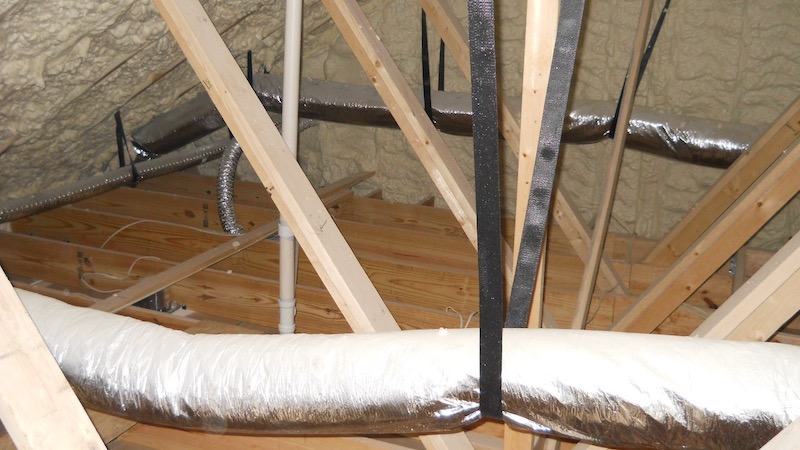 Ten years ago, Georgia led the United States in adopting a new energy code.  Perhaps the biggest advance was that it required all new homes to meet a threshold for airtightness (7 ACH50).  Now most states require blower door tests and the threshold is generally in the 3 to 5 ACH50 range.  Unfortunately, Georgia has fallen behind.  It took us seven years to update the energy code.  When we did, we increased the airtightness requirement, but not as much as the International Energy Conservation Code (IECC), and we opted out of better insulated walls.  Yes, we still allow R-13 2×4 walls in new homes.
We did improve the attic insulation, though.  The new state energy code requires R-38 attic insulation statewide.  Further, because the code also requires better windows, home builders can't get homes to meet the code with R-20 spray foam insulation on the roof deck without demonstrating compliance through what's called the performance path (section 405 in the IECC).  They had been getting this lower level of attic insulation approved with a simpler method called the total UA alternative.  In other words, they could get a lower insulation level for the attic to comply by using better-than-code windows, which builders were doing already anyway.
Georgia's R-20 spray foam amendment
Fast-forward a couple of years, and now builders want to go back to the simpler days of getting R-20 spray foam insulated rooflines to pass automatically.  To do so, they've got an amendment up for adoption that would automatically allow R-20 impermeable insulation (i.e., spray foam) if they meet three other stipulations:
Increase airtightness from <5 ACH50 to <3 ACH50
Install whole-house mechanical ventilation that's not exhaust-only
Cover the rafters with a minimum of R-3 insulation
This amendment would make it a prescriptive requirement to put R-20 spray foam insulation on the underside of the roof deck.  That's the easiest way to pass code.  Check the four boxes (the three above plus R-20) and you pass.
Does spray foam equate to high performance?
In talking about the amendment with supporters, I heard people say that encapsulating an attic with R-20 spray foam makes it a high-performance home.  Fifteen years ago, I would have agreed with that statement.  Now, not so much.
Does spray foam in the attic make the house more airtight?  Maybe.  Does spray foam in the attic lower the heating and cooling load of ducts in the attic?  Probably.  Is R-20 enough?  No.
We've done some modeling on what it takes to get R-20 spray foam encapsulated attics to pass the current code, and they just barely make it…sometimes.  Here's what I wrote about that in my letter opposing the amendment:
The performance path in the energy code, section 405, may allow some homes to pass, but based on our examination of this method, it's very close.  We modeled two house plans of a local builder.  One passed, and one failed at 2.99 ACH50.  The one that passed came in at 0.3% less than the required threshold.  (The floor plans modeled are 3,200 sf with R-20 insulated roofline, 14.5 SEER air conditioner, 96.1 AFUE furnace, and ducts in the attic.)  Those same house plans with an air leakage rate of 4.99 ACH50 miss the threshold by more than 10%.
If R-20 spray foam attics are that close to the line of a barely-legal—uh, I mean,  code minimum, you've gotta really stretch to call that a high performance home.  Yeah, they'll have a bit more airtightness, get mechanical ventilation, and have a bit of insulation on the rafters.  They'd be doing the first two of those things anyway if Georgia hadn't weakened the IECC requirements in those areas.
But come on.  High performance?  No way!
Spray foam isn't a miracle product
I like spray foam insulation.  I have it in my house.  My attic is encapsulated with open-cell spray foam.  My crawl space is encapsulated with closed-cell spray foam on the band joists.  When it's done properly, it definitely helps with airtightness and makes it easy to reduce the loads on ducts in attics.
Not all spray foam is done well, however.  We get a lot of calls from people who had spray foam insulation installed in their attics and have problems with odors, humidity, or heat.  The most popular article I've written here in the Energy Vanguard Blog is 4 Pitfalls of Spray Foam Insulation.  It's been viewed 14 thousand times this year already and millions of times since I wrote in 2010.  If people weren't having trouble with spray foam insulation, this article wouldn't be so popular.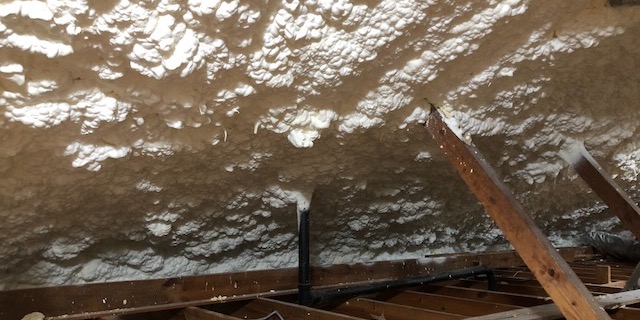 Take my house, for example.  My wife and I bought it from my father-in-law two years ago.  He'd had the attic encapsulated with open-cell spray foam insulation in 2012.  A couple of years later, he had to hire another contractor to deal with the moisture and mold problem that resulted from the very bad spray foam job.  When I moved in, I had a lot more spray foam installed to bring the attic up to R-40+, and it reduced the air leakage of the house by 22%.  (Stay tuned for articles on the before and after conditions.*)
Spray foam insulation isn't a miracle product.  In fact, it often suffers the same problem for which spray foam contractors bash fiberglass:  poor installation.  Worse, bad spray foam installers can create more serious problems for homeowners than bad fiberglass installers.
Is R-20 in the attic ever enough?
When it comes to new homes, my answer is no for almost everyone.  My one exception would be homes in mild climates that need little heating or air conditioning.  I'm thinking of places like Santa Monica, California, but even then, I'd have to look at the data.
Where an R-20 encapsulated attic does sometimes make sense is for existing homes.  If a homeowner has a set budget for improvements, using some of that to do R-20 spray foam on the roofline can provide a lot of benefit if ducts are in the attic and if it reduces air leakage significantly.  I was a home performance contractor from 2004 to 2007, and that was one of the things we did.
But no house with an R-20 attic should ever be called a high-performance home.  You've got to be at R-30 minimum just to be in that conversation.  R-20 should be the minimum for walls.  (I need a cartoon here based on the old Trix cereal commercial that says, "Silly rabbit, R-20 is for walls!")
The case against an R-20 attic also includes what we learned from Texas this winter.  A home with only R-20 will become unlivable much faster in the case of a power outage than would a house with a fully insulated attic.  With more and stronger effects of climate change showing up every year, we should be requiring new homes to be more resilient, not less.
The sum and substance of this issue is that spray foam insulation was allowed to have a lower R-value 20 years ago because of two things:  It made a significant difference in airtightness and it could bring ducts inside the building enclosure.  Now, all new homes have to be airtight (well, OK, not in Mississippi) so spray foam insulation shouldn't get this pass anymore.
Allison Bailes of Atlanta, Georgia, is a speaker, writer, building science consultant, and founder of Energy Vanguard. He is also the author of the Energy Vanguard Blog and is writing a book. You can follow him on Twitter at @EnergyVanguard.
* We had the additional open-cell spray foam installed by Woodman Insulation using SES open-cell spray polyurethane foam, and they did a great job.  In full disclosure, they did provide this to me at no cost.
Related Articles
4 Pitfalls of Spray Foam Insulation
Spray Foam Insulation at the Edge – A Forensic Analysis
Humidity in a Spray Foam Attic
NOTE: Comments are moderated. Your comment will not appear below until approved.