Duct Design 5 — Sizing the Ducts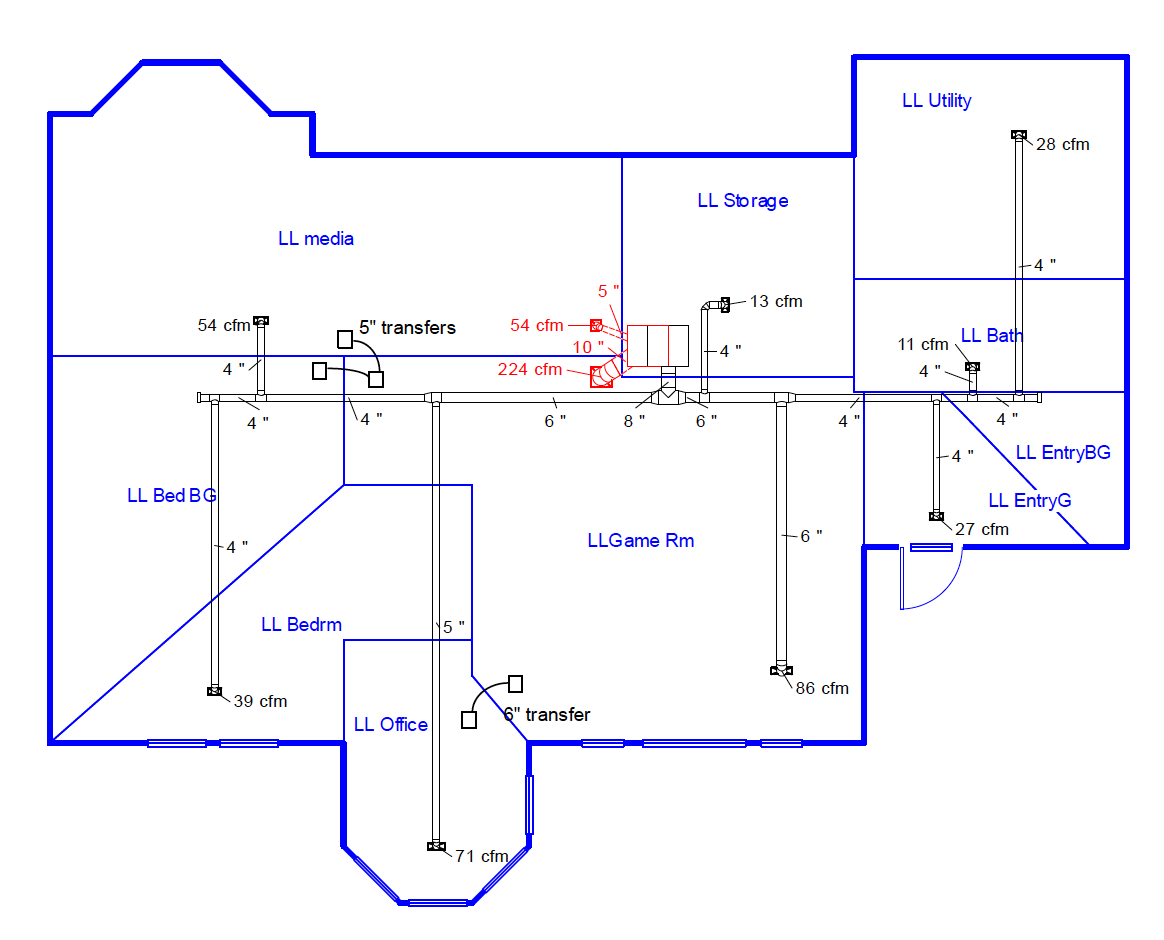 To this point in our little series on duct design, we've been calculating intermediate quantitites: available static pressure, total effective length, and friction rate. Today we use all that to find out how big the ducts need to be. We're following the Manual D protocol for duct design, a standard developed by the Air Conditioning Contractors of America (ACCA). Let's jump right in and see how it works.
Sizing the ducts by friction rate
Recall that the rated total external static pressure (TESP) tells us how much resistance we can have across the furnace or air handler when it's delivering the rated air flow. To hit that number, we have to control the resistance of the duct system.
All else being equal, a duct system with a greater total effective length (TEL) has greater resistance. That doesn't mean the total external static pressure is greater, though, because the friction losses in the ducts depend on both the length and the cross-sectional area. That's the unequal part, the knob we use to control the resistance.
If the total effective length is high, we have to increase the duct area. If the length is low, we can use smaller ducts. That's how we ensure the ducts deliver the right amount of air. (Of course, it has to be installed and commissioned, too.)
The friction rate I discussed in part 4 of this series allows us to quantify this process. (It's one of two factors that we have to look at in determining the size. The other is below.) In part 4, I showed an example where the friction rate was 0.073 iwc per 100′ of total effective length.
The next step is to use that friction rate and the air flow rate for each duct section in cubic feet per minute (cfm) to find the size necessary to move that amount of air. We do it with software, but duct calculators give the same information.
Here's an example with the new ASHRAE duct size calculator. Our friction rate is 0.073 iwc/100′. Let's say we have a section of ductwork that needs to move 400 cfm. On the Friction Loss/Air Quantity part of the dial, we line up 0.073 with 400 cfm, as seen below.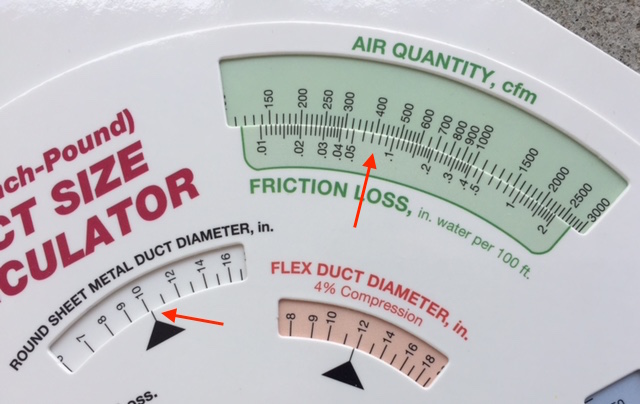 As you can see, we need a round metal duct that's slightly larger than 10″ to do what we want here. For flex installed properly (inner liner pulled tight with no sag or compression), it would be the same size. (See my article on flex duct compression if you don't believe that.)
We don't design for compression, but you can see that if the installer used flex and didn't pull the inner liiner tight, leaving 4% longitudinal compression, you'd need a 12″ flex duct rather than 10″. If they installed 10″ flex duct compressed by 4%, the resistance would be higher, the static pressure would be higher, and the air flow would be lower.
Got that? The process isn't hard. You'd do the same thing for every section of the ductwork, using the same friction rate but putting in the different air flow requirements for each part.
Sizing the ducts by velocity
But just looking at those two sections of the duct calculator aren't the end of the process. We also want to make sure the velocity of the air isn't too high. So we look at the Velocity/Air Quantity section. In my example here, 400 cfm at 0.073 iwc/100′ corresponds to a velocity of about 725 feet per minute (fpm). That's fine for supply ducts. To move 400 cfm on the return side in this duct system, we'd need to move to a larger duct.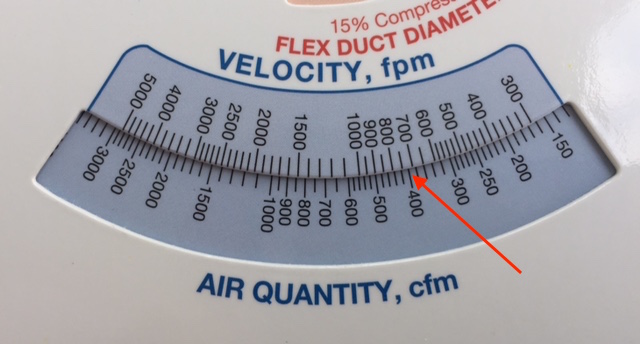 In Manual D, Table N3-1 specifies the maximum velocities for supply and return trunks and branches. For supplies, it's 900 fpm. For returns, it's 700 fpm. That's why we'd go up to 12″ in this case for a return moving 400 cfm at 0.073 iwc/100′.
When sizing by the friction rate results in too high a velocity, we size by the velocity, which results in a larger duct. But larger ducts also result in less resistance, which means we may get too much air flow in that run. What do we do about that? Install balancing dampers.
In our HVAC design business at Energy Vanguard, we generally don't specify ducts smaller than 4″. We do round ducts in one inch increments from 4″ to 10″ and then every 2″ after that, which is why I said we'd use a 12″ instead of a 10″ duct for a return in that example.
Now we've got the procedure for finding the sizes of all the ducts in a design. I've got only a few topics left to go in this series: laying out the ducts, choosing duct types, and registers and grilles. And then I'll present a case study to show how all this works, from design to installation to commissioning.
Buy the ACCA Manuals on Amazon*
Other articles in the Duct Design series:
The Basic Principles of Duct Design, Part 1
Duct Design 2 — Available Static Pressure
Duct Design 3 — Total Effective Length
Duct Design 4 — Calculating Friction Rate
Related Articles
The 2 Primary Causes of Reduced Air Flow in Ducts
How to Install Flex Duct Properly
The Science of Sag – Flex Duct and Air Flow
The Secret to Moving Air Efficiently through Your Duct System
* These are Amazon Associate links. You pay the same price you would pay normally, but Energy Vanguard makes a small commission if you buy after using the link.