Georgia Energy Code Pushes the Envelope…Literally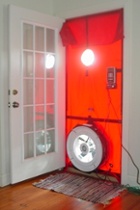 Beginning 1 January 2011, the new Georgia state energy code will require Blower Door testing for all new single family homes. This is amazing progress! As far as I know, Georgia is the first state to go this far with its state energy code.
The origin of this new requirement is the 2009 International Energy Conservation Code (IECC), which includes a provision for verifying airtightness of new homes in one of two ways: a visual inspection or a Blower Door test. Most states are allowing builders to comply by doing either of the two IECC methods, but Georgia has said that the visual inspection isn't adequate.
The 2009 IECC has been going through the review and adoption process around the country and is beginning to be implemented. States that have ignored it in the past, however, can no longer do so, since the 2009 American Recovery & Reinvestment Act (aka the Stimulus Act) requires any state that took those funds to adopt the 2009 IECC and reach 90% compliance.
In addition to requiring a Blower Door test, the new Georgia energy code will require pressure testing HVAC systems for duct leakage if the duct system is outside of the conditioned space. This provision is straight from the 2009 IECC, so Georgia's not breaking new ground here with respect to other states, but it's still an advance that will improve the quality of homes.
One more new requirement worth mentioning is that Georgia will ban the use of power attic ventilators. That's right, we're getting rid of them in new construction. The building science is solid here, and it shows that installing fans to cool attics does indeed work. Unfortunately, the unintended consequence is that by depressurizing the attic, conditioned air is pulled from the house. That does cool the attic, but at great cost.
The new requirements for Blower Door and duct leakage testing will go a long way toward increasing home energy efficiency for new homes in Georgia. It will also be good for business for certified HERS raters and other certified home energy auditors.