How the Heck Does a Heat Pump Get Heat from Cold?!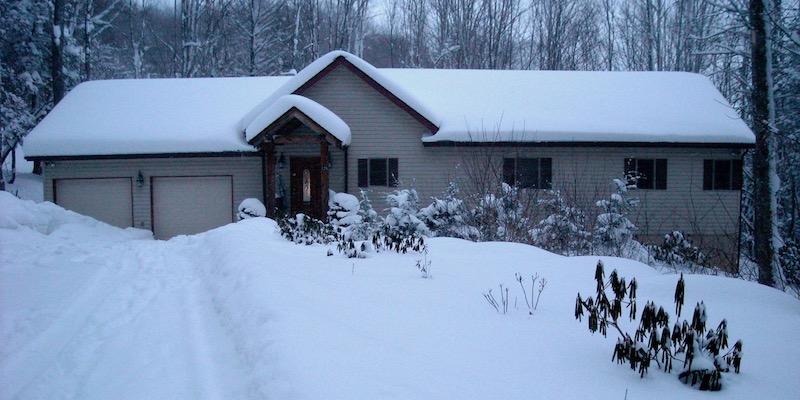 It's been cold out lately, so I've been talking about heat.  When I talk to people about how heat pumps can keep your home warm in winter, they usually get a look of bewilderment on their faces.  How is that even possible, they ask. No one ever tells me that they're confused about how a refrigerator or air conditioner works, even though it's the same exact process – moving heat from a cooler area to a warmer area.
The direction of heat flow
My guess is that we have blinders here because of our personal experience with cold outdoor temperatures. When we go outside in winter, our bodies have a much higher temperature, being at about 98.6°F, and we experience cooling. We personally always are cooled off by cold outdoor air, so it's hard to imagine that that same air could ever heat anything else up.
Heat pumps really do get heat from cold air, though.  So, to understand their operation, let's start with the basics. I discussed heat flow, thermal energy, and temperature earlier this week, and in that article I said heat flows when you have a temperature difference (ΔT). So if you're trying to get heat out of 40° F (5° C) air, what do you have to do? Put it in contact with something that's at a temperature lower than 40°F! That's the job of the refrigerant in a heat pump.
The science behind heat pumps
If you want a good, short description of the the science behind these devices, see my explanation of the refrigeration cycle. I'm going to focus on just one part of it here:  the expansion valve (or metering device more generally).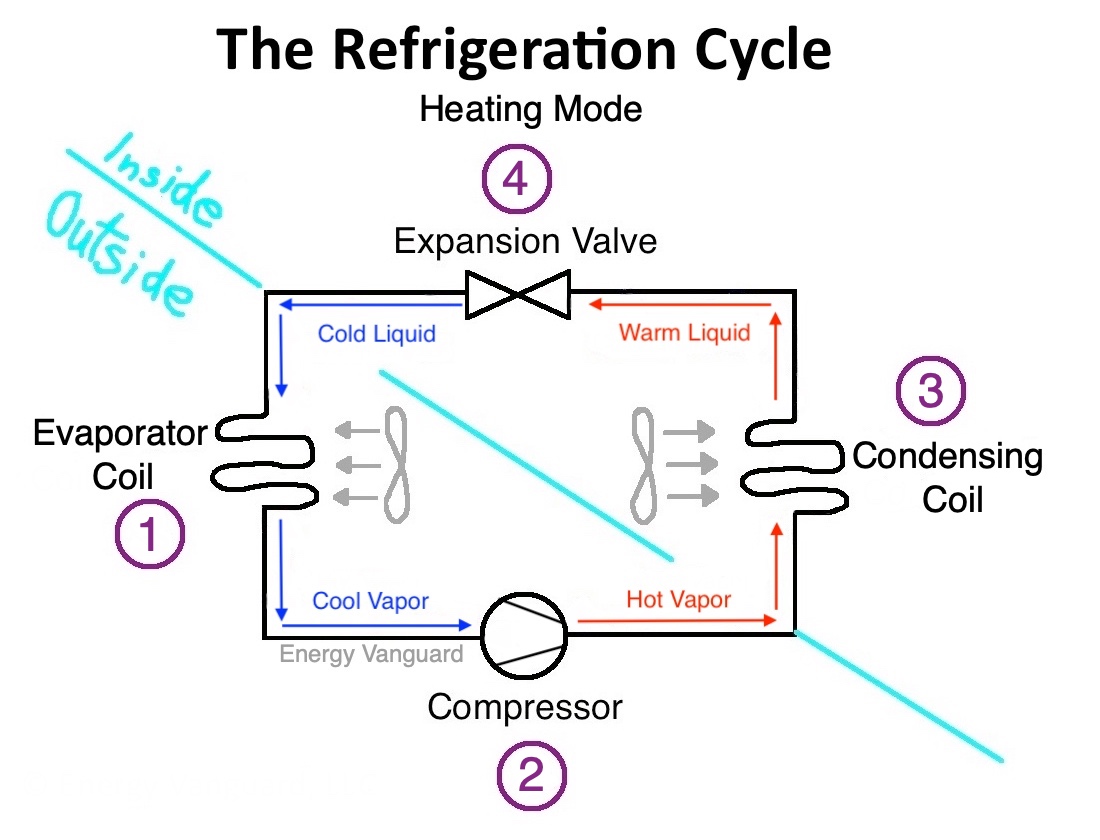 There are four basic processes in the refrigeration cycle. All are important, but in my opinion, the expansion valve is where the magic happens. Whether you're using it for a refrigerator, air conditioner, or heat pump, achieving a low temperature is the key, and that's what the expansion valve does for you.
You need colder than cold to get heat

Here's an example for you that you may have experience with, especially if you're a serious bicyclist. CO2 cartridges contain carbon dioxide under high pressure. (Does this count as carbon sequestration?) When you use them to inflate a bicycle tube, for example, the cartridge gets very cold. Try it! It also works with aerosol cans like hairspray. This is a thermodynamic property of gases. When they're allowed to expand freely, their temperature drops.
Same thing happens in a fridge, AC, or heat pump. The refrigerant is pushed through the expansion valve, and the temperature of the refrigerant drops—a lot. So, that cold outdoor air is actually the warmer stuff then, when it comes in contact with the outdoor coil of your heat pump. And yes, this can work even when the outdoor air is 5° F (-15° C).
And, as we know, heat likes to move from warmer objects to cooler objects. Once we get that heat from the air into the refrigerant, it's just a matter of bringing it into the house and then transferring it into your home's air.
So now the mystery is solved! It's our old friend, the Second Law of Thermodynamics again.
Allison Bailes of Atlanta, Georgia, is a speaker, writer, building science consultant, and the founder of Energy Vanguard. He has a PhD in physics and writes the Energy Vanguard Blog. He is also writing a book on building science. You can follow him on Twitter at @EnergyVanguard.
Related Articles
The Magic of Cold, Part 1 – How Your Air Conditioner Works
How NOT to Use Your Heat Pump Thermostat
Can a Heat Pump Work in Minnesota?
NOTE: Comments are closed.