In Praise of Those Who Do the Dirty Work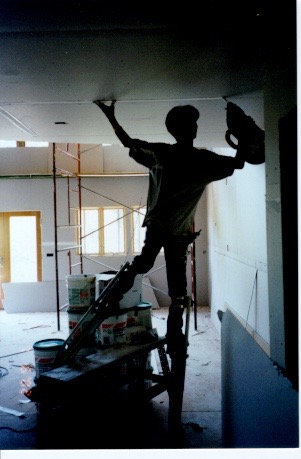 Drywall installers, plumbers, HVAC technicians. All those folks and more do a lot of the dirty work in the construction, maintenance, and renovation of buildings. It's often not fun. I've done it myself, so I know. As a teenager, I worked summers with my grandfather, an electrician, HVAC contractor, and plumber. Sometimes we had to slither through 18 inch crawl spaces. This was summertime in Louisiana, where other, more reptilian things slithered, too.
Now I work in the field of building science, where it's easy to look down on the people who do the dirty work. I've been guilty of it. I've taken potshots at plumbers and dinged the drywall installers. And I've seen a lot of others do likewise. Hey, if the plumber uses a chainsaw to cut a hole for the bathtub drain and then doesn't air seal, he's got to be an imbecile, right?
Wrong! It's easy for those of us who understand how water, air, and heat move to be critical. It's also easy to condemn not only a particular person but also a whole class of people. "Plumbers are idiots!"
But let's take a step back. The problem isn't with all plumbers or all HVAC contractors or all insulation installers. Yes, some are better than others. Yes, there are some who couldn't care less about the quality of their work. In many cases, however, they do take pride in their work. They just don't understand the consequences of some of their practices the way we do.
Maybe the problem is lack of education or training. Maybe we need to use a different product. Maybe a new process will be the solution. I think we need to focus on the problem and not the people.
So I'm turning over a new leaf. I've been moving in this direction for a while, but I'm going to stop going for cheap laughs by insinuating that plumbers are alcoholics or HVAC techs must be from a planet with no atmosphere. And as hard as it's going to be, I'm even going to lay off of the cable guy.
The people who crawl around under houses, brave the blistering attics, and don the oppressive personal protective equipment (PPE) necessary to do the dirty work deserve better from us. They work hard. They're amazing resourceful. They know how to do a heck of a lot of things that I couldn't do.
It's OK to be critical of the work, but let's stop and think before condemning the worker.
Related Articles
Not All Knowledge Comes from College
Is Mike Rowe Right about the War on Work?
The Gap Between Stupid and Hurt Is Narrowing
NOTE: Comments are moderated. Your comment will not appear below until approved.