Passive House — The Only Place Where Real Innovation Is Happening?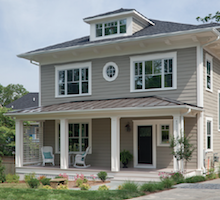 Last week, Joe Lstiburek gave the fifth annual twitterview† from his crawl space. (When he gets back from sailing this week, Peter Troast of Energy Circle has promised to publish the transcript.) One of the pearls of wisdom dispensed by Joe was that, "Passive House is the only place where real innovation is happening."
Last week, Joe Lstiburek gave the fifth annual twitterview† from his crawl space. (When he gets back from sailing this week, Peter Troast of Energy Circle has promised to publish the transcript.) One of the pearls of wisdom dispensed by Joe was that, "Passive House is the only place where real innovation is happening."
That statement got more retweets than any other that night, so let's take a look at it. Is Passive House really innovative? If so, is it really 'the only place where real innovation is happening'? Let's take a look at the evidence.
Is the Passive House program innovative?
The Passive House program gets a heck of a lot of attention for having reviewed—not certified—only about 100 projects. They must be doing something right to get so much attention with so few certified projects. Is it because they're innovative?
Let's take a look.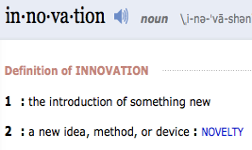 Superinsulated, airtight building enclosures
This is where the rubber meets the road in the program. The main idea is to reduce the energy consumption of Passive Houses drastically, and that has to start with lots of insulation and air-sealing.
The thing is, this isn't innovative. By 1985, we'd figured out how to build superinsulated, airtight houses in North America. Don't believe it? See Martin Holladay's presentation on The History of Superinsulatied Houses in North America.
Probably the main reason that knowledge didn't get embedded in our codes and practices was the big drop in oil prices in 1986 when Saudi Arabia opened to taps after years of holding back. When a barrel of oil went from $32 to $11 and the Reagan administration cut funding for energy efficiency programs, the superinsulated, airtight house trend went into hibernation.
Windows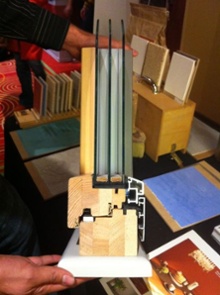 The Passive House program requires that windows have a maximum U-value of 0.14, which is equivalent to an R-value of 7. (Lower U-values are better; higher R-values are better.) That's pretty darn good…for a window.
They get to that level of performance with three panes of glass, low-e coatings, argon gas in the spaces between the panes of glass, and frames with thermal breaks. The window sample shown at right is from Zola Windows, which makes some of the best windows for Passive House projects.
Those are all great, but again, we had triple pane, low-e windows in the '80s. Yes, the materials and assemblies are definitely better, but is that innovation?
Thermal bridges
Thermal bridges allow heat to pass through the building enclosure of most buildings because we don't require continuous insulation. Building codes say it's OK to put your insulation between the studs of a stick-built home, so you have 14.5″ of insulation and 1.5″ of wood in every 16″ of a typical wall, floor, or roof. Then there's also the extra wood around window and door openings as well as at corners and intersections with interior walls.
A typical house has a framing factor of nearly 25%. That means that if you had a square house and put all the wood together, it would take up nearly one whole wall of the house.
Passive House requires minimizing thermal bridging. They even give you a number you cannot exceed (0.006 Btu/hr-ft-°F). Their modeling tools, the Passive House Planning Package (PHPP) and WUFI Passive, are more sophisticated than anything designers had in the '80s, so they probably do a better job here than the old guys did back in the day. But the old guys knew the benefits of continuous insulation.
Ventilation systems with heat recovery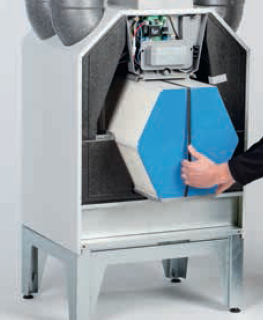 Airtight homes need mechanical ventilation. Passive Houses are supertight. The requirement for air leakage is a maximum of 0.6 air changes per hour at 50 Pascals (ACH50). Our code in Georgia right now requires 7 ACH50 or less.
If you're trying to conserve every bit of energy in a building, you don't want all that energy you used to condition the indoor air escape when you ventilate. So you use a device that allows the outgoing stale air to pass close enough to the incoming fresh air that the warmer air gives up some of its heat to the cooler air. The device that does that is called a heat recovery ventilator (HRV). When the two airstreams also exchange moisture, you have an energy (or enthalpy) recovery ventilator (ERV).
And guess what? HRVs were around in the '70s and '80s. They're more efficient now, and we have ERVs as well, but it's evolution, not revolution again. Not that evolution is bad. That Zehnder HRV shown above is 84% efficient, about 10% better than a typical HRV, and their best model checks in at 93% efficient.
Minimal energy use
The original idea, I've read, was to build the best enclosure you can so you could heat and cool the building passively. That's no longer true, and mechanical systems are allowed to heat and cool a home as long as they don't exceed the Passive House limits. The official criterion is that the home needs to use no more than 4750 Btu/ft2 (15 kWh/m2) per year for heating or cooling.
The people pushing superinsulated houses in the '70s and '80s may not have had a hard number they were trying to reach, but energy conservation was clearly their goal. Creating a program around a goal for maximum energy consumption doesn't really seem so innovative.
Is anyone innovative?
Hmmm. Well, if we're going to limit ourselves to buildings, mainly residential, in North America, then there may well be no true innovators. We know a heck of a lot of building science now. We've built a lot of homes and been able to study the various ways they fall short.
Yes, we have a lot of programs and concepts out there, but I'm not sure anyone is doing anything really new. ENERGY STAR has stepped up its game, but it's not innovative. LEED, NAHB, net zero…none is innovating, not really. They're all taking ideas that are out there already and trying to get them some traction in the marketplace.
What IS innovative?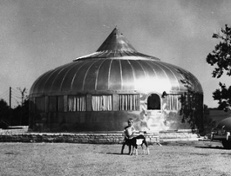 When I think of innovative ideas in housing, I think of Buckminster Fuller and his Dymaxion House. I think of Paolo Soleri and his experimental town called Arcosanti. I think of the very odd houses in my copy of the book Shelter.
The problem with innovation, though, is that it leads to ideas that are often too far ahead of their time. The Dymaxion House never really got going. Even Robert Heinlein, who ordered one in 1945, couldn't get his order filled. Arcosanti is a beautiful idea, but after more than 40 years of construction, the town that's supposed to have 5000 people has only about 100.
Maybe innovative is overrated. Or maybe, as King Solomon said, there really is nothing new under the Sun. Perhaps making the old stuff better is really where we should focus our energy.
Passive House makes energy conservation sexy
Maybe it's just because they're the new kid on the block. Maybe it's because they're trying to take energy conservation further than anyone else in the game. But Passive House definitely has a lot of buzz. I felt it when I went to the PHIUS conference in Denver last year.
Even if what they're doing is refinement rather than innovation, they're doing a great work. Some of the biggest problems we're trying to solve are how to deal with moisture properly, how to ventilate enough but not too much, and how to get the highest performance we can when we build. The Passive House folks are zealots in their attempt to understand and conquer these issues.
If you don't believe me, just try building a Passive House in south Louisiana. Ask Corey Saft how easy it is to deal with humidity when you've reduced your sensible loads so much that you barely need an air conditioner.
Another big issue for some people is how to avoid using petrochemical products like spray polyurethane foam, extruded polystyrene foam, and other plastics. I personally am fine with spray and board foam products used appropriately, as are many in the Passive House movement. If you're looking for alternatives, though, a company that's deep into Passive House may have what you need: 475 High Performance Building Supply.
Finally, Passive House is clearly leading the pack by making the best promotional video of any program. It's from Europe and is slightly NSFW (not suitable for work) because it's a little risque. It's in French, though, so don't worry about the sound unless you have francophones around.
So, yeah, Passive House is really testing the bounds of what's possible. Whether we call it innovative or not isn't so important.
Passive House Links
Passive House Institute of the US (PHIUS)
Passive House Alliance – US (PHAUS)
2013 PHIUS Conference – 15-19 October 2013, Pittsburgh, PA
Related Articles
Dr. Joe Lstiburek Surprises Passive House Conference Attendees
Why Should I Care About the Passive House Program?
A Good Window Is Still a Poor Wall
Footnote
† Twitterview (noun) – An interview in which the interviewers ask questions, and the person being interviewed is supposed to respond with answers no longer than 140 characters. The interviewers and attendees then publish the questions and answers through the social media tool, Twitter, usually with a hashtag, such as #bscamp.
Photo credits: Top photo of Passive House in Maryland by Jim Tetro / JIM TETRO ARCHITECTURAL PHOTOGRAPHY. Innovation definition from merriam-webster.com. Photo of window by Allison Bailes. Photo of Zehnder HRV from Zehnder America website. Photo of Dymaxion House (actually Wichita House) from UCLA Design Media page.