Radiant Barriers Don't Work with Spray Foam Insulation on Them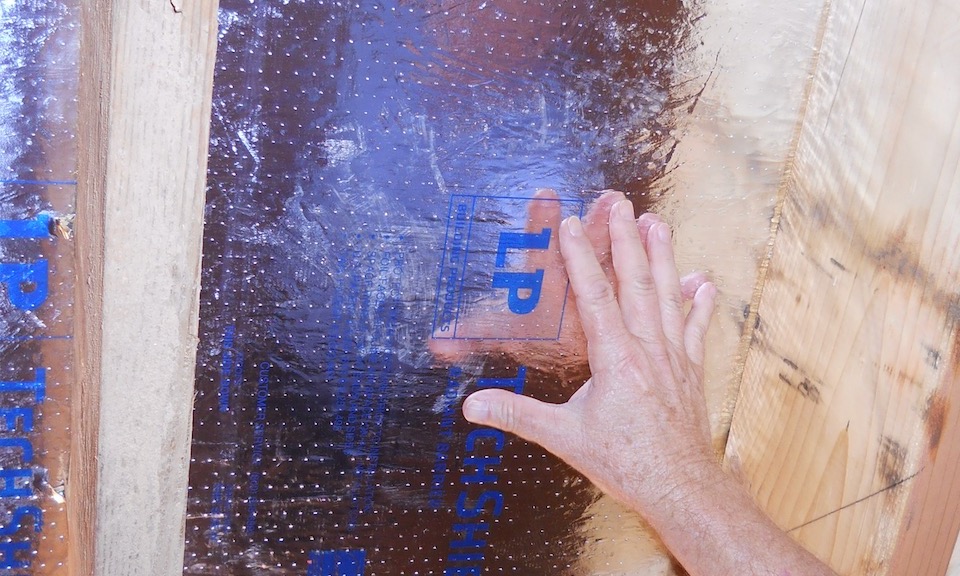 I'm teaching a HERS rater class this week, and on Monday we went out to look at a couple of houses and do a Blower Door test. The second house we visited was under construction, and the builder had used Louisiana-Pacific's radiant barrier decking, Techshield (photo, left).
When we talked with the builder, he told us that he was planning to spray foam insulation in the roofline. Yes, right on top of the radiant barrier. Will this work? No. I wrote about how radiant barriers work not long ago, and when you put a radiant barrier in contact with other materials on both sides, heat just conducts right through it.
Now, before you go calling this builder an idiot, he actually did this intentionally. He knew that radiant barriers need an air gap, but the Techshield cost him less than a dollar a sheet more than regular decking. His intention was to put the Techshield up there, and then that would give him the option to go either way: an unconditioned attic with a radiant barrier or a conditioned attic with spray foam insulation at the roofline. After talking with contractors and doing his homework, he decided to go with spray foam.
After I published my other radiant barrier article, I got an email from someone who was having a home built for his family, and they were also about to spray foam over a radiant barrier. In his case, they didn't do it to have more options. They just didn't know.
So, if you're thinking of radiant barrier roof decking and spray foam insulation, make sure you understand that radiant barrier roof decking does not work with spray foam insulation on it. It's an either/or choice.
Allison A. Bailes III, PhD is a speaker, writer, building science consultant, and the founder of Energy Vanguard in Decatur, Georgia. He has a doctorate in physics and writes the Energy Vanguard Blog. He also has written a book on building science. You can follow him on Twitter at @EnergyVanguard.
Related Articles
Oooh, Shiny Stuff! – Radiant Barrier Fundamentals
Are Radiant Barriers Cost Effective in New Homes?
Your Connection to the Blast Furnace – Attic Kneewalls
Comments are closed.