The Metric System Is for Lovers—A Valentine's Day Manifesto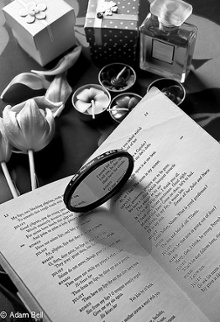 What better time than Valentine's Day to make a pitch for going to the system of units that the vast majority of the world uses. No, really, I'm dead serious. Here's my reasoning (and you know how good I am at this kind of sideways thinking).
First, I drive my wife wild — a good thing for Valentine's Day, right? — whenever I tell her the temperature in degrees Celsius! (Unfortunately, that's wild with frustration, but it should still count.)
Second, we abbreviate the International System with SI, from the French, Système International d'unités, and everyone knows that French is the language of love. If you whispered into the ear of your sweetheart, "J'aime la façon dont ces kilos en trop te vont," in a sexy French accent, the object of your affection would no doubt respond with something like, "Oh, baby, I love it when you talk metric to me!"  (Of course, you may not want to try this with someone who understands French).
Third, if God had meant us to use the metric system, we'd have 10 fingers…and well, actually, that's what most of us have.
But seriously, isn't it time we just get over this silly hurdle and use the system of units that makes sense? I mean, wouldn't you rather figure out how many grams in a kilogram than how many furlongs per slug-minute you need to equal a rood-pint per stone century?!
If so, join me in my new campaign to start the conversion by making Valentine's Day our first metric holiday.  Instead of a dozen roses, bring 10 roses to your sweetheart!

Happy Valentine's Day!

Allison Bailes of Atlanta, Georgia, is a speaker, writer, building science consultant, and founder of Energy Vanguard. He is also the author of the Energy Vanguard Blog and is writing a book. You can follow him on Twitter at @EnergyVanguard.
Related Articles
Those Annoying Imperial Units!
The Easy Way to Convert between Celsius and Fahrenheit
Psychrometrics – Impenetrable Chart or Path to Understanding?
Photo by ADAM BELL | PHOTOGRAPHY from flickr.com, used under a Creative Commons license.

Comments are closed.