The Tale of the New Mexico Dehumidifier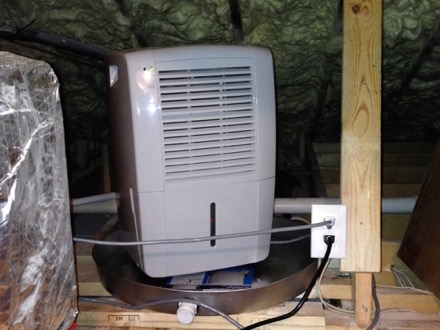 Last Friday I did a workshop on HVAC design and installation best practices for the Home Builders Association of Central New Mexico. They had a great crowd in attendance. I told them why I was on crutches (the polar bear story, the ladder story, and the basketball story). I explained the importance of getting the heating and cooling distribution system done right. And I used a dehumidifier example that bombed.
Hey, I'm from the Southeast. We bathe in water vapor every day. Everyone in the land of humidity knows what happens when you plug in a dehumidifier. Right? The air gets drier — and warmer. That's the point I was trying to get across to my dry climate audience.
At the time, I was explaining the science behind evaporative cooling. They have devices out there called swamp coolers that use evaporative cooling to cool homes. It's the opposite of a dehumidifier.
And that's why it seemed natural to me to try to explain how swamp coolers work by using a dehumidifier example. A dehumidifier condenses water vapor out of the air and creates warm, dry air. A swamp cooler evaporates water into the air and produces cool, humid air.
The physics of the two processes is exactly the same. It's the reversible processes of evaporation and condensation. Water vapor has more energy than liquid water. It zips around at a high speed, so that energy is in the form of motion, i.e., kinetic energy.
To turn vapor into liquid, you have to remove some of that kinetic energy. It goes into the cold coil, then the refrigerant, and then gets taken out of the refrigerant and put back into the air. That's the main reason why the air coming off a dehumidifier is warmer.
To turn liquid into vapor requires an input of energy to get the water molecules moving faster. That's why the air coming out of a swamp cooler is cooler. It's not just the effect of the humidity you feel. The air is actually at a lower temperature. It's all in the psychrometric chart.
In the end, I think I got that across to the folks in my Albuquerque workshop last week. But I learned not to use dehumidifier examples when I'm talking to people in a dry climate. I'm sure the chemist Walter White, whose house I drove by, would have understood, but the majority of people in the Southwest have no experience with dehumidifiers.
Related Articles
Latent Heat is the Wicked Witch of the South
It's Called an Air Conditioner — Not an Air Cooler!
A Sticky Psychrometric Situation: Wet Bulb Temperature
NOTE: Comments are moderated. Your comment will not appear below until approved.