This Lack of Building Enclosure Design Makes Extra Work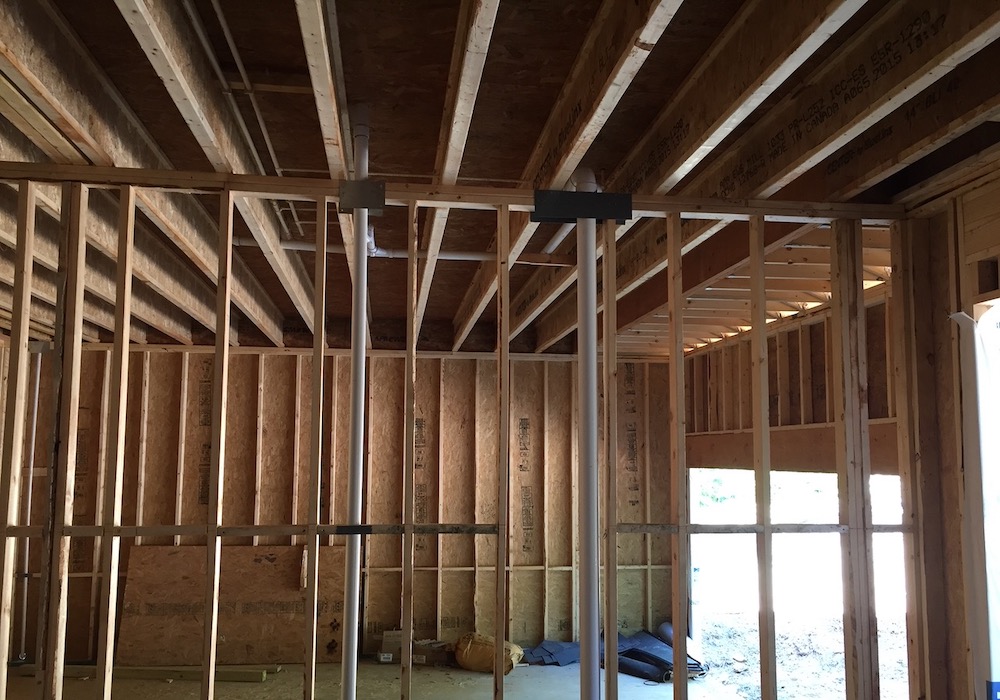 Take a look at the photo above. See anything missing? If you don't see it yet, look at the big opening at the bottom right of the photo and you should be able to deduce what that room is. It's a garage. Now look at the framed wall between the garage and the inside of what will be the living space, which is where I was standing when I took the picture. You see it, right?
This house is in Georgia. We were the first state to require all new homes to pass a blower door test. Unless they fill the big holes between the floor joists, this house will not pass the blower door test. It won't.
Because the ceiling framing there is done with I-joists, it's not a simple matter to do the blocking and air sealing required here. Yes, it can be done, but it's going to be extra work.
Also, when I visited the house, they didn't have the ducts installed yet. If they make the mistake of running flex duct through those joist cavities, their air-sealing job just became magnitudes more difficult. Yeah, you can sort of do it, but it's not gonna do a great job.
But the thing that gets me when I see this is that it could have been avoided. If instead of having joists running right across that wall they had run the framing the other way, they could have a solid piece of wood there. Seal the edges and penetrations and you're done. They also could have kept the joists running the same direction but not made them continuous. Just butt them into a perpendicular joist on top of that wall.
Unfortunately, few homes have detailed framing plans, and many of those that do have them don't get reviewed for this type of problem. This failure of design makes extra work for the builder.
Allison A. Bailes III, PhD is a speaker, writer, building science consultant, and the founder of Energy Vanguard in Decatur, Georgia. He has a doctorate in physics and writes the Energy Vanguard Blog. He also has a book on building science coming out in the fall of 2022. You can follow him on Twitter at @EnergyVanguard.
Related Articles
Building Enclosure Blunder in the Basement
Are You Making These Mistakes with Your Garage?
I-Joists, Attached Garages, and the Air Leaks That Poison
NOTE: Comments are closed.