Unicorns and Good Home Performance Retrofits: Two Elusive Critters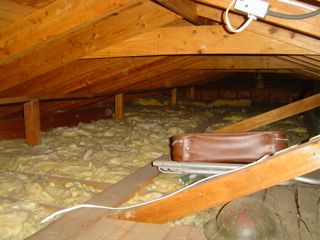 Guest post by Ed Voytovich of Building Efficiency Resources (The BER). I know Ed mainly through our interactions in the LinkedIn RESNET BPI group, where he's a frequent and knowledgeable contributor, though we also met IRL (in real life) at the RESNET conference last year. He's one of the most experienced and forthright people in the industry, and, like me, he's a guy with a PhD who found himself working on houses. ~ ab3
Guest post by Ed Voytovich of Building Efficiency Resources (The BER). I know Ed mainly through our interactions in the LinkedIn RESNET BPI group, where he's a frequent and knowledgeable contributor, though we also met IRL (in real life) at the RESNET conference last year. He's one of the most experienced and forthright people in the industry, and, like me, he's a guy with a PhD who found himself working on houses. ~ ab3
~~~~~~~~~~~~~~~
I've been in probably 2,000 attics over the years. I always tend toward underestimation in cases like this, so that I don't sound like my late mother. I've also sold and created specs in the past for a fair number of retrofits (although usually without being able to check them when they were done).
"Out of all those inspections and projects," you ask, "how many were clearly top-quality jobs, fully consistent with best practice, BPI standards, and common sense?" A reasonable estimate in my climate can be based even without testing upon two criteria. Evidence of serious snowmelt on roofs is a pretty good one, but valid customer complaints are even better.
A personal favorite was a 900-square-foot Cape Cod in Syracuse with an unfinished second floor and occupied solely by a retired lady librarian. I was called in via the grapevine as an independent adviser because she was no more comfortable after the work than she was before. She got out her audit report as provided by her contractor, and it said she would save $1,300 in energy costs the first year the work was done. I swear on the head of my late dog Dinger: I saw this with my own eyes.
Why is this amazing? Her previous year's total cost for natural gas to heat, cook, dry her clothes, and make hot water was $800. Ladies and gentlemen, this kind of absurdity shoots the home performance industry squarely in the metatarsals.
My estimate of the number of top-quality retrofit building performance jobs that I have seen on the retrofit side is somewhere between darned few and pretty darned few. The rest ranged from flawed to downright miserable.
Maybe my experience is unusual, or maybe I'm too critical, but I think there is a good reason why there's so little excellent work. Forget the testing that we love to discuss in minute detail. Air sealing and insulating are hard, physically challenging, uncomfortable, repetitive, dirty jobs that don't usually pay very well.
It's hot up there in the summer and cold in the winter. There's mouse poop in the improperly installed pink stuff. Every time you want to get started blowing the walls, it's raining, snowing, or hotter than the hinges of Hades. You are constantly in peril of stepping through the ceiling, drilling through a wire, popping off the sheetrock, or letting the indoor cat out. Spray foam doesn't come out of your hair, and cleanup never ends. Nobody drops out of medical school to pursue a career working in the field as a building performance improvement installer.
Then, when the crew is all done, there is rarely anything the homeowner can look at and say, "Isn't that just beautiful." There's no immediate positive feedback. Even the HVAC guys can show off a shiny new piece of equipment (although they do have to live with the old complaint that the duct mastic looks untidy).
You're probably thinking to yourself, "OK, Ed, so what's the answer?" I've been thinking about this for at least ten years. I haven't got a clue.
Please join the discussion and share your thoughts in the comments section. We've got to think of something.