US Green Building Council to Require All-Glass LEED Homes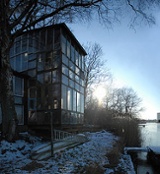 New houses certified in the LEED for Homes program will be required to have 100% windows in all above-grade walls once the new 2012 update is approved by US Green Building Council (USGBC) members this summer. The LEED certification program has grown tremendously over the past decade, and in the process, thousands of LEED Accredited Professionals (LEED APs) have learned what it takes to make a building sustainable.
Not surprisingly, they've discovered that all-glass buildings are more sustainable than buildings with insulated walls. Having already certified 4,712 all-glass commercial buildings in the Leadership in Energy and Environmental Design (LEED) program, the USGBC has the data.
Crystal Payne, Advanced Aggregate Control Manager with the USGBC, explains, "Getting rid of insulated walls in commercial buildings has been the biggest advance in building science in the last century. Everyone is happier in these buildings, and, as it turns out, saving energy just isn't that important."
Those who work in the field certifying these buildings hold tenebrous views on the matter. Says USGBC certified Green Rater Carlos Madrid, who has a blog called The Green Grump, "Well, sand is a rapidly renewable resource, so all-glass buildings can't be all bad. Wood, on the other hand, has a higher embodied energy and is better used as a feedstock for the cellulose to make money so builders can afford to pay for these projects. That's what real sustainability is all about!"
Although the 2012 LEED update is now in its third public comment period, some who work in the industry were unaware of the new all-glass requirement. This particular change does not appear in the update documents themselves, but an asterisk on a sub-footnote in the fourth addendum to the letter from the LEED Steering Committee referenced a tweet from @USGBC that described the new glazing requirement.
The mission of the USGBC is to transform the way buildings and communities are designed, built and operated, and this new requirement will help move the industry forward, according to another @USGBC tweet.
"The first measure of sustainability is whether or not the organization promoting a sustainable practice can survive," explained Payne, "and we've been able to continually raise our fees and sell out the most expensive green building conference in the world as a result of promoting all-glass buildings. Our bank accounts prove that we're sustainable, and therefore all-glass buildings are good for the environment."
When asked for a comment on the new glazing requirements, acclaimed building scientist Joe Rbleuskit, PhD, PE, ThD said, "Those people should be hunted down and killed."
When informed of Dr. Joe's comment, Ms. Payne replied, "Oh, we love Dr. Rbleuskit. He's been extremely helpful in getting the word out about building science, and we see the work we do as putting his theoretical studies to work in the real world."
Upon hearing Payne's words, Dr. Rbleuskit slammed down the phone and let out a primal scream. The last sound captured by this reporter's recorder was the squealing of Porsche wheels on pavement.
Ms. Payne has been unavailable for followup questions, but others in the organization have stressed how much they're looking forward to the enhanced sustainablity this new requirement will foster.
Happy April Fools' Day!
Related Articles
RESNET Enters into Strategic Alliance with Int'l Jugglers Association
I Don't Need No Stinkin' Building Science Summer Camp!
Where the #@$%& Did THAT Come from?
Photo by seier+seier from flickr.com, used under a Creative Commons license.
Just in case you still have any doubt, the USGBC is not really requiring all-glass homes. Check the date of the article. This is my annual April Fools Day post.
.