What's That Ice Chest Doing in This Attic Duct System?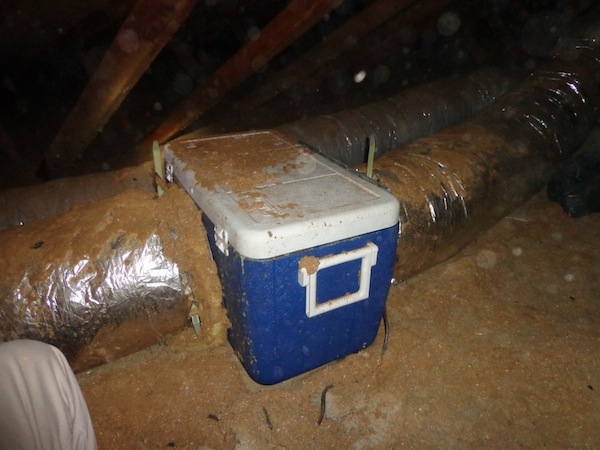 Sometimes you see something in a house that splits your head open, revealing the little green pistachio head that sees the world in a completely different way. I love those moments! It's Stumpy, the duct amputee, which I saw back in '09, or the Kraken ductopus of Snellville from '07. These things make you stop in your tracks and realize that when given infinite possibilities, someone out there is going to see how many they can try, no matter their effectiveness. One of those people is responsible for this ice chest duct system.
I posted this photo on our Facebook page last December with the question, What do you think is in that cooler? It got more organic views than anything else I've posted, over 12,000 in just a few days. And it's no wonder. You look at that ice chest and you just have to applaud the creativity of the person who thought of it.
Of course, that's all you should applaud here because when you use non-standard, unapproved materials in a duct system, you usually get problems you may not have anticipated. As many people suspected when they saw the photo on Facebook, what's inside the ice chest is a booster fan, as you can see below. The purpose was to get more air to room(s) downstream of that duct.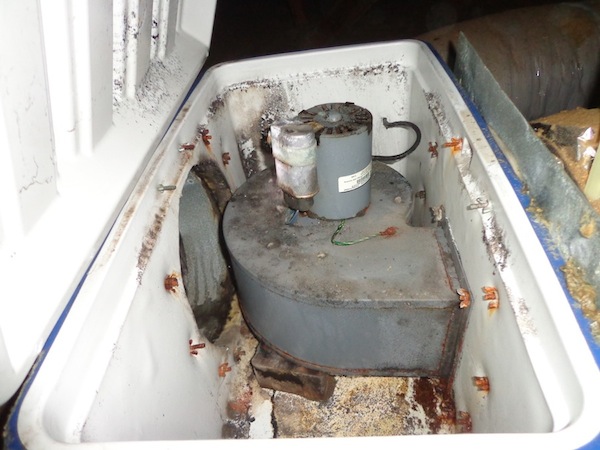 What's wrong with that?
The first problem is that when you put in a booster fan that big, you're likely to scramble the air flow in the rest of the duct system, which is what I understand happened here.
Growing mold in there is another problem. Eric Aune of Mechanical Hub was the first to respond to my Facebook question, saying mold was in the cooler. I don't know what the dynamics were that led to the mold growth, but it almost certainly was related to the fact that this part of the duct system wasn't sealed well. Notice the mold around the top edge.
If you have problems with some rooms not heating or cooling properly, a duct retrofit may be a good solution. Many times, though, the problem is with the building enclosure. You've got air leaks or poorly installed or missing insulation that need to be fixed.
The photos above look like a DIY job to me. I don't know for sure, but I was told by the person who sent me the photo that the ice chest booster fan caused more problems than it solved. When it comes to home performance, it's often possible to be too clever.
Related Articles
Little Shop of Duct Design Horrors
The Case of the Duct That Wasn't There
Perhaps the Worst HVAC Duct Idea Ever — The Panned Joist Return