What's the Name of The Outdoor Part of a Heat Pump?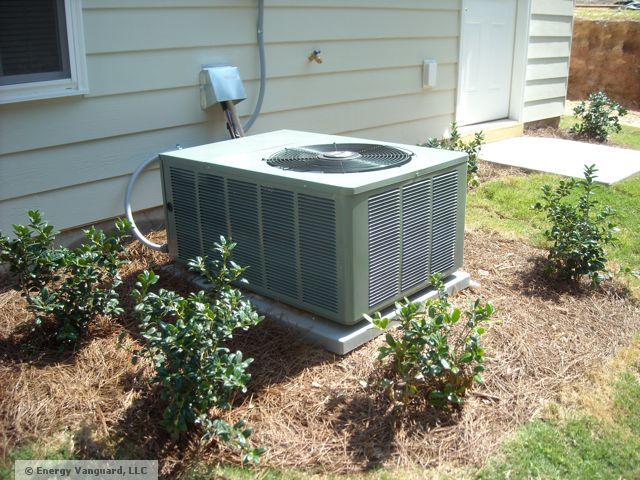 I was on a tour of passive house projects in Seattle a couple of days ago when someone asked me, "What do you call the outdoor part of a heat pump? The condenser? The compressor?" For someone not immersed in the field of HVAC (heating, ventilating, and air conditioning), that can be confusing. So let's take a look at the basic terminology of air conditioning and heat pump systems.
The best way to know the correct terminology is to understand the refrigeration cycle. It's the physics behind air conditioners, heat pumps, dehumidifiers, and yes, refrigerators. I wrote a couple of articles about it a few years ago, and that's a good place to go if you want to understand how these devices move heat from one place to another. I wrote the first article at a very basic level, without the technical terms. The second one went into a bit more detail, naming the four main components involved in the refrigeration cycle:
Metering device
Evaporator coil
Compressor
Condensing coil
If you don't want to understand the refrigeration cycle, those components give us everything we need to make sense of the name of that metal noisemaker that sits outdoors when you have an air-source air conditioner or heat pump.
Air conditioners
The photo above is what you see sitting outdoors. You can't look at it and tell immediately whether it's an air conditioner or heat pump, but it's not hard to figure out. (Yes, I've written about that, too.) But if it's an air conditioner, that outdoor box contains the compressor and condensing coil. Most often people call the outdoor unit of an AC the condenser or the condensing unit. Its job is to dump heat from the refrigerant into the outdoor air, which is quite a job on a hot day.
Heat pumps
One thing heat pumps have that air conditioners don't is a reversing valve. That doohickey does exactly what its name implies. It reverses the flow of the refrigerant, with the result that the functions of the indoor and outdoor coils reverse. In summer, a heat pump is just an air conditioner. The outdoor unit has the compressor and the condensing coil. In winter, though, it has the compressor and the evaporator coil.
So if you see the outdoor unit of a heat pump and call it the condenser or condensing unit, you're wrong. Well, at least you're wrong when it's in heating mode. So what should we call it? The best name is what I just called it: the outdoor unit. That's exactly what it is and it covers both summer and winter.
Package units
Since we're going down this path, we ought not to ignore this other type of system. A package unit — whether it's an air conditioner or heat pump or a gas pack (AC plus gas furnace) — has all four of the components I listed above in the outdoor unit. The units I described above are part of split system air conditioners or heat pumps, with both an indoor and an outdoor part. Package units aren't split. Everything that's part of the heating and cooling sits in that one package outdoors. The best name for this one is…package unit!
Two special cases
In the passive house where I got asked this question, the piece of equipment in question was the Sanden heat pump water heater. It's a split system, too, but not in the same way as air conditioners and heat pumps used for space heating and cooling. The indoor unit is a tank for hot water. The outdoor unit is a package unit heat pump. If all you saw was the outdoor unit, you might think it's a mini-split heat pump because that's what it looks like (photo below).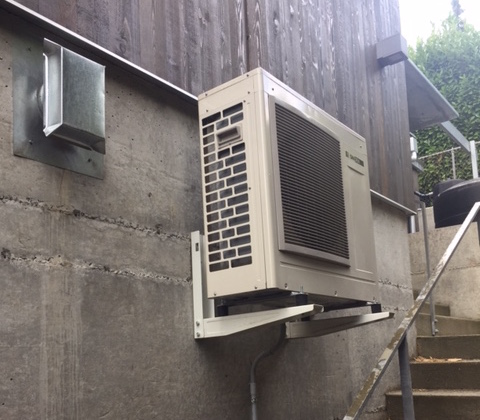 Finally, there's a dehumidifier model that's a split system. The Ultra-Aire SD12, unlike other dehumidifiers, dumps its waste heat outdoors. (Disclosure: Therma-Stor, which makes the SD12, is an advertiser here.) The outdoor unit of a split-system dehumidifier is always a condensing unit because that's where you're dumping the heat. So you could call it a condenser.
Or you could just stick with outdoor unit. In fact, in all of these systems, you can call the part that sits outdoors the outdoor unit. Pretty simple, eh?
Related Articles
The Magic of Cold, Part 2 – Intermediate Air Conditioning Principles
3 Ways to Tell if That Contraption Is a Heat Pump or an AC
An Easy Way to Save Money — Let Your Air Conditioner Breathe!
NOTE: Comments are moderated. Your comment will not appear below until approved.