A Big Difference Between Physics and Building Science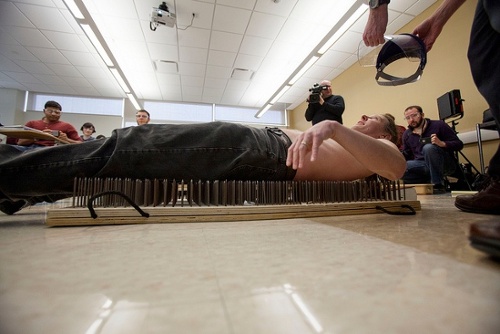 You can go into just about any introductory physics classroom and you'll see that the students learn the same stuff no matter which school they attend. They study forces and motion, momentum and energy, electrostatics, and a host of other physics topics. They do lab experiments. They observe and sometimes participate in demonstrations, as the student on the bed of nails is doing below. (I built a bed of nails when I taught at Haverford College and was even the meat in a bed-of-nails sandwich a few times.) But what about building science? Do we have that kind of uniformity?
The physics knowledge that gets passed down to new generations of students year after year is the result of thousands of years of observation, experiments, and refinement. There's widespread agreement on the laws of physics. You have to go pretty far in the subject to find the boundaries these days.
Not so with building science. Yes, of course we all agree on the underlying physics behind building science. Conduction, convection, and radiation. Vapor diffusion and the permeance of materials. Pressure and air movement. But once you get into the applications, things change. You can ask 10 different people a question about spray foam attics and you'll get 10 different answers. Or maybe 15.
Building science is still in its infancy. We don't have the consensus that physics and other mature fields of study have. Some in the field have started moving us in that direction. The National Institute of Building Sciences, for example, is working to get us there. And the US Department of Energy (DOE) has a brand new Building Science Education Solution Center, whose objective is to help provide consistency.
But we still have a lot of work to do. I'm in Arizona right now about to begin my second day of the Housing Industry Boot Camp, hosted by Sam Rashkin of the US DOE. In a small group discussion yesterday, our task was to find challenges and recommendations for getting building science into the housing industry. My suggestions are:
More building science research. Rashkin started the day yesterday by telling us that corporate America spends about 4% of its revenue on research and development. The housing industry spends less than 0.1%.
Compilation of building science knowledge. As we develop consensus and understand buildings better, we need to get that knowledge into textbooks, websites, and forms that make it easy for the next step, which is…
Dissemination of building science knowledge. That knowledge has to go from the researchers to the workers in the field and everyone in between. It has to be intelligible, relevant, and at the appropriate level for the audience.
There's a lot of work left to do. Let's get busy.
Related Articles
Building Science Word of the Day:  Interstitial
A Canadian Building Science Treat for Your Weekend!
12 Resources for Learning & Teaching Building Science
Photo of student on bed of nails by COD Newsroom from flickr.com, used under a Creative Commons license.
NOTE: Comments are moderated. Your comment will not appear below until approved.