Air Flow Pathways in a Leaky Bathroom Wall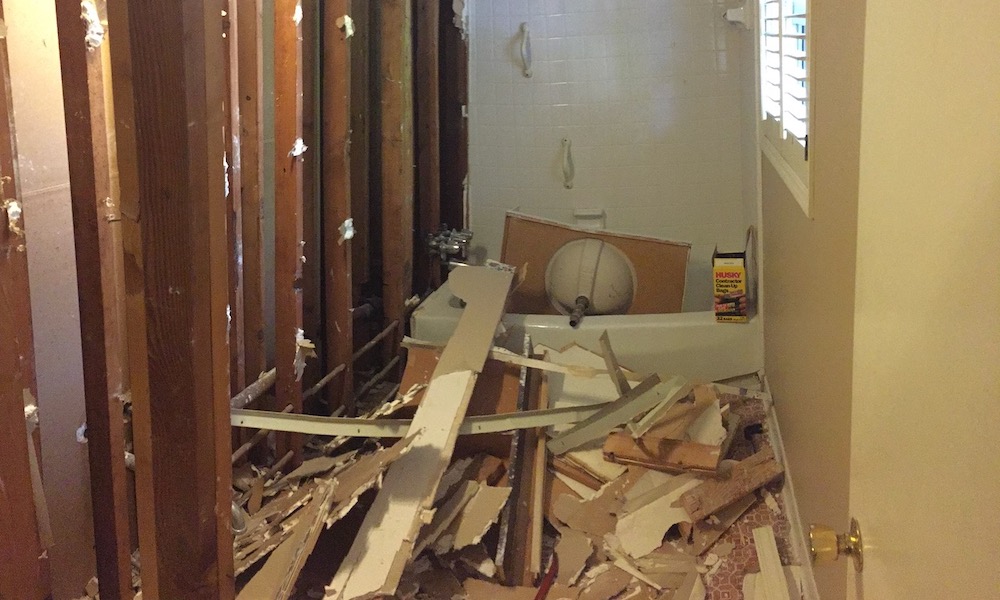 Last week I spent a lot of hours in my bathroom. I was sick. Really. I was sick and tired of having an outdated bathroom that was beginning to fall apart. So when my wife hit the road last Monday to drive across the country, I got out my wrecking bar. The photo above shows what it looked like last Tuesday afternoon. As I tore into the bathroom, one of the things that really stood out was the air flow pathways I discovered in the exterior wall.
I opened up the plumbing wall first. Lots of fun stuff, there. But the real fun came when I opened up the exterior wall. The four termite-damaged studs were part of that fun, but something else was even better.
Yogi Berra once said, "You can observe a lot by just watching." So when I got into the exterior wall, I watched. I live in the Atlanta area in a condo built in 1970. Air leakage hadn't been discovered yet back then (yeah, right), but that doesn't mean it wasn't happening. Check out this fiberglass batt from the exterior wall.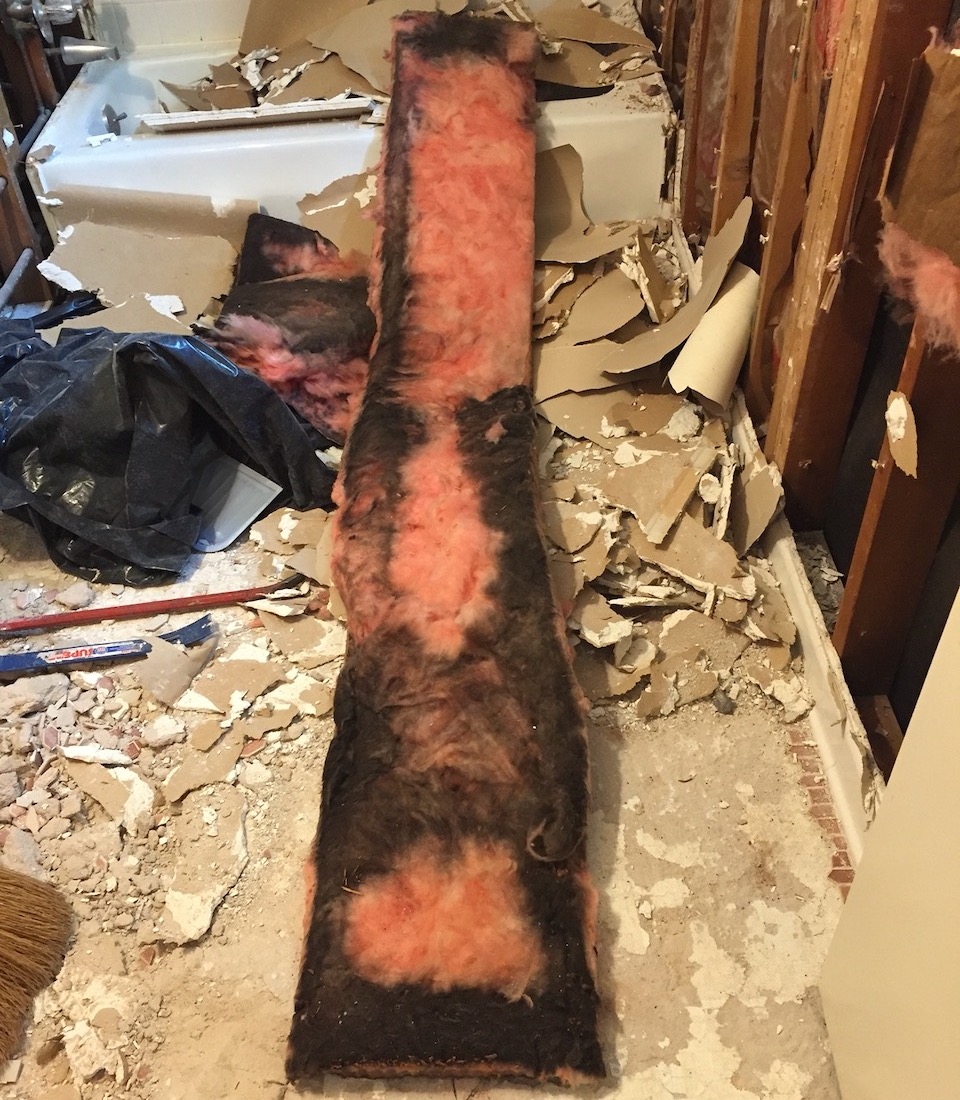 Do you see what I see? The black parts are where the fiberglass captured dirt. The dirt was traveling in air that was moving in the wall. Fiberglass is a great indicator of air leakage, and most of the fiberglass manufacturers make it easy for us to see the dirt. They make their product in light colors: pink, yellow, white. (There's one that now makes brown fiberglass, which isn't helpful for spotting air leakage but it's still a great product.)
Now, let's focus in on where the dirt appeared in this batt. Let's observe. See that part in the red box?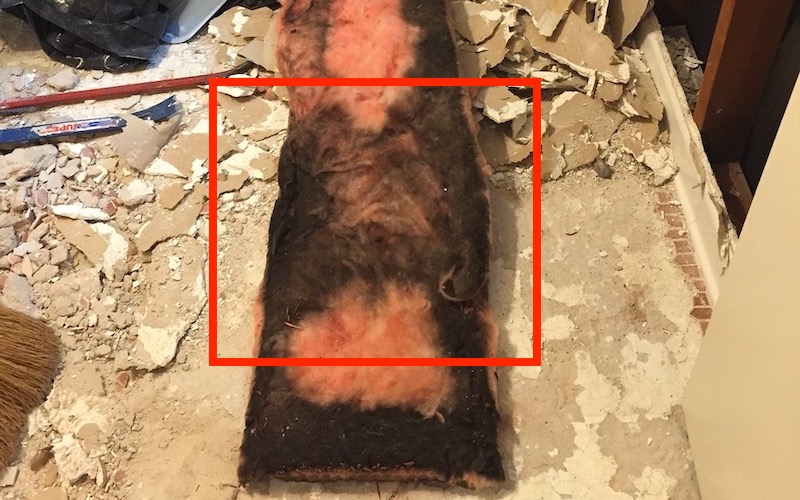 That indicates air was moving laterally across the stud cavity in the wall.
What?!
Yes, it's true. When I first looked at the batt, that pattern didn't stand out. I saw it only later when I looked at the exterior wall sheathing and saw the pattern repeated there. See the band of dust near the bottom of the cavity. That's where the fiberglass batt picked up that band of dirt in the red box above.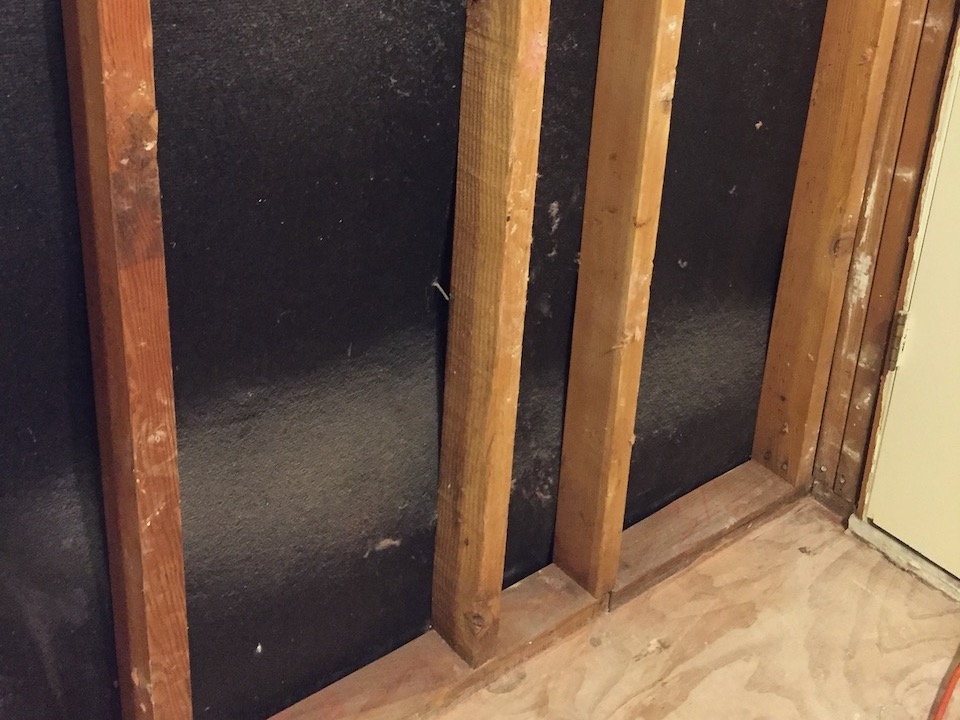 But how is air moving laterally across the stud cavities? Well, we know that air needs two things to move: a pressure difference and a pathway. It also likes to take pathways with lower resistance. So that band of dust on the sheathing is a pathway of lower resistance. You can see the pathway better in the photo below.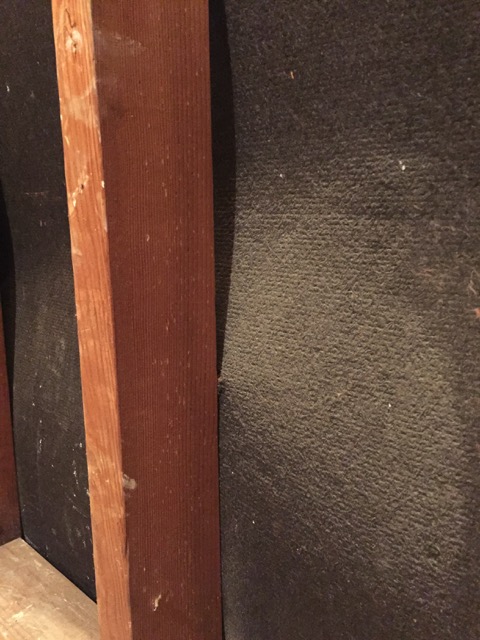 The sheathing that I discovered in the wall is asphalt-impregnated fiberboard, commonly referred to as Celotex, one of its primary manufacturers. It's not as stiff as plywood or OSB, and you can see above that it's not lying flat against the studs. Those gaps create pathways.
OK, that explains air moving inside the cavity, but is it connected with air outside the building enclosure? Some people think just the presence of fiberglass is the problem. They're wrong. Here's your answer: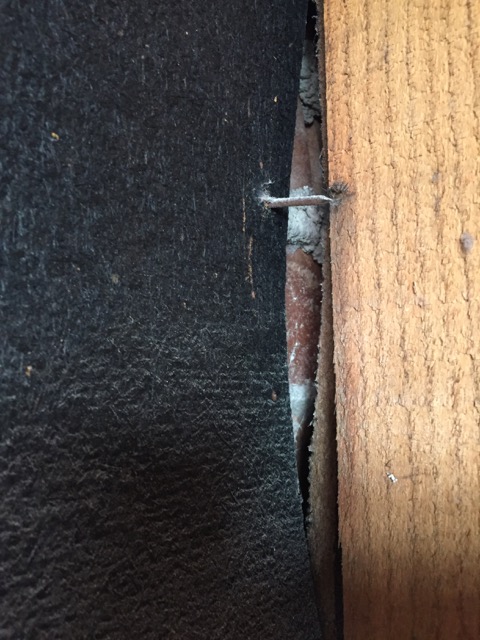 I'm not sure if that was a nail that missed or if it pulled out sometime over the past 46 years. Doesn't matter really. It's a hole in our building enclosure. And there are more holes everywhere two pieces of the fiberboard meet and at the top and bottom of the wall. That adds up to a lot of leakage area.
Also, the fact that I can see the brick veneer on the outside of the building means there's no drainage plane. No felt. No house wrap. No nothing between the fiberboard and brick. Fortunately, I haven't found widespread moisture damage resulting from this.
How do you fix this? You've got several options. You could ignore the obvious air flow pathways and put it back together the way you found it. You could spray-foam the whole thing. You could seal the gaps and install fiberglass batts again. I'll show you my solution in a week or so, once it's done.  (Followup article here.) Feel free to share your ideas in the comments below.
By the way, demolishing a bathroom by yourself is a heck of a lot of work. I hauled out 47 bags of debris and a few larger items. The good news is that by the time my wife returned home yesterday morning and discovered what I'd done, it looked like this: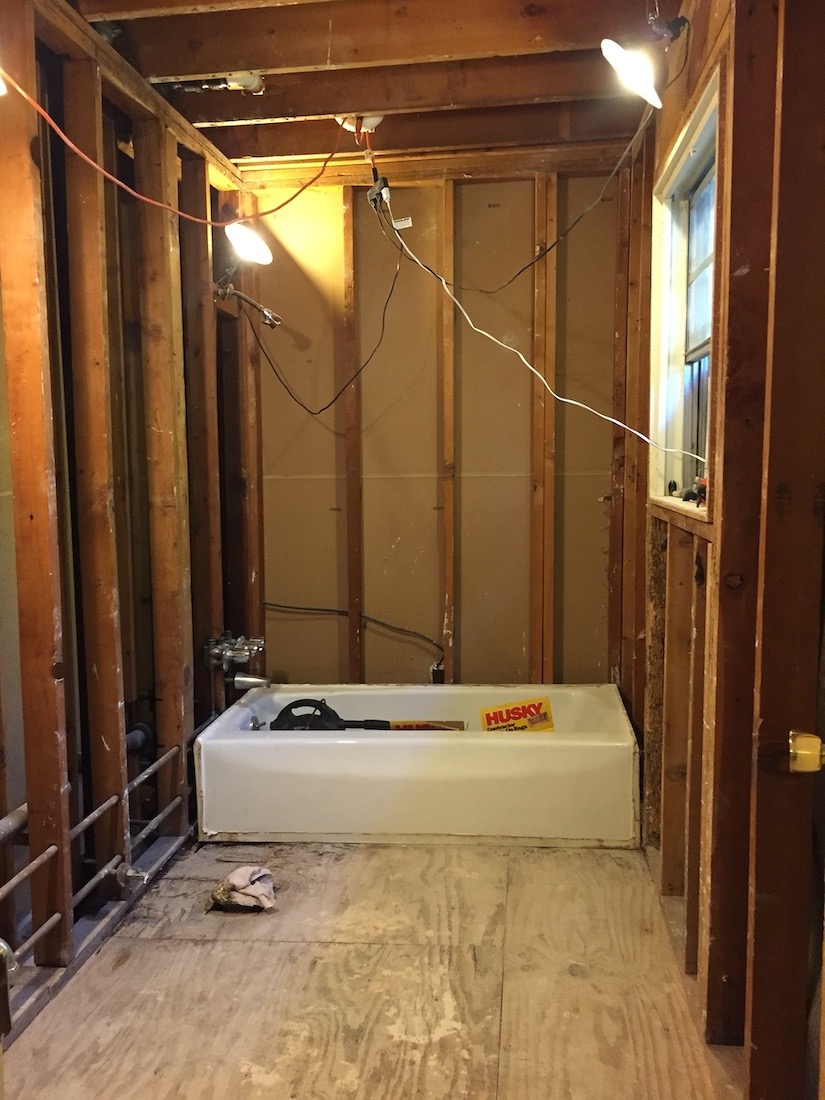 What have you observed when you open up walls?
Allison A. Bailes III, PhD is a speaker, writer, building science consultant, and the founder of Energy Vanguard in Decatur, Georgia.  He has a doctorate in physics and is the author of a bestselling book on building science.  He also writes the Energy Vanguard Blog.  For more updates, you can subscribe to the Energy Vanguard newsletter and follow him on LinkedIn.

Other articles in this series
7 Reasons to Gut Your Bathroom When You Remodel
How to Fix a Leaky, Underinsulated Exterior Wall
Installing an Exhaust Fan During a Bathroom Remodel
Related Articles
Are You Confusing Insulation with Air Barriers?
Air Barriers, Vapor Barriers, and Drainage Planes Do Different Jobs
Remodeling? Here Are 7 Reasons Not to Skip the Air-Sealing!
NOTE: Comments are moderated. Your comment will not appear below until approved.