How to Get the Best Possible New Tract Home
Let's say you've bought a lot in a new development and are having a tract home built. You want the home to be as energy efficient, comfortable, and green as possible. Your builder offers only a few options, like high-efficiency heating and air conditioning systems, but you want more. That's the question I got from Kerry in North Carolina. Let's see what you can do to get the best possible result.
Before you buy the lot
This isn't Kerry's situation, but it may be for you. If you're still searching for the right place to live, you have more options available. Here's what I suggest.
1. Find a development that offers green homes. Depending on where you live, you may be able to find a place that builds all ENERGY STAR homes or certifies all their homes in a green building program.
2. Find a builder who can build a green home in a regular development. Ask for their experience with green building. How many homes have they had certified in a national program like ENERGY STAR or LEED? How many in regional or local programs like EarthCraft House or Austin Energy Green Building Program?
3. Find an architect or building designer with green building credentials. This won't work in every development, but if you know you're going to buy a lot in neighborhood where you can use your own plans, get started early. Find a good design professional with green building experience and start working on the details.
4. Find a third-party verifier. A certified home energy rater or other building science professional can advise you on tricky details to watch out for as well as do the inspections and testing during construction. If you find a really good design professional, as advised in step 3, you may have this covered already.
5. Have a design review with representatives from the various trades. Going over the plans with the designer, builder, framer, plumber, HVAC company, and insulator can help you avoid pain during construction.
Once you've got the lot
Not everyone will be in a position to do the above items, so let's see what you can do if you already have a lot and a builder. Kerry is in this boat and asked:
What can I do before drywall to make my home greener but not 'impose' too much on the job site?
What can I do (affordably!) to the crawl AND the attic space to add energy efficiency and waste less valuable gas/electric resources? Preferably some steps we can "DIY"?
In this situation, you have to make some compromises. You're not going for a zero energy LEED Platinum Passive House. You just want to get the most you can out of the situation. A good starting point is my list of 10 steps to building a pretty good house. Here are a few other ideas.
1. Get the builder on your side. Talk to the builder about your goals for the home. Do your best to enlist them to your side. Antagonizing them early in the process is likely to be counterproductive. There's plenty of time for antagonism later, when you're further into the process and you really need it. Some builders are less amenable to homeowner involvement than others, so try to get a feel for where yours stands.
2. Nix the no-nos. There are a few items that you should tell you builder NOT to install in the conditioned space of the home:
Unvented combustion appliances. Ventless gas fireplaces don't belong in buildings. Period. Under the best conditions, they add a lot of carbon dioxide and water vapor. Insist on venting for all fireplaces.
Natural draft water heaters. A gas water heater is fine. Just make sure it's a direct vent or power vented model. Natural draft water heaters can put carbon monoxide in your home.
Powered attic ventilators. These devices are banned in Georgia (except solar-powered models) because they can create health and safety problems by backdrafting combustion appliances. They also waste energy. If you'll have an unconditioned attic, passive vents are fine.
3. Seal the air leaks. Air leakage affects indoor air quality, comfort, energy efficiency, durability, and noise. For something so inexpensive with so many positive consequences, air sealing is a no-brainer. Some air leaks can be fixed later, but all are more easily and inexpensively sealed during construction. Pay special attention to air sealing around the windows and doors. In the attic, make sure the chases, penetrations for wires and pipes, and top plates are sealed. In the basement, look for unsealed penetrations to the outdoors. In the photo below, light helps you find the holes.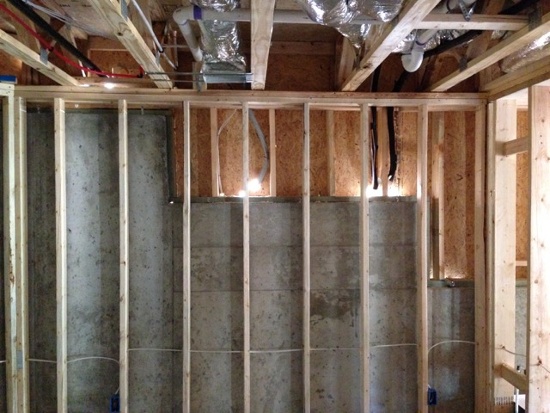 4. Ask for a blower door test. Verify the air sealing with a blower door test. Your builder may already have to do this if your code requires it. If not, insist on it. A reasonable goal for the test would be 5 air changes per hour at 50 Pascals (referred to as 5 ACH50), with lower numbers being better. If you get to this level, you'll want to have a mechanical ventilation system installed.
5. Make sure all parts of the building enclosure are insulated. It's true. A lot of insulated houses have areas that are uninsulated. Bathtubs and showers on exterior walls often have this problem, but it can happen in other places, too. Do a thorough inspection before drywall goes up and in all parts of the attic.
6. Focus on HVAC distribution, not equipment efficiency. Get the best duct system you can for your heating and air conditioning system. This is a lot easier said than done, especially in a tract home. You'll almost certainly need to do number 9 below to get this done.
7. Encapsulate the crawl space. A lot of moisture problems originate at the home's foundation. Vented crawl spaces in humid climates often create indoor air quality problems. Encapsulating the crawl space is the way to go. It also reduces the overall air leakage. The builder may not be comfortable doing this, but it's not hard to do it later. In either case, you probably want to do a lot of homework or hire an experienced professional to help or both.
8. Encapsulate the attic. This is only for homes with heating and cooling systems and their ductwork in the attic. Encapsulating the attic, typically done with spray foam insulation, brings the HVAC inside the building enclosure. As with encapsulating a crawl space, do your homework and hire a pro.
9. Hire a third party verifier. An experienced pro will help you get the best house you can. Their work will pay for itself, in peace of mind certainly and probably in mistakes caught and fixed. Look for someone with certifications as a home energy rater, Building Performance Institute (BPI) Building Analyst, National Association of Home Builders (NAHB) Green Verifier, LEED Green Rater, or similar.
Getting the most out of your new tract home
If you do the things above, you should end up with a pretty good house. I haven't covered everything here, but that's why I recommend hiring a third party verifier who can help you understand the process and get the home you deserve.
One thing you may have noticed about my advice is that I didn't recommend going with a high-efficiency HVAC system or getting more insulation. Those things certainly can be good, but I'd rather see a home with minimum efficiency equipment and a great duct system. I'd rather see code-required levels of insulation and an airtight enclosure. An airtight house with good ducts will outperform the leaky house with poor ducts every time.
Have you already gone through the process of getting a tract home built? Are you going through it now? What have you experienced? What's your advice?
Related Articles
10 Essential Steps to Building a Pretty Good House
The #1 Question to Ask before Putting Spray Foam in Your Attic
The Top 10 Mistakes I Made in Building a Green Home
NOTE: Comments are moderated. Your comment will not appear below until approved.