RESNET Enters into Strategic Alliance with Int'l Jugglers Association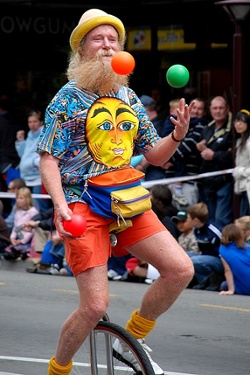 RESNET, the Residential Energy Services Network, has entered into a Memorandum of Understanding (MOU) with IJA, the International Jugglers Association. The goal of the MOU with IJA is to promote the creation of new requirements, certifications, equipment sales, and training classes for home energy raters in the U.S.
Both organizations found the alliance to be practically a necessity when RESNET discovered an organization with which it had not yet signed an MOU and the jugglers, being easy-going folks, said, 'Sure, why not.' RESNET came to the realization when a HERS rater spoke of having to 'juggle' the many different standards and certifications and 'balance' the needs of their customers with their own ability to stay in business. It was, as they say, one of those aha moments.
"With all of the MOUs we've signed in the past year, we were sure that we'd gotten at least one with every organization possible," explained Beave Staden, RESNET spokesperson. "Then we discovered IJA and quickly moved forward to seal the deal."
The strategic alliance will result in a new designation that home energy raters will be required to attain: Home Energy Juggler. The HEJ test will include a field portion requiring HEJ candidates to demonstrate a solid 3 ball cascade and at least two 3 ball tricks.
RESNET accredited HERS training providers and HERS rating providers can add this accreditation with a simple application as well as passing a test showing that HEJ trainers have a decent 5 ball pattern as well as the ability to pass clubs.
The MOU identifies the following areas of cooperation:
Support RESNET's objective to sign MOUs at a blistering pace
Create a use for the thousands of balls made of used duct mask that raters create when testing for duct leakage
Having an IJA representative on the new RESNET Juggling Committee
IJA will encourage its jugglers to become RESNET Energy Smart Jugglers
Positioning Home Energy Raters to embrace juggling
IJA will have a presence at future RESNET Building Performance Conferences
IJA was founded in 1947 and puts on the best juggling festival in the US. For more information, see the IJA website.
Allison A. Bailes III, PhD is a speaker, writer, building science consultant, and the founder of Energy Vanguard in Decatur, Georgia. He has a doctorate in physics and writes the Energy Vanguard Blog. He also has a book on building science coming out in the summer of 2022. You can follow him on Twitter at @EnergyVanguard.
Related Articles
The Misleading "Science" Behind Heat and Insulation
A New Way to Cool Your Attic – Powered Attic Mini-Split Heat Pumps
US Green Building Council to Require All-Glass LEED Homes
Juggler photo by geoftheref from flickr.com, used under a Creative Commons license.
Comments are closed.