The Confusing World of Dehumidifier Capacity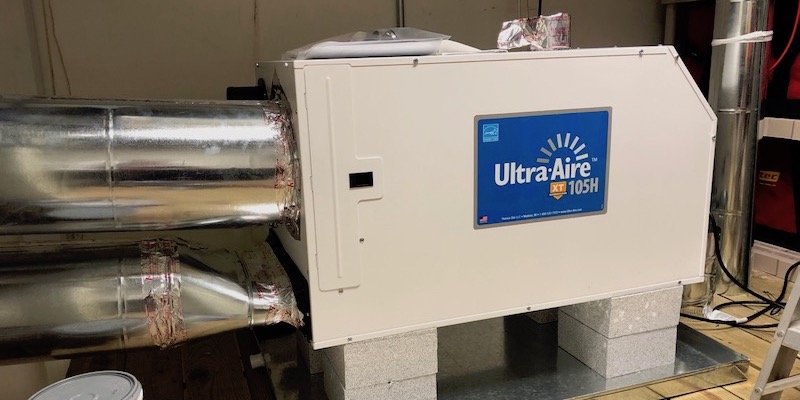 Dehumidifiers have one job:  to turn water vapor into liquid water by moving air over a cold coil that's below the dew point.  The capacity, or size, of a dehumidifier is just the rate at which it does that conversion.  It's an easy concept to grasp and seems like it should be easy to measure, right?
You turn on the dehumidifier, let it run for a specific amount of time, and measure the amount of liquid water produced in that time.  The volume of water divided by the time is your capacity.  In the US, we use pints per day for this quantity, but any volumetric rate will do:  liters per hour, cubic meters per month, barrels per fortnight…
What kind of air are you dehumidifying?
A fair amount of complexity, however, is hiding behind that simple concept.  For example, what are the conditions of the air entering the dehumidifier?  If the air being dehumidified were 80° F and 60% relative humidity, you'd get one result.  If the air entering were 65° F and 60% relative humidity, you'd get a different result.  At 80° F and 60% relative humidity, there's more moisture to remove than at 65° F and 60% relative humidity.
Go shopping for a room dehumidifier, and the most common capacity you'll find is 30 pints per day.  That number is based on tests done according to rules set by the US Department of Energy (DOE)…or, I should say, a previous set of rules from the DOE.  That 30 pint per day dehumidifier almost certainly is rated at 30 pints per day using the 2012 rules, but the DOE issued new rules for testing capacity in 2020.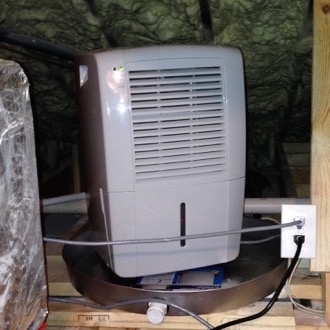 Under the new rules, that 30 pint per day dehumidifier is really a 20 pint per day dehumidifier.  What changed?  The temperature of the air used in the test.  The old test required the air being dehumidified to enter at 80° F and 60% relative humidity.  The new test requires 65° F and 60% relative humidity.  Less moisture in the air at the lower temperature means a lower dehumidification capacity.
2 types of dehumidifiers
Dehumidifiers are like people:  They come in two types.†  The two dehumidifier types are room (also called portable or standalone) and whole-house (also called ducted).  The main function of both types is the same, but the way they're tested is different.  The DOE rule mentioned above (testing at 65° F and 60% relative humidity) is for room dehumidifiers.  For whole-house dehumidifiers,* it's 73° F and 60% relative humidity.
Why?  I've been asking around and haven't found the actual reason yet, but David Treleven with Madison Indoor Air Quality figures it's because of the different ways room and whole-house dehumidifiers are used.  Room dehumidifiers usually sit in a cool basement, so they pull in cooler air.  (Occasionally someone doesn't understand their limits and puts one in a vented crawl space.)  Whole-house dehumidifiers dehumidify the air from the main living space, which is generally warmer.
What you really need to know about dehumidifier capacity
Don't get hung up on the rated capacity.  That number is a mirage, like air conditioner capacity, insulation R-value, and Energy Rating Index.  It's a number based on specific test conditions that you won't achieve in your house.  In addition to differing temperatures and relative humidities, you'll also get different results if the dehumidifier cycles on and off versus running continuously.
And then there's the issue of air flow affecting the capacity.  With room dehumidifiers, the air flow is constant whereas the air flow in a ducted dehumidifier* depends on the amount of resistance in the duct system.
Manufacturers aren't doing much to change their marketing materials to reflect the new, lower capacities, at least not yet.  It doesn't really matter, though.  The rated capacity matters only in how well it matches up with your dehumidification needs.  That takes us to the topic of sizing a dehumidifier, which I'll cover soon.  (Hint:  It's not like sizing an air conditioner.)
Allison Bailes of Atlanta, Georgia, is a speaker, writer, building science consultant, and founder of Energy Vanguard. He is also the author of the Energy Vanguard Blog and is writing a book. You can follow him on Twitter at @EnergyVanguard.
† One group of people, of course, sees everyone as being in one of two groups.  If that doesn't sound like you, then you're in the other group.
* This is an affiliate link. You pay the same price you would pay normally, but Energy Vanguard gets a small commission if you buy after using the link.
Related Articles
Make Dew Point Your Friend for Humidity
The Perfect Weather for a Dehumidifier
Accidental Dehumidification – A Preventable Mess
NOTE: Comments are moderated. Your comment will not appear below until approved.