Why Your Air Conditioner Is More Efficient in Fall and Spring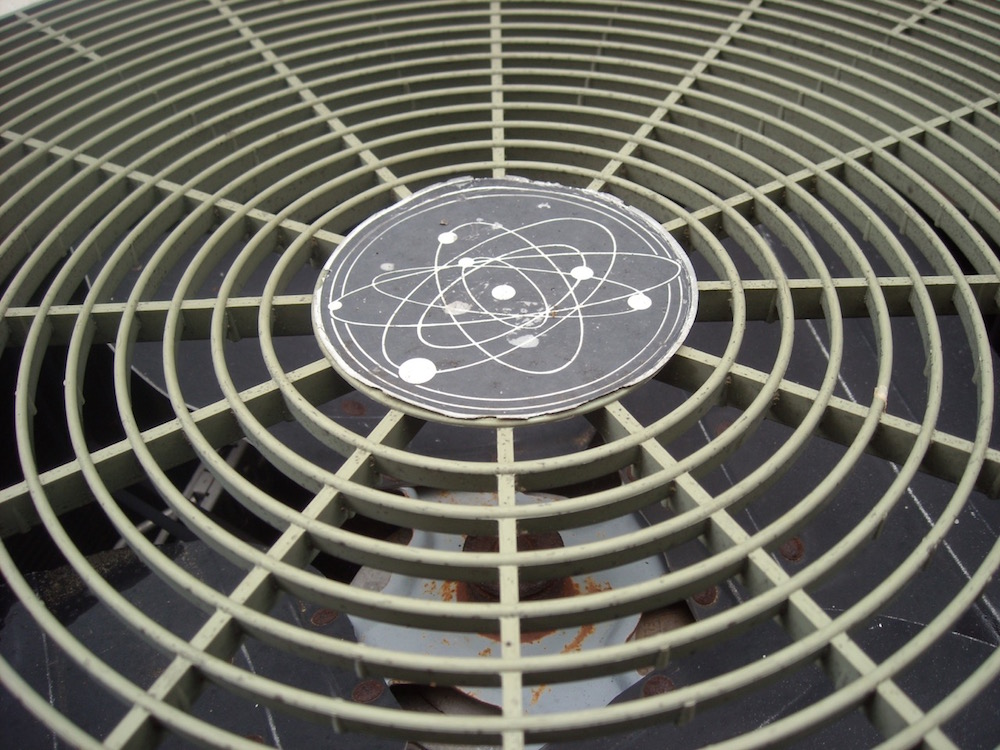 It's cooled off a bit here in Atlanta. A couple of weeks ago we even had temperatures down in the low 50s Fahrenheit. Ah, that felt nice, especially since I've been running again this year.1 With the fall equinox two days away, we should start seeing more of those nice cool days. We're back up close to 90° F now, though, and that means air conditioners are still humming. But the good news is that cooler weather reduces the cost of air conditioning in more ways than one.
Science!
Astounding scientific fact #1: Heat gain through the ceilings, walls, windows, and floors is less when it's cooler outside. Of course! Lower outdoor temperatures means your house doesn't warm up as much. Whether your house is uninsulated or superinsulated, heat flows from warmer to cooler (second law of thermodynamics). Whenever it's warmer outside than inside, heat is going to move into your house. The insulation level affects the rate of heat gain (which is what a load calculation tells you), but there's still heat gain.
And now, here's astounding scientific fact #2: An air conditioner removes heat faster and more efficiently when it's cooler outdoors. It's true. It's true. Again, it goes back to the second law of thermodynamics. An air conditioner is simply a machine that moves heat from one place (indoors) to another (outdoors). And heat acts according to the second law, so that means it flows from warmer to cooler. Right?
Heat flowing from cooler to warmer?
Wait a minute! On hot days it's cooler indoors and warmer outdoors. How can this be true? Do air conditioners violate the second law? Is there a loophole?
Nope. You read it right. Heat from the cooler indoors flows to the warmer outdoor air without violating the second law of thermodynamics. That's because the compressor of the air conditioner pumps up the temperature of the refrigerant, which carries the heat from indoors to outdoors. The refrigerant coming out of the compressor has a condensing temperature of maybe 120° F. Here in Atlanta, our design temperature is 92° F. So the heat flows from the 120° F+ refrigerant into the condensing coil and then into the 92° F outdoor air on a design day.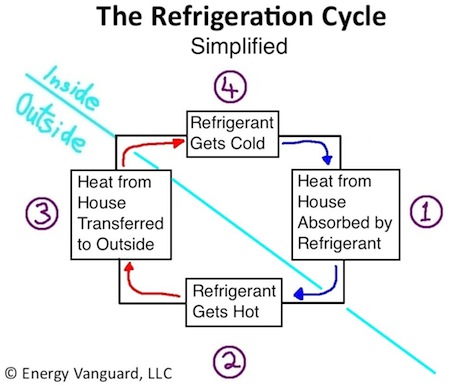 The diagram above is from my article explaining the refrigeration cycle. Step 2 is the compressor doing its job. Step 3 is the high temperature refrigerant going through the outdoor (condensing) coil. If you want to understand how the refrigeration cycle in more detail, check out the article. Actually, I wrote two articles, one without too many technical terms and one that's more technical.
Two benefits of cooler weather
When the outdoor temperatures start dropping in autumn, the refrigerant has an easier time of dumping its load of heat into the outdoor air. That does two things: First, it means you actually have a bigger air conditioner. It has a greater cooling capacity. That's not really of any help, though, because you have less cooling load.
The second thing it does is to make your air conditioner more efficient. Assuming you have a single capacity air conditioner — not a multi-stage or variable capacity system. If we further assume the air conditioner uses the same amount of electricity to run the compressor (the biggest energy user in an AC), that makes the air conditioner more efficient. If you get more capacity (bang) for the same amount of energy (buck), your efficiency is higher. But actually, the compressor uses less energy, which makes the efficiency gain that much more. Woohoo!

This same scenario plays out over the daily cycle of changing temperature as well. Your AC has more capacity and is more efficient at night when it's cooler than it is during a hot afternoon. That's why HVAC designers are always aware of the three types of heating and cooling loads.
As your electricity bills begin to drop with the onset of cooler weather, now you know that it's not just because less heat is getting into your house. It's also because your air conditioner becomes more efficient. Air conditioning is an amazing thing! Having been born in Houston and spent most of my life in Texas, Louisiana, Florida, and Georgia, I have a great appreciation for it.
Related Articles
The Magic of Cold, Part 2 – Intermediate Air Conditioning Principles
We Are the 99% — Design Temperatures & Oversized HVAC Systems
3 Reasons Your 3 Ton Air Conditioner Isn't Really 3 Tons
The 3 Types of Heating and Cooling Loads
---
Footnote
1. You knew that, right? If not, you should subscribe to our newsletter, where I talked about running this week. Just put your email address in the box at the top right side of this page. ↩
NOTE: Comments are moderated. Your comment will not appear below until approved.