4 Products for Enhancing Air Flow in Dryer Vents
After I wrote an article this past week about the problem of restrictive wall caps reducing dryer vent air flow, I heard from David Williams, a fellow resident as well as a contractor who's done a lot of work here at the condos where I live. He recently replaced a dryer duct in one of our buildings and took some amazing photos - like the one at left and the next one down.
As you can see, the duct is caked with lint. And not only is it caked with lint, notice that the lint is soaking wet. It's wet because all that water that came out of the wet laundry had to go somewhere, and for this dryer, it wasn't making it all the way outside. In fact, it was so wet that water was dripping out of the duct at the joints, getting into the wood and the back of the drywall, where it was starting to grow things.
What? You say you'd like to see a close-up view of the inside of that duct? Well, OK, but don't say I didn't warn you.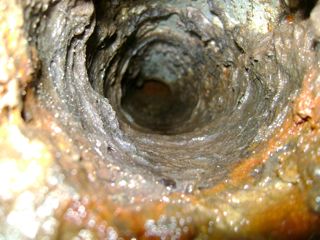 Now, is that enough to scare you to start taking apart your dryer vent or to call someone to do it for you? That's pretty danged disgusting!
Although this article is about products that can help with dryer vents, I'm a big advocate of focusing on process first. So, before you go out and buy products to solve your problem, take a look at what processes might help here. First, if the dryer vent is too long, see if there's a way to re-route it to shorten it. Second, realize that no products are fail-safe and that you'll still have to do regular maintenance, even with the best products available.
Third, reduce the amount of laundry you do by wearing your clothes until your friends start commenting on the smell. Oh, wait, maybe that one's not such a good idea. How about disposable clothes? Nah, too expensive. Anyway, the first two process suggestions above are really good ideas. Now let's get to the products.
After publishing my previous article here, I posted it in a forum for home energy pros and got some good feedback about products that can help out. Since that article was about the wall cap on the outside, let's start there.
Wall Cap. Everyone who chimed in with a product endorsement for this had the same answer: the Heartland Dryer Vent Closure.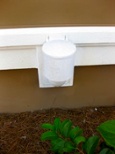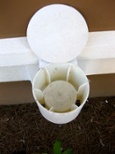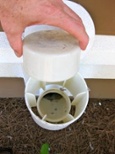 With this wall cap, the air comes out and exits upward. The pressure of the exiting air is great enough (with a well installed duct and dryer connection) that it levitates the plastic cap, which I'm holding in the right-most photo above. It's not immune to problems (no product is), but when several home energy pros all mention the same product, that's the one that I want to use in my house. And, at $18 from Energy Federation (one of my favorite sources for good home energy stuff), it's a good deal, too.
Dryer Connection. Ed Voytovich of Building Efficiency Resources in upstate New York (and one of the funniest home energy pros I know) was the first one to mention the Heartland wall cap, and he also gave me the link for the Dryerbox, a better way to connect the dryer to the main duct.

This prevents crushed, twisted, curled, and kinked ducts behind the dryer, another common problem that cuts the air flow, increases run time, and reduces energy conservation.
High Pressure Monitor. Ed also mentioned another product that I'll be buying to install in my home - the LintAlert. It measures the pressure in the dryer vent and sounds an alert when it goes too high. If you visit their website, make sure you look at their page called Why You Need One and scroll all the way to the bottom to see what the a dryer fire can do to your home.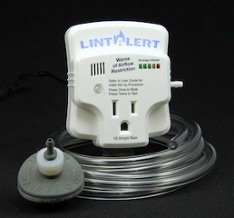 Booster Fans. Sometimes, especially in multifamily buildings, the duct is so long that it's just really hard to push that air all the way through, even with a perfect installation and a good wall cap. In that case, you might consider adding a booster fan. It'll keep the air moving and cut your dryer's run times.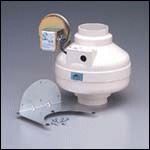 Fantech makes high quality fans and sells one for this purpose, which you can buy from Energy Federation.
This is a bigger expense than any of the others, starting at around $170 for materials, and it also uses energy. In addition, you'll probably have to add an in-line lint trap to keep lint from getting into the fan. Do everything you can to improve your dryer vent air flow before you decide you need to add a booster fan.
A Greener Alternative. Of course, if you really want to save energy and reduce the risk of a fire, the best product is only a few bucks and dries your clothes with solar energy - a clothes line!
A note about these product recommendations: Energy Vanguard doesn't make any money from Energy Federation or the product manufacturers if you choose to buy one of these products, nor do we have any advertising or sponsorships from these companies. We're a third party recommending products solely for the purpose of helping our readers.
Subscribe to the Energy Vanguard Blog
The Latest from the Energy Vanguard Blog