6 Reasons to Do Single-Head Mini-Split Heat Pumps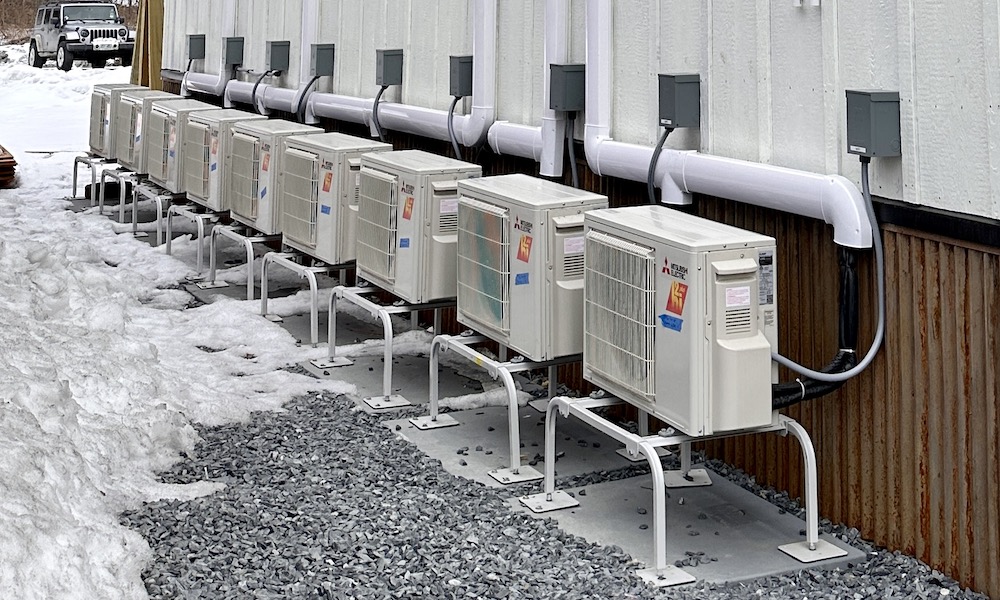 When it comes to mini-split heat pumps, you get to play by different rules.  With a traditional split system heat pump (or air conditioner), there's one outdoor unit and one indoor unit.  But with mini-splits, you have the option of connecting multiple indoor units to a single outdoor unit.  Sometimes you'll see this called a multi-split heat pump.  Interesting idea, eh?  Sounds like it might save money and make things simpler to have only one outdoor unit.  But what are the downsides?
This question came up on LinkedIn recently when Jonah Richard posted the photo above showing nine outdoor units connected to nine independent indoor units.  He said they set it up that way to separate the utilities for the eight apartments and one retail space.  I commented about the advantages of going with one-to-one mini-splits, and that started a good discussion.  Below are the reasons we try to get our HVAC design clients to go with one-to-one units when they can.
1. Temperature control
Refrigerant flows to indoor units even when they're not calling for heating or cooling.  The main heat pump in my house is connected to two ducted air handlers, and I've noticed this happening.  When I go to bed at night, I have to remember to turn down both thermostats to get the bedroom to be cool enough while I'm sleeping.  Otherwise, when the refrigerant is flowing to the common area air handler, it also flows to the bedrooms air handler.  The photo below shows the effect of this on my bedroom thermostat, which is 2 degrees higher than the setpoint of 68 °F.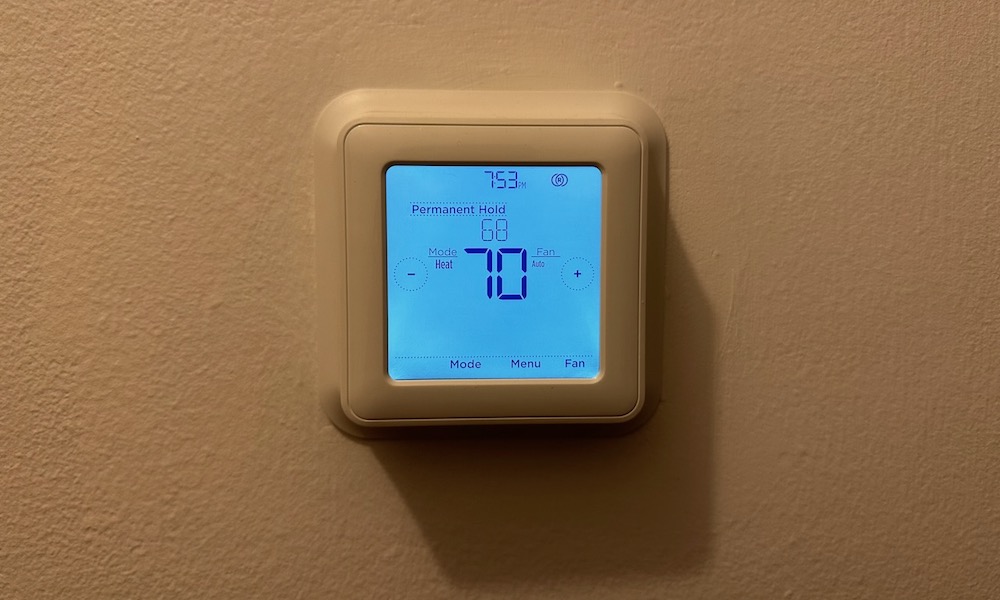 2. Resilience through redundancy
With one outdoor unit, if it goes out, all indoor units are out, too.  Having multiple independent heat pumps adds resilience.  Unless they all go out, you can heat or cool at least part of the house with the remaining operable units.  It's always good to have a backup!
3. Better control of low load heating and cooling
The turndown ratio of a mini-split heat pump is one of its most important specifications.  If it can lower its capacity to 25% of the full capacity, that gives it a turndown ratio of 4 to 1 because the maximum capacity is 4 times larger than the lowest capacity.
Let's say you have a multi-split heat pump with a capacity of 30,000 BTU per hour.  It has a 4-to-1 turndown ratio.  Attached to this outdoor unit are five indoor heads, each with a capacity of 6,000 BTU per hour.  The lowest capacity that outdoor unit is able to provide is 25% of 30,000 BTU/hr, or 7,500 BTU/hr.  On a part-load day when there's not much demand for heating or cooling, the indoor units together may need to put out a small fraction of that minimum capacity.
4. When one unit is calling for cooling, the other can be heating
Sometimes one part of the house may need cooling at the same time another part needs heating.  With standard residential mini-split heat pumps, a multi-split system with one outdoor unit cannot do simultaneous heating and cooling.
There are units that do that, but they're used for larger buildings, mostly commercial.  It's a really technology that pulls heat from the part of the building that needs cooling and sends that heat to the part of the building that needs heating.  When that occurs, the refrigerant can bypass the outdoor unit, and it's really a type of heat recovery.
But if you have separate outdoor units, you CAN do simultaneous heating cooling.  There's no recovery because both outdoor units will be running.  But it will meet the needs of the house.
5. Reduced thermostat confusion
Having only one outdoor unit controlled by two or more thermostats can lead to confused or frustrated occupants.  It's not hard to forget the constraint on all indoor units needing to be set for the same mode, heating or cooling.  I've done it myself at my house.  It didn't take me long to figure it out, but HVAC companies get calls from people who think the system is broken.
They set a thermostat to cooling, for example, while the other thermostat on the same outdoor unit is set to heating.  The cooling never arrives, so they think something's wrong.  Experienced HVAC technicians find the problem quickly, but separate outdoor units would prevent it.
6. Simpler installation
One-to-one mini-split installations are simpler.  The outdoor unit works in sync with the indoor unit and never has to split refrigerant in two or more line sets.  It also can allow for less total refrigerant line length if you can place the outdoor units closer to where the heads are installed indoors.  That means less refrigerant, too.
Sum and substance
Some of our designs do include multi-splits.  Occasionally, the constraints of a project force us to do far more with one outdoor unit than we'd prefer.  A four-story townhouse, for example, ended up with six indoor units on a single outdoor unit and three more indoor units on a second outdoor unit.  Generally, though, we aim for one-to-one setups or at least as few indoor units as we can get for each outdoor unit.  The advantages above are significant.
And what about cost?  You may think it's more expensive to have more outdoor units.  But that's not necessarily true.  The cost could be the same as a multi-split system design for the same house.  It might even be lower.
So, if you're planning for mini-split heat pumps, don't automatically try to do it all with one outdoor unit.
Allison A. Bailes III, PhD is a speaker, writer, building science consultant, and the founder of Energy Vanguard in Decatur, Georgia. He has a doctorate in physics and is the author of a popular book on building science.  He also writes the Energy Vanguard Blog. You can follow him on Twitter at @EnergyVanguard.
Related Articles
What Is a Mini-Split Heat Pump?
Heat Pumps, Auxiliary Heat, and Resilience
What's the Name of The Outdoor Part of a Heat Pump?
Photo of 9 outdoor mini-split heat pump units courtesy of Jonah Richard.
Comments are moderated. Your comment will not appear below until approved.