My Undersized Mini-Split Heat Pump in a Heat Wave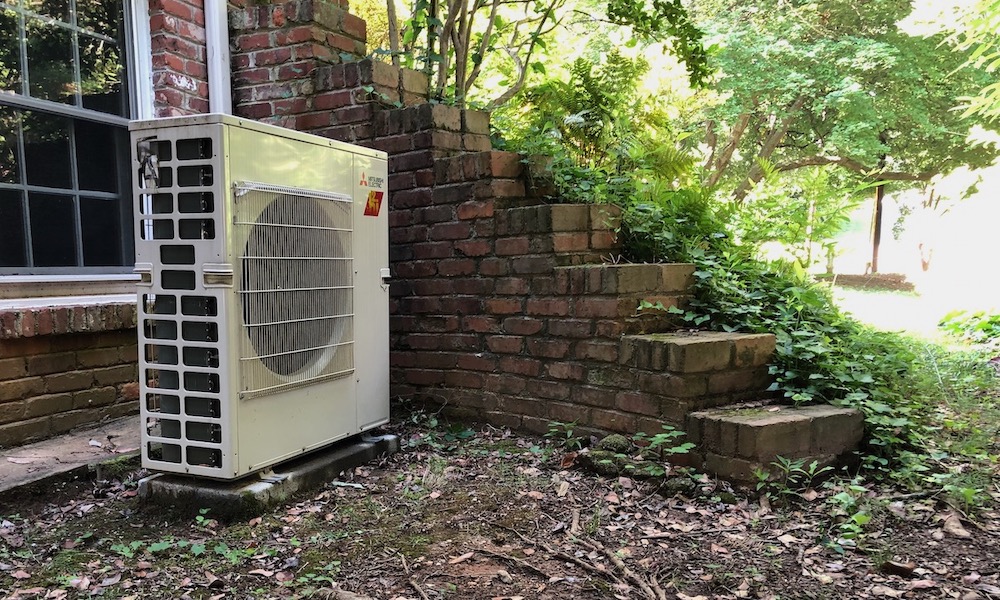 You may recall that I wrote about my undersized mini-split heat pump a couple of years ago.  It's undersized compared to both the heating and cooling loads, as you can see in the table below.  I'll discuss the heating performance in a future article.  (It's been fine for three winters).  Today, though, I'd like to show you how well the heat pump has done in our recent heat wave, when we had three really hot days in a string of six days at or above our design temperature.

Cooling performance in the heat wave
You can see from the numbers above that my house has a cooling load of about 21 thousand BTU/hr and the heat pump has a cooling capacity of a bit less than 19 thousand BTU/hr.  According to those numbers, my heat pump has only 88 percent of the capacity it needs to keep my house cool on a design day.  And our 1% design temperature is 92 °F here in Atlanta, Georgia.
So how did we do?  The graph below shows the outdoor temperature (blue) during that heat wave, the week of 20-25 June 2022.  The red line is our outdoor design temperature of 92 °F.  And down below, the orange curve shows our indoor temperature.  I leave both thermostats set to 74 °F in the summer, and you can see that it stayed pretty darn close the whole time.  If I showed you only the indoor temperature, I think you'd have a hard time picking out the hot days.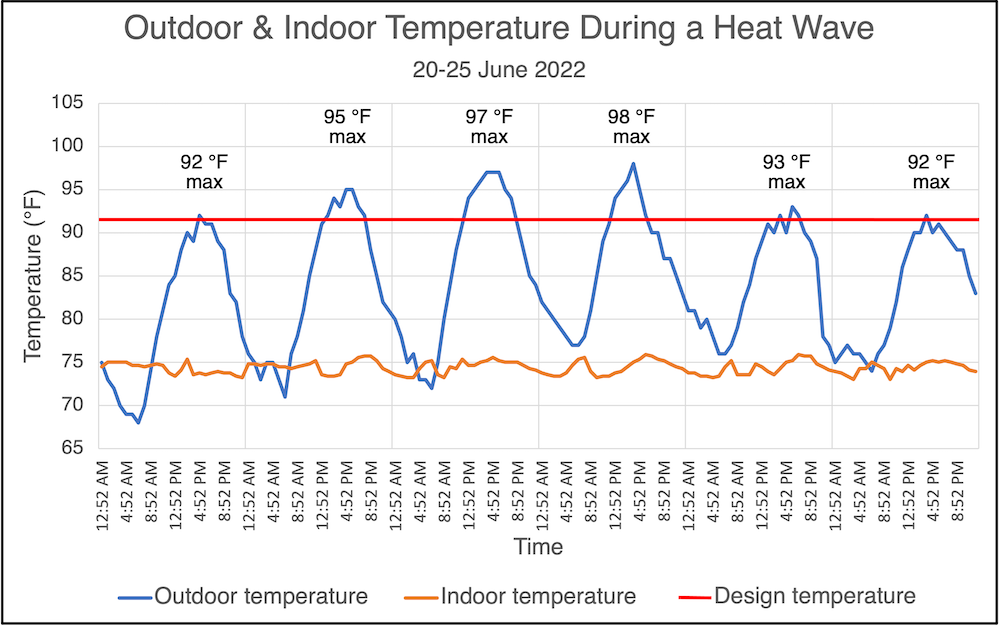 Let's take a closer look at just the indoor temperature data.  The graph below shows them along with a linear fit to the data.  As you can see, the indoor temperature rose only a tiny bit over the course of these six days.  The temperature varied from a low of 73.0 to a high of 76.1 °F.  And the average was about 74.4  °F.  I'd say that's pretty impressive.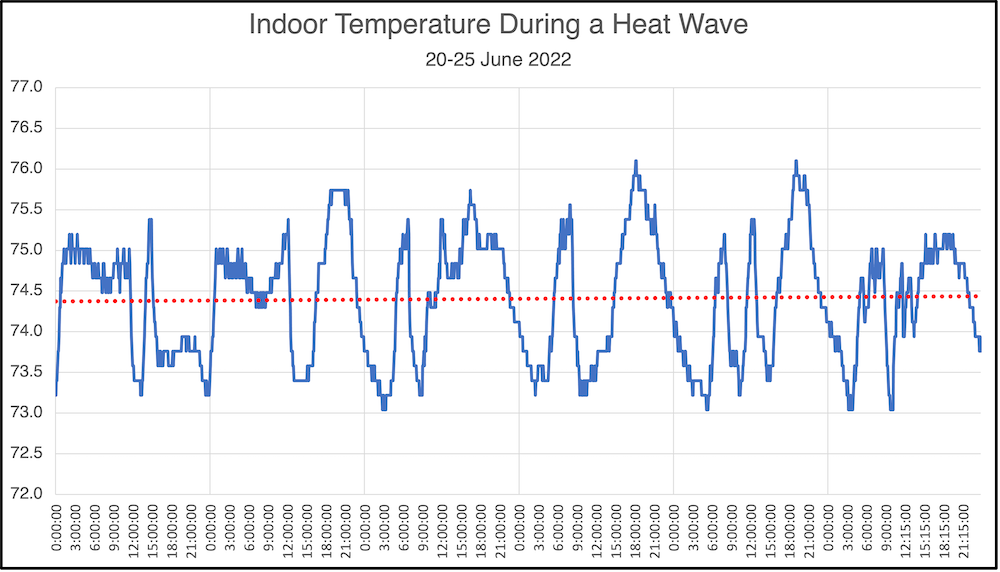 Heat pump power use
I didn't plan it this way, but I installed my Emporia Vue electricity monitor on 19 June.  Thus, the first day included in the graphs above and below was my first full day of tracking the heat pump power use.  How lucky!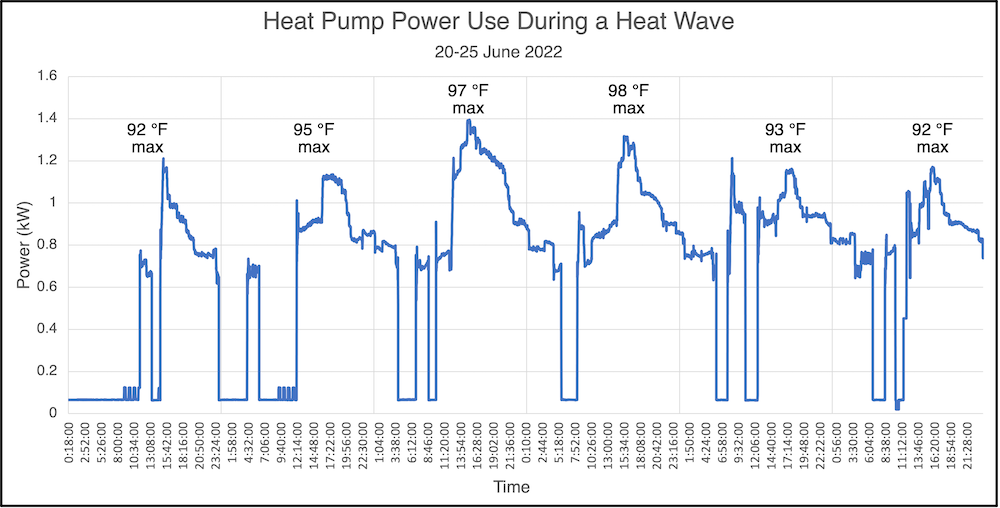 The graph of power use shows a number of interesting features.  Most nights, for example, the power use bottoms out at about 65 watts.  I thought that was the absolute bottom, when only the blowers in the air handlers were running.  But then I saw the data for the morning of 25 June and realized it could go even lower.  It ran at a mere 20 watts for 26 minutes
Of course, the most interesting feature is that the power ramps up and down as the cooling load goes up and down.  That's the beauty of a variable capacity inverter-driven mini-split heat pump.  There's pretty much no short-cycling of the equipment, the bane of oversized fixed-capacity air conditioners.  The power level ranges from about 620 watts up to nearly 1,400 watts when it's cooling.
Also note what happened even after three days of outdoor temperatures well above our design temperature.  The power level still dropped to the (main) bottom end of 65 watts by the next morning.
Takeaways
What's going on here?  Do I really have an undersized mini-split heat pump?  Judging by the data, it looks like I don't.  I think two things are happening here.  First,  ACCA Manual J load calculations inflate the loads 10 to 20 percent even when you do them correctly.  And of course, I assumed a certain amount of internal load in the calculations, but we probably didn't have that much on those days.  So, the load calculation could account for all or most of the discrepancy.
Also, the ACCA Manual S standard includes a range of total cooling capacity that's allowed.  The low end in that range is 90 percent.  With our capacity-to-load ratio of 88 percent, I'd say we're in compliance with that standard.
But there's another reason that my undersized mini-split heat pump doesn't seem so undersized.  The performance data of my Mitsubishi equipment (described in more detail here) may not be accurate.  OK, I'm being generous when I say "may" there.  Look at that table at the top of the article, and you'll see that Mitsubishi says the latent capacity (for humidity removal) is a mere 718 BTU/hr.  (For the HVAC geeks, that's a sensible heat ratio of 0.96.)  I don't believe that for one second.  The sensible capacity may be off, too.
Now don't take this the wrong way.  I'm not saying you never have to worry about undersizing your cooling equipment.  But if you have an accurate load calculation and good cooling equipment, it may turn out better than it looks on paper.  Also, I intentionally undersized my heat pump because I'm working on the house and reducing both the heating and the cooling loads (though I haven't done much yet).
How does your air conditioning equipment do in a heat wave?
Allison A. Bailes III, PhD is a speaker, writer, building science consultant, and the founder of Energy Vanguard in Decatur, Georgia. He has a doctorate in physics and writes the Energy Vanguard Blog. He also has a book on building science coming out in the fall of 2022. You can follow him on Twitter at @EnergyVanguard.
Related Articles
My Undersized Ducted Mini-Split Heat Pump
Simple Steps to Improve Air Conditioner Performance
Will Shading Your Air Conditioner Save You Money?
Comments are moderated. Your comment will not appear below until approved.