DIY Box Fan Air Cleaner Update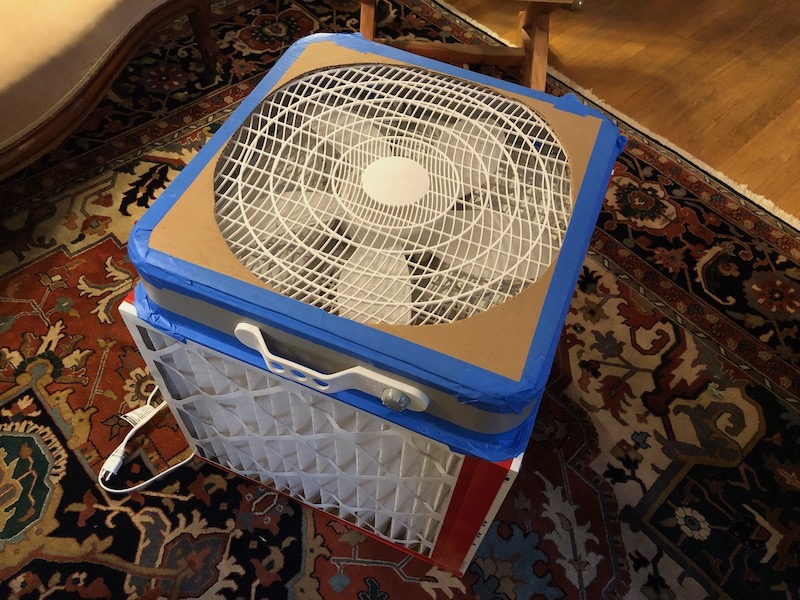 The DIY box fan air cleaner known as the Corsi-Rosenthal Box (or the Comparetto Cube, in a slight variation) has really taken off in the fight against COVID.  I wrote about it here in September 2020, with instructions on how to make one yourself after I made my first one.  I just changed the filters on mine yesterday, so it's a good time for a little update on this clever device.
Does it work?
I guess it shouldn't surprise me anymore, but I've seen some people claiming it won't work or won't last long or it works but it won't help with COVID.  So here's a quick review.
Particulate matter in the 2.5 micron and smaller range is the worst for human health overall.
Particles carrying active viruses, like the SARS-COV-2 responsible for COVID-19, come in a lot of different sizes.
The small particles that stay airborne for hours are responsible for a lot of the COVID infections.  (Unfortunately, the CDC and WHO have been slow to recognize this and promote the obvious solutions.)
Filters remove particles from the air.
High-efficiency filters remove more particles and smaller particles.  MERV-13 is where you want to be.
Taping one MERV-13 filter works, but the high resistance reduces its effectiveness.  It also needs to be replaced sooner than the Corsi-Rosenthal Box or Comparetto Cube configurations.
Two filters is better than one because of the reduced resistance.
Four or five filters is best.  It has great air flow, as measured by John Semmelhack and Neil Comparetto.  (See chart below.)  That means it has a great Clean Air Delivery Rate (CADR) when you use MERV-13 filters.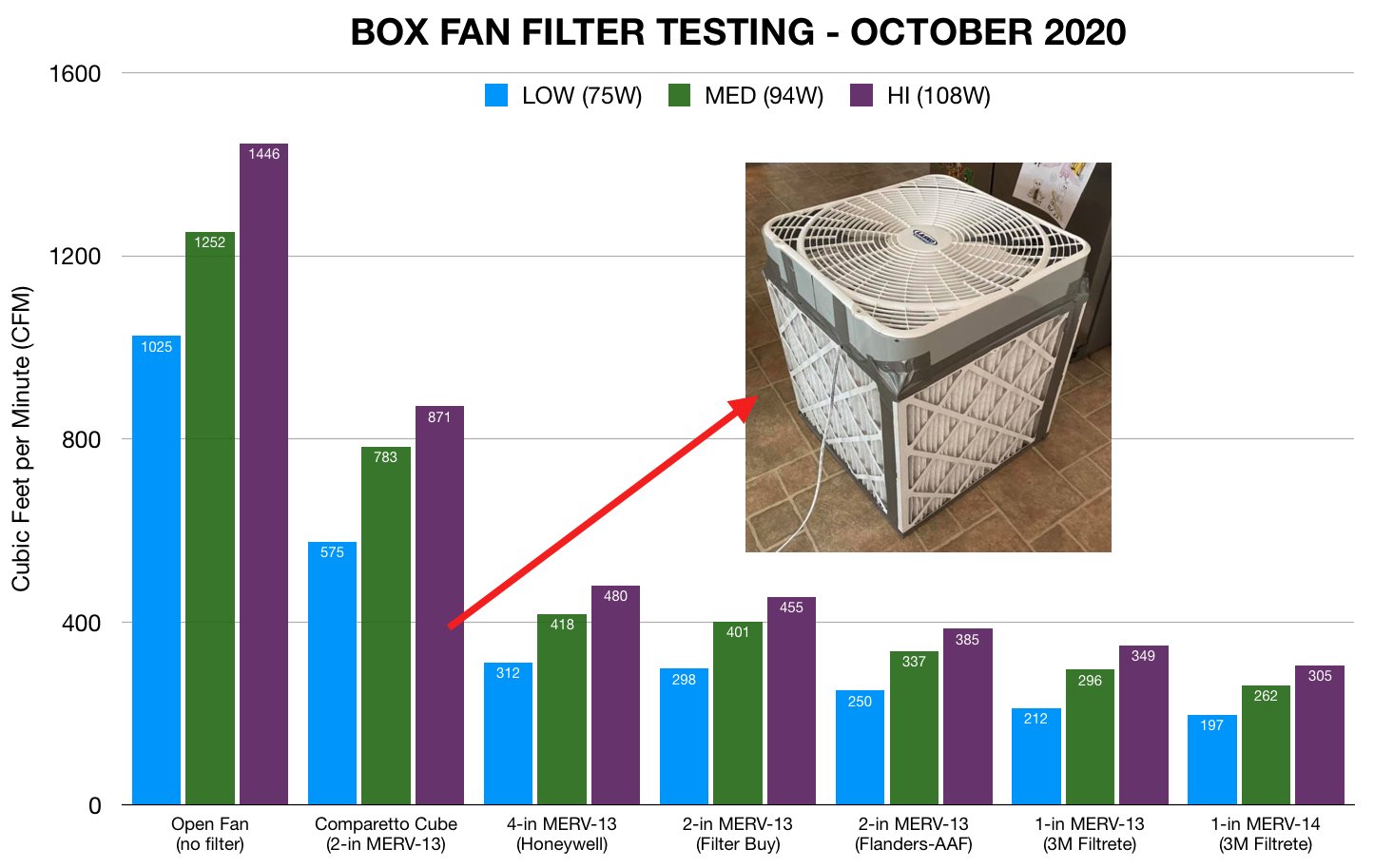 Recognition for the box  fan air cleaner
Since I first wrote about the DIY box fan air cleaner in 2020, it has really taken off.  People have been making for their homes and offices.  Parents and teachers have had their students make them as class projects.  It's been the subject of quite a few news stories.
It even got the Idea of the Year Award from the Waterloo Filtration Institute.   There's also a Wikipedia page for the Corsi-Rosenthal Box, which I discovered just today as I was researching for this article.  And Ask This Old House covered it in a show, too.
This is all great!  We need more of these things.
How to improve filtration
When I made my first Comparetto Cube in 2020, I copied the design I had seen online.  But that early design isn't fully optimized because there's some bypass at the fan.  The photo below shows a red circle highlighting the area through which the fan moves the air.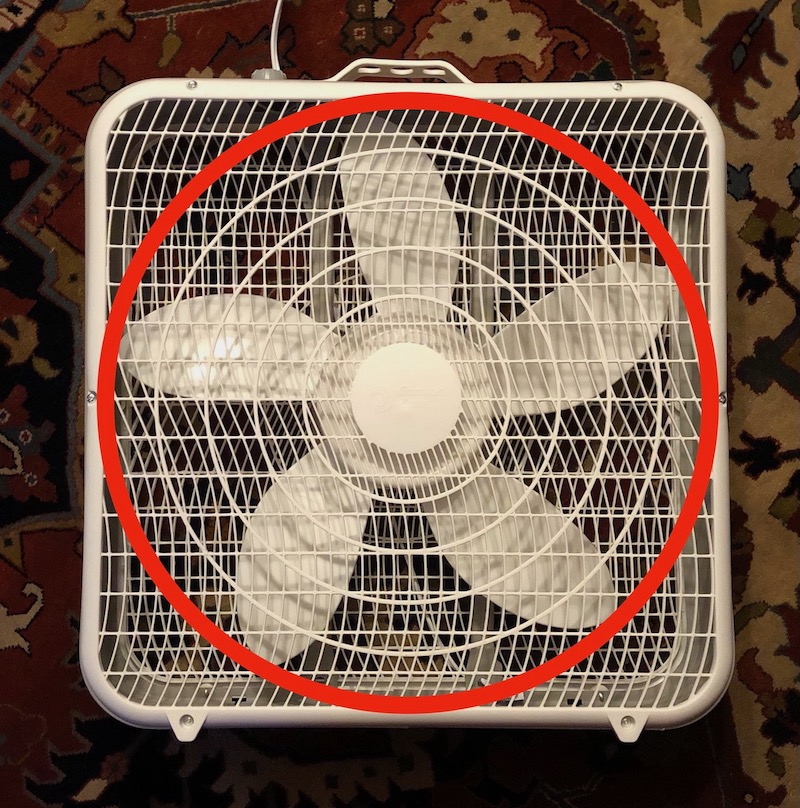 The fan is round, but the housing is square.  At the corners, some of the air will be going the other direction.  To improve air flow and eliminate that bypass, you can make a shroud out of cardboard to cover the corners.  That's what I did differently when I changed the filters on mine yesterday.  See the photo at the top of the article.  Jim Rosenthal has an article all about the box  fan air cleaner shroud.
Creativity abounds
Just today I found another variation on the DIY box fan air cleaner.  The photo below is from Canada Strong Masks and uses two filters that are larger than the standard 20″ x 20″ filters used in the 4 or 5 filter versions.  In a tweet, they say they place them 7 feet off the floor and blowing the air upward to reduce noise.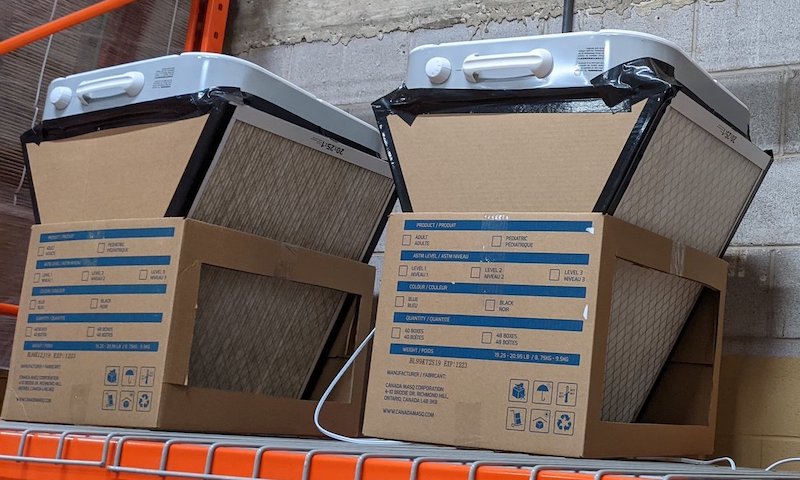 If you haven't made your own DIY box fan air cleaner yet, why not?  It looks like we're stuck with COVID for a while longer.  But even when COVID is gone, these devices are great for improving your indoor air quality.  And they're especially great for those of you who live in places that get smokey from wildfires.
Allison A. Bailes III, PhD is a speaker, writer, building science consultant, and the founder of Energy Vanguard in Decatur, Georgia. He has a doctorate in physics and writes the Energy Vanguard Blog. He is also writing a book on building science. You can follow him on Twitter at @EnergyVanguard.
Related Articles
How to Make a High-MERV DIY Portable Air Cleaner
COVID Is Airborne — Are You Feeling Lucky?
3 Ways to Get Cleaner Indoor Air With Filtration
IAQ Research-Practice in Action: The Corsi/Rosenthal Box Air Cleaner  by Jim Rosenthal of TexAir Filters
NOTE: Comments are moderated. Your comment will not appear below until approved.