Faster Hot Water Can Change Your Life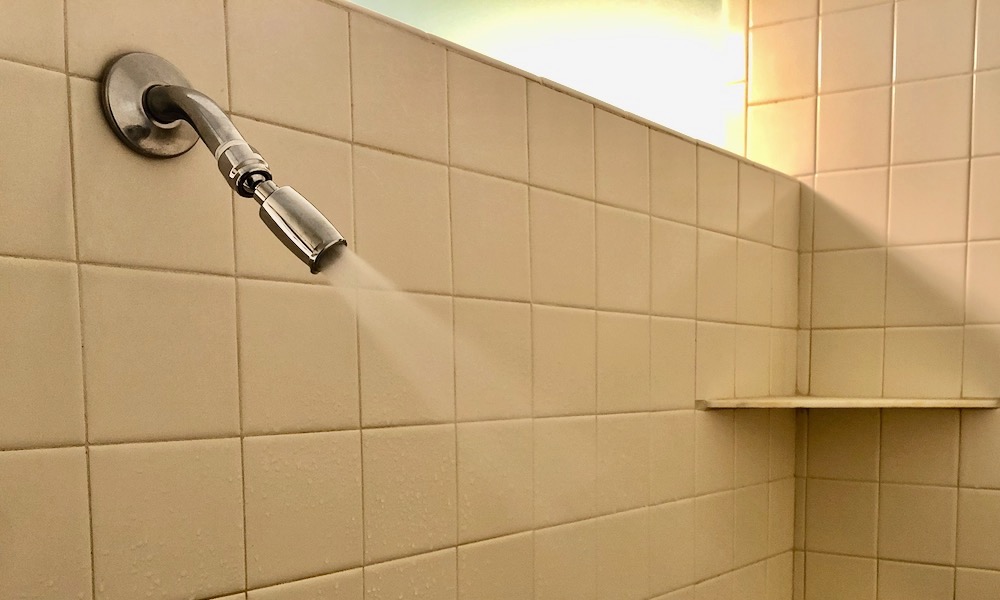 We've normalized the abnormal in our homes in so many ways that most people have no idea what kind of performance they should expect.  If you've never lived in a house with a good building enclosure and HVAC systems, for example, you really haven't experienced true comfort.  The same is true for hot water.  If you're used to turning on the hot water and then doing something else while you wait for your shower to be warm enough, you've normalized the abnormal.
Options for improvement
As someone who has understood hot water inefficiency since I met Gary Klein over a decade ago, I've given up normalizing that particular abnormality in my home.  Instead, I did something about it.  With an existing home, your options are limited by the state of your plumbing system, the extent of the changes you're willing to make, and how much money you want to spend.  Let's look at the options, starting with the most intrusive and expensive and finishing with the one I used.
1. Remodel the house to move the wet rooms and water heater closer together.  In my house, the bathrooms are close to the water heater, but the kitchen and laundry room are farther away.  I could reduce my hot water rectangle to a small fraction of its current value by switching the laundry room with the foyer and the kitchen with the den. That extensive remodel, however, would be way too expensive.
2. Install a demand-type recirculation system.  Rather than messing with the plumbing system, another option is to install a pump that would circulate the hot water to the tap whenever you needed it.  You could prime the pipes with hot water with a button, and occupancy sensor, or a fancier control system that learns your patterns and predicts when to deliver hot water.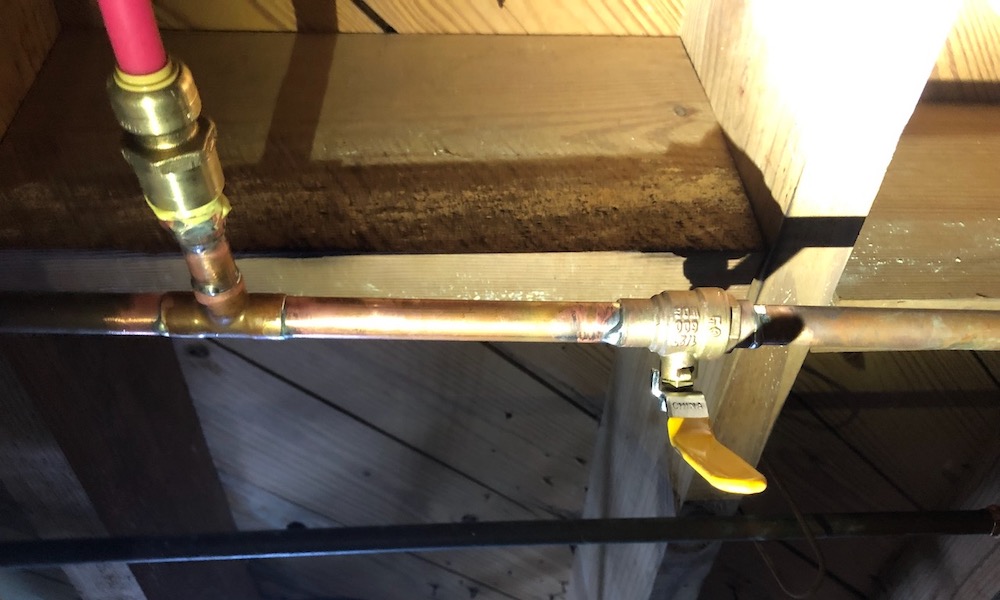 3. Retrofit the current hot water pipes to reduce the volume of water they hold.  The amount of water in the pipes between the water heater and the tap determines how long it takes to get hot water.  Making the pipes shorter and smaller in diameter accomplishes that objective and reduces the time it takes to get hot water.  This is the option I recently implemented at my house.
My hot water performance improvement
By running new PEX tubing to the three hot water fixtures that were the most inconvenient, I significantly cut the amount of water in my pipes and my wait times.  I wrote about the lavatory and shower changes and results, but here are the updated before-and-after floor plans showing the kitchen as well.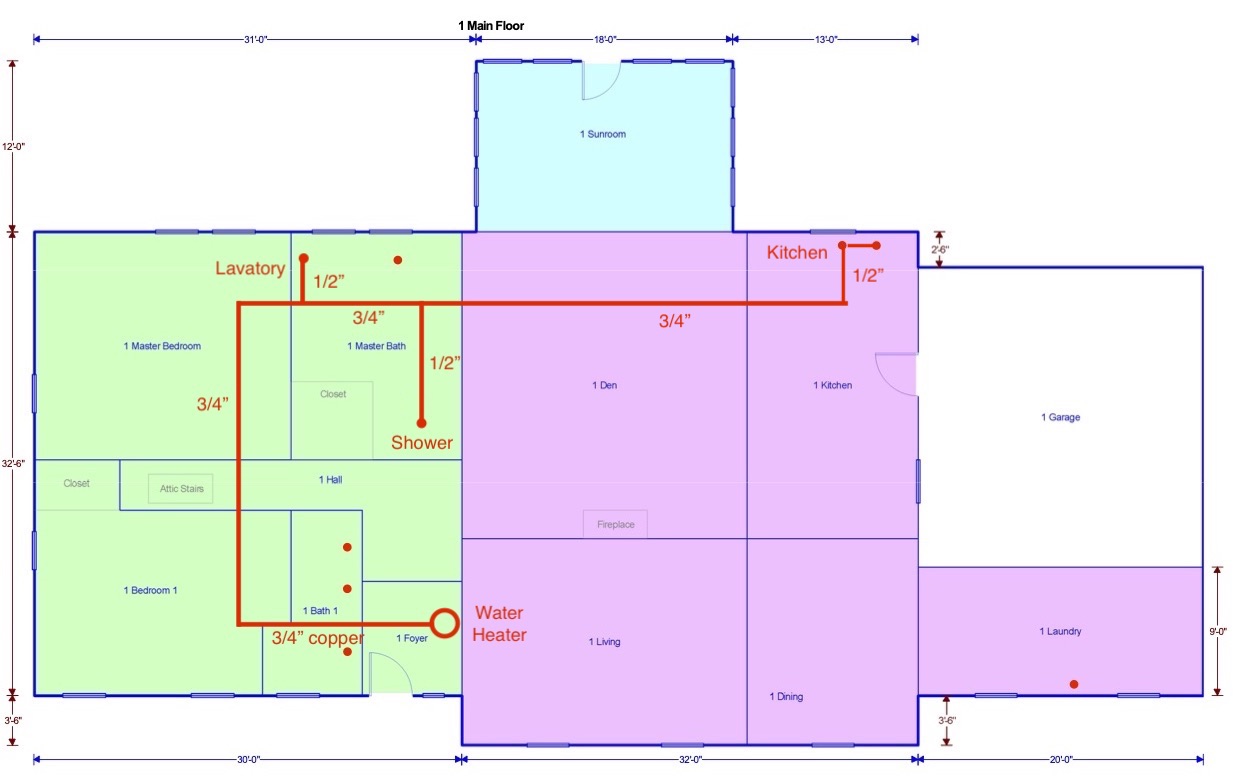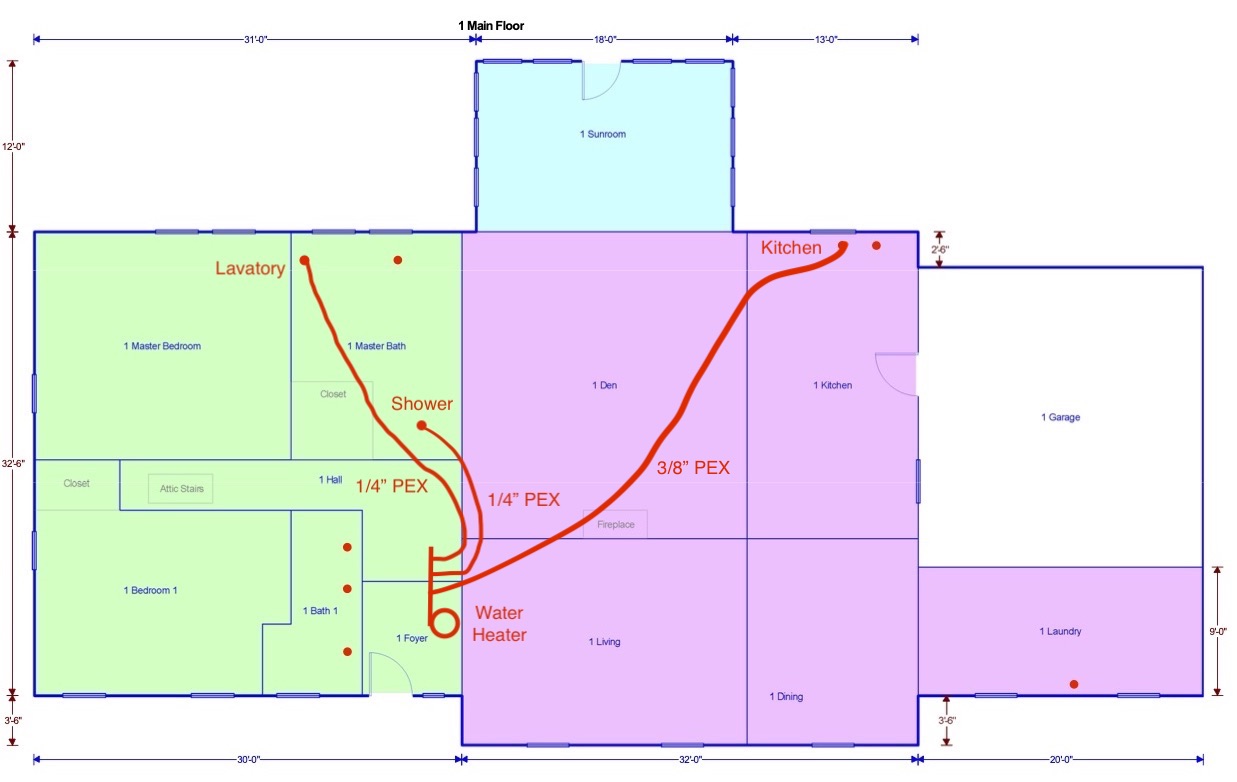 If you look carefully, you can see that the lengths of the shower and kitchen hot water pipes are way shorter after the retrofit.  The lavatory run didn't have as much reduction.  Here's a summary of the before and after numbers: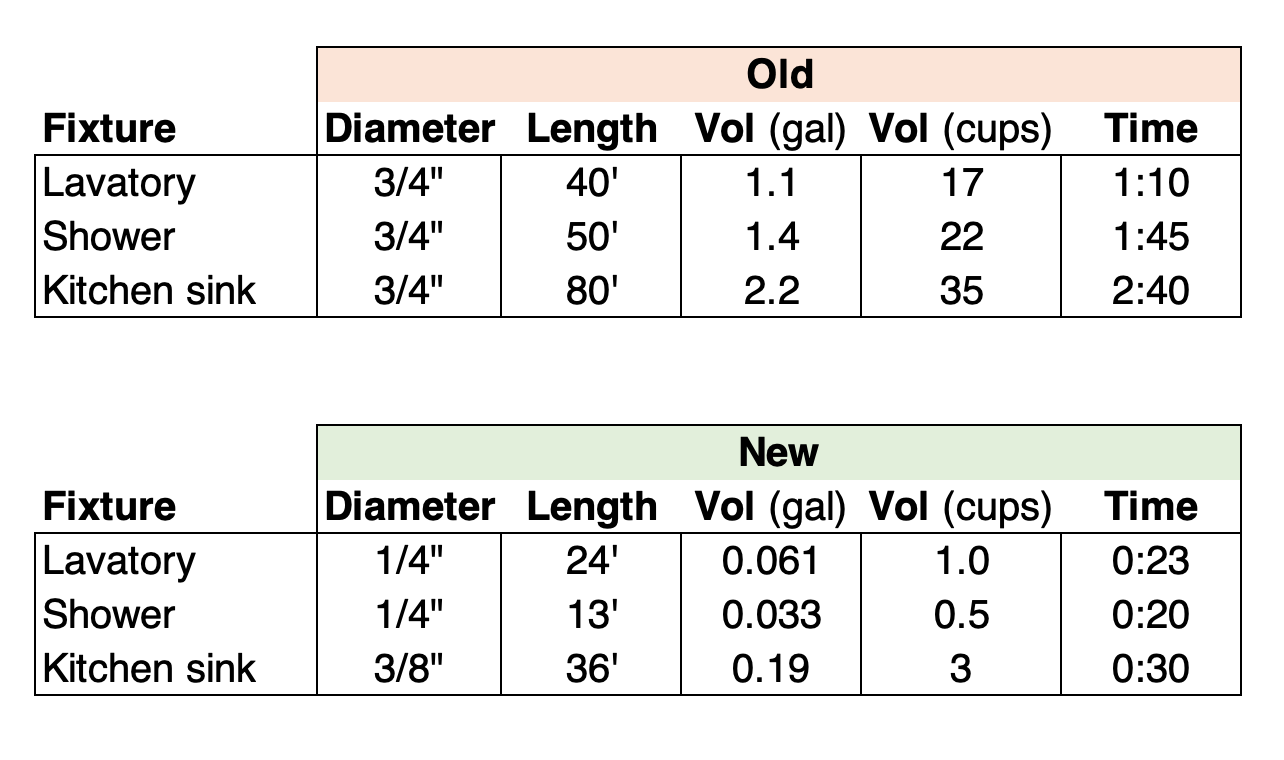 I cut both the length and diameter of these three runs, and that resulted in much better performance.  The earlier article showed the lavatory and shower results, but the kitchen sink numbers are new.  The volume calculations for all three are also new.  I completed that kitchen run about a month after the other two, at the end of August.
One thing to note here is that the volumes shown above aren't the whole volume between the water heater and the fixture for each run.  They're the approximate volumes affected by the retrofit.  There's still a few feet of 3/4″ copper pipe at the water heater and the manifold and also a few feet of 1/2″ copper pipe connecting the new PEX line to the fixture.
To give you a little more perspective, the table below shows the percent reduction in the volume of water in the pipes and the time I wait for the hot water to arrive.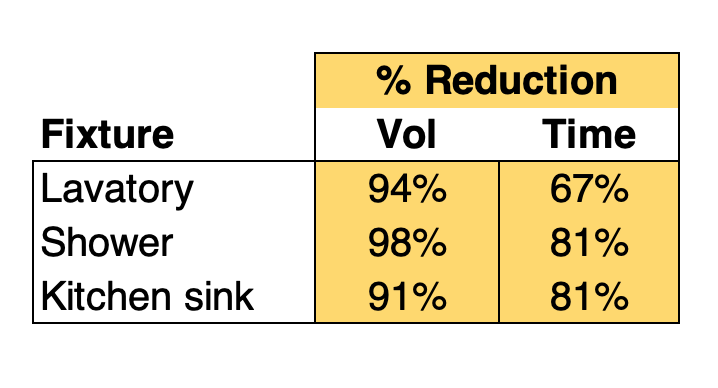 As you might suspect, I'm quite pleased with how this has turned out.
How fast is fast?
Gary Klein, one of the gurus of hot water, wrote in his excellent Journal of Light Construction article about efficient hot water piping (pdf), "My goal is to achieve a time-to-tap of two to three seconds at a flow rate of about 2 gpm [gallons per minute]."  That's an admirable and achievable goal when you're designing a new home.  It's not so easy to do, however, with option 3 above.  Does it matter?
In my house, I got my wait times down to 23, 20, and 30 seconds.  Yeah, three seconds for hot water would be awesome, but it doesn't make a lot of difference to me.  With the shower, for example, I used to turn it on, then go open the hot water faucets on the tub and the lavatory.  Then I'd waste more than two gallons of water waiting.  Then I'd turn off the other two faucets and take my shower.
Now I turn on the shower and get in after about 10 seconds.  Yeah, I said above that it takes 20 seconds to get hot, but it gets warm at about 10 seconds.  That doesn't feel like a burden at all.  Nor does it waste much water.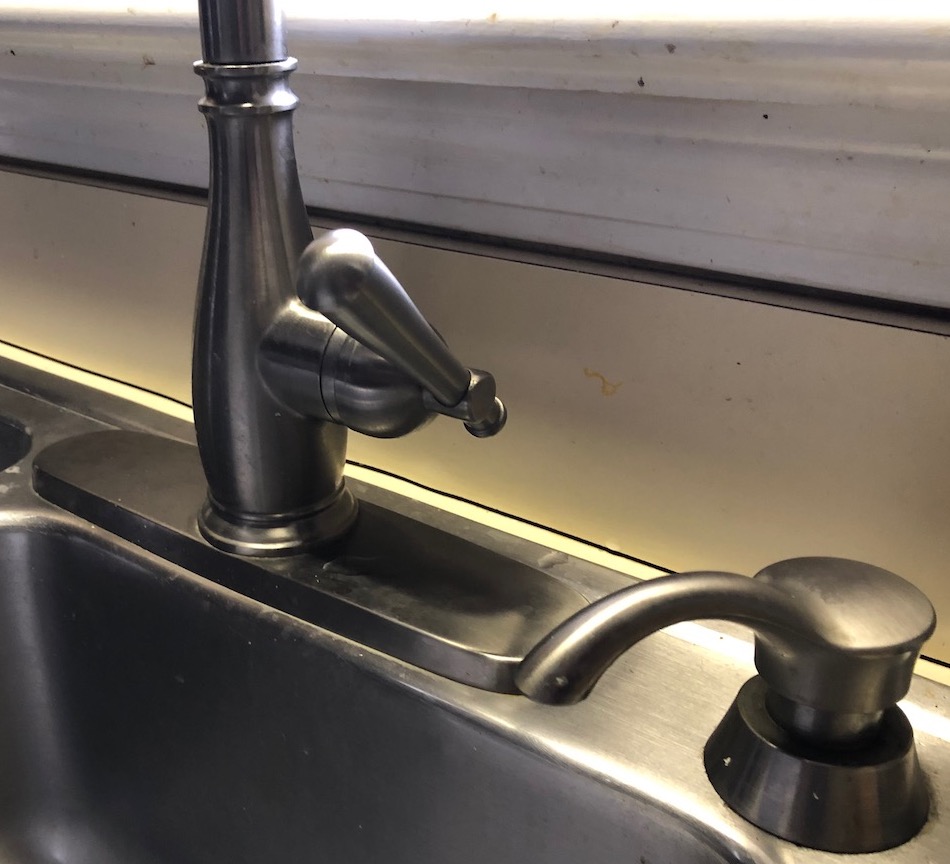 The other biggie is the kitchen sink.  It used to take close to 3 minutes.  Now it's warm at about 15 seconds and hot at 30.  When I wash dishes, I spend some time rinsing them first, so it's no big deal to wait 30 seconds.  If I just wanted to do a quick rinse or handwashing and the hot water wasn't already there, it would be a little inconvenient.  But I'm OK with that.
The joys of faster hot water
When you live with a problem like long wait times for hot water, you eventually normalize the abnormal.  Architects, home builders, code officials, and plumbers could ensure that every house has fast hot water without having to spend a fortune to get it.  The three options I mentioned above are the best ways to do it.
And if you've been living with the abnormal for a while, the joys of getting faster hot water will make you smile for a long time.  My wife didn't think she'd care or notice the change much, but she's been raving about it ever since I finished the kitchen.
Eventually, though, you'll stop noticing it because fast hot water will be your normal.
Caution:  Prescriptive plumbing codes don't allow pipes as small as 1/4″ so you may need an engineer to help if you want to go that small.   You need to know the flow rate required at the end of the line, and you need to have sufficient pressure.  To use 1/4″ PEX tubing, it should be about 1.8 gallons per minute or less.  Also, if you need to run the PEX more than 25 feet, you'll need to go to a larger size, too.  To get a better handle on what you need, use this plastic pipe design calculator.
Allison A. Bailes III, PhD is a speaker, writer, building science consultant, and the founder of Energy Vanguard in Decatur, Georgia. He has a doctorate in physics and writes the Energy Vanguard Blog. He also has a book on building science coming out in the fall of 2022. You can follow him on Twitter at @EnergyVanguard.
Related Articles
Efficient Hot Water Delivery With a Simple Tool
Why Your Hot Water Takes So Long
Comments are moderated. Your comment will not appear below until approved.