What Would a "Pretty Good House" Look Like? Part 1.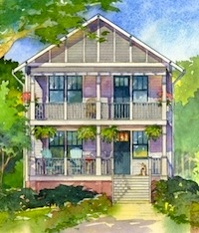 What is it about Maine? Some of my favorite people in the home energy pro community live there. We just signed up our first HERS Rater from the state (Diane Milliken of Horizon Residential Energy Services). Now, some folks there who meet monthly to talk all things green building have come up with a an enticing new concept: The Pretty Good House. This could be the next big thing!
Because each of the existing green building and energy efficiency programs has flaws, they started discussing the question, What would a Pretty Good House look like? Dan Kolbert facilitated the discussion, and Michael Maines wrote it up at Green Building Advisor (links below). In the first article, they came up with a list of items to include and another list of things to exclude. In the second article, they expanded on some of the ideas and included some new ones.
What's the question again?
Even before I actually read the first article, I started thinking about what a Pretty Good House might look like. Since I'm in International Energy Conservation Code (IECC) Climate Zone 3, my thoughts naturally gravitated to elements that would work well in a mixed-humid climate: Building envelope details, right-sized heating and cooling systems, ducts inside the envelope, mechanical ventilation, ceiling fans…
But then I took a step back and asked the question, Whose Pretty Good House are we talking about here? You have to ask that because my Pretty Good House would probably look different from the Pretty Good House of someone who's in the trenches building custom homes. The disparity would be even greater between my Pretty Good Home and that of a production home builder.
Since it's the Pretty Good House, I'm going to take the view that even production builders should be able to achieve it…if they really want to and work hard to do it. Because it's voluntary, it should be better than the worst house allowed by law, i.e., the code-built house. With the code getting so much tougher in the 2012 and 2015 IECC versions, that latter objective gets harder and harder to do.
The Pretty Good House in a mixed-humid climate
If I had my own Pretty Good House program here in the climate zone 3, here's some of what I would want to see:
Pretty Good Design
The Pretty Good House must begin with design. This is where you have to start to make sure that the building envelope, water management systems, and mechanical systems get integrated properly. By the end of the design phase, everyone would know where all the ducts, wires, plumbing pipes, insulation, air barrier, and flashing details are going to go, what materials they'll use, and when they're getting done.
Design review. All the critical team members review the plan and strive to minimize surprises once construction starts.
Complete HVAC design. Before the foundation is built, the HVAC contractor knows what the heating and cooling loads are, which system is going in, and all of the distribution details.
Projected Home Energy Rating. Along with the HVAC design, a HERS rater works up the preliminary HERS rating.
Pretty Good Site
When possible, the building site should be oriented properly to allow for passive heating and cooling. Whatever the site, though, there needs to be a plan to deal with all the erosion, tree protection, orientation, and other site-related issues.
Pretty Good Building Envelope
In this part of the Pretty Good House, it's going to be hard to improve upon the 2012 IECC, so I'd go with their insulation levels. The building envelope also must be complete and continuous, of course. The insulation and air barrier must be in contact with each other and use materials that will stay in contact with each other for the life of the assemblies (i.e., no batt insulation in framed floors).
Other goodies:
Blower Door testing. 0.25 cfm per square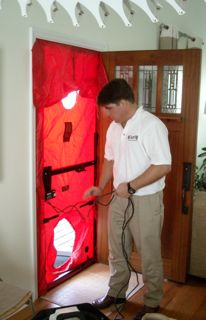 foot of building envelope (or 3 air changes per hour, if you must) at 50 Pascals. Joe Lstiburek says this is a pretty good air leakage threshold for homes.
Grade I insulation installation. No exceptions. It's got to be done right. ENERGY STAR may have backed off of this a bit since I wrote about it earlier, but that doesn't mean we should.
Reduced thermal bridging. Foam board on the outside, structural insulated panels, insulated concrete forms, double wall construction, or some other method that would produce a nice, uniform color when someone looks at the house with a thermal imaging camera.
No big or medium holes in air barrier or insulation. The Blower Door test will catch the air barrier holes. Thermal imaging and third-party inspections will catch the insulation holes. Some places to watch out for are attic access holes, slab perimeters (must be insulated for CZ 3), ceiling insulation above exterior walls,
I'm thinking that the shift in the IECC from R-values to U-values, as Wes Riley pointed out in the second Pretty Good House article by Maines, can lead to better ways to view the house. In fact, since size matters so much, let's go even further and look at levels of performance based on the UA values.
Pretty Good Heating & Cooling
As I said above, each Pretty Good House would get complete HVAC design up front. I'd also want:
> 1000 square feet per ton of air conditioning capacity. This is my rule of thumb, and I think it would be a nice way to make it easy to check. If it were my house, I'd want no less than 2000 sf/ton, but remember, this is the Pretty Good House, and that's a pretty good benchmark.
All distribution inside the envelope. No ducts in attics especially. Crawl spaces get encapsulated.
No atmospheric combustion. If it's not electric (e.g., heat pump), it's got to be sealed combustion. Period. You can't call it a pretty good house otherwise.
That's a pretty good start.
I'm sure I didn't get everything related to those topics in there that should be there. I'll post again about this topic and cover the items below that didn't make it into this already-long article.
In Part 2, I'll cover:
Pretty Good Verification
Pretty Good Performance
Pretty Good Water Heating
Pretty Good Water Management
Pretty Good Water Conservation
Pretty Good Homeowner Package

I'm sure I'll have some clarifications and refinements based on the comments you're going to leave me, too, so go ahead and start typing now.
The Green Building Advisor Posts on the Pretty Good House